As soon as the Covid-19 pandemic hit, Bhoomika Kumar CC'23's penchant for problem-solving kicked in.
Kumar, a biophysics major who's been studying from Dallas, her hometown, immediately began researching ways she could assist with virus mitigation efforts.
"At the time, my friends and I were researching as well as speaking to our professors, and we came across a potential glass vial shortage," Kumar says.
"Glass vials seem like a trivial, maybe unimportant aspect of creating a vaccine and distributing it all over the world," she adds. "But it's actually one of the most important aspects because there's a special, medical-grade glass, borosilicate, that's used in vaccine vials. And a shortage of borosilicate, and thus the capacity to manufacture those vials, could lead to a bottleneck in distribution."
So, Kumar used the skills that brought her to Columbia — curiosity, exploration and innovation — to leverage an opportunity to "do good." This opportunity came from Columbia Engineering in the form of the Fu Foundation School for Engineering and Applied Sciences Engineering Design Challenge, which was announced in June 2020. The goal? To design a product to help speed up the mass vaccination process.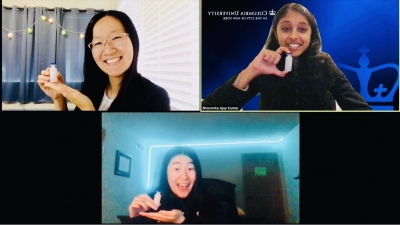 Kumar, who transferred to the College from Engineering after her first year, joined forces with Erin Liang SEAS'23 and Cindy Tsou CC'23
, and the group named themselves Team Immunogeniuses.
They worked with their faculty mentors, Aaron Moment, a professor of practice in chemical engineering, and Sanat Kumar, the Bykhovksy Professor of Chemical Engineering.
The team began to collaborate through late-night Zoom brainstorming sessions and one-on-ones with their faculty mentors.
"Columbia has done an outstanding job trying to give people as many opportunities as it can, given the virtual format, and there's a lot for students to gain by making use of those opportunities," says Kumar. "The number of connections I've made with professors, industry experts and University alumni has been insane. I would've never imagined that'd be possible.
Team Immunogeniuses quickly developed and 3-D printed a prototype of a multi-dose vial design that only used 40 percent of the borosilicate that traditional vials use. The solution doubled the number of vaccine doses that could be stored for the same amount of glass used in traditional vials and would allow for rapid scalability.
Three months later — after advancing through two rounds of the Design Challenge and impressing judges at every stage — their prototype, which they called "VaxFlask," won the grand prize of $5,000.
The potential long-term impact of their design ultimately won over the judges.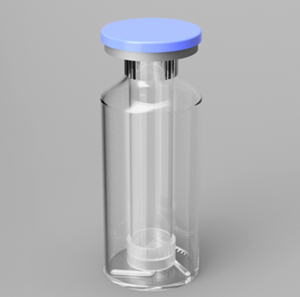 "The judges thought that our solution is not only relevant for the Covid-19 pandemic, but also will remain increasingly important in promoting vaccine distribution, efficiency, accessibility and equality worldwide," Kumar says.
This solution also piqued the interest of major pharmaceutical manufacturing companies, like Pfizer, that were interested in the team's prototype and research efforts.
"I reached out to a scientific senior advisor at the Coalition of Epidemic Preparedness Innovation [CEPI], a key player in vaccination efforts, on LinkedIn," Kumar says. "He connected us with Pfizer and other major pharmaceutical vial manufacturing companies."
CEPI is a global partnership between public, private, philanthropic, and civil society organizations that develops vaccines to stop future epidemics.
"Through these connections, we're working with a pharmaceutical primary packaging company to investigate areas in vial-filling inefficiencies, use of data science to optimize manufacturing and possibly recycling the vials," Kumar says.
As Covid-19 restrictions ease, the team is now trying to formalize a University-industry partnership with the company so they can go into the research lab for prototype testing.
"I'm very invested in recycling and reusing the vials," says Kumar. "We'll probably have to look into how the vials would be cleaned and returned, but I'm looking forward to this piece of the project."
With all this experience under her belt, what does Kumar's future hold?
"I'd be interested in going into space medicine," she says. "A lot of technologies that are developed for space exploration, for example, by NASA, can be spun off into new technologies that benefit people all over the world. I'd be interested in that translational research."