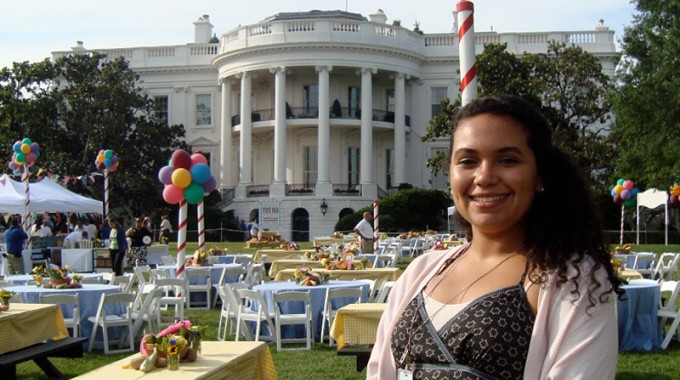 Blending politics and communications at the White House
A student pursues her passions for politics and communications with help from the Columbia College Alumni & Parent Internship Fund.
Dominique Mann '12 arrived at Columbia College in the fall of 2008, just in time to see Barack Obama CC '83 elected to office. Like so many students, Mann found herself caught up in the excitement of the election and wondered how she could be a part of it.
That opportunity came. When looking for internships for the summer between her junior and senior year, Mann discovered the White House Internship Program. The White House offers positions in different presidential departments and Mann was interested in working for the Communications Department. With a communications background honed in high school, and a new passion for politics, Mann seized on the opportunity to combine her interests.
Mann had cultivated extensive communications experience before arriving at Columbia. She had always enjoyed writing and telling stories, and in high school, was features editor of the school's newspaper. When she got to Columbia, she continued to pursue media and communications opportunities, earning internships at BET News and CBS News. By the time she reached her junior year, she was ready to explore different avenues of communications — and the White House program fit that plan.
"I love the Obama administration and I wanted to be a part of that," Mann said. "I felt that I missed out on the 2008 campaign because I was fresh to politics. But also, my interest and experience in communications spoke to this internship. I wanted to look at communications through a different avenue, so I knew this was a perfect opportunity to look at the political side."
President Obama launched the White House Internship program in 2009 to give students valuable job experience in the Executive Office and help prepare them for future public service opportunities. The internship program is open to undergraduate, graduate, recent graduates and veterans for eight weeks periods three times a year. Students interested in working for the President and exploring public service can intern for a number of different departments, from Chief of Staff to Cabinet Affairs.
Thousands of people from across the country apply for a chance to intern at the White House each year, and the program selects a choice few who are committed to public and community service. Of those thousands, Mann was chosen to work in the Communications Department as a Broadcast Media Intern during the summer of 2011.
To fund her stay in Washington D.C., Mann applied for, and was awarded, funds from the Columbia College Alumni & Parent Internship Fund (APIF). The fund, run through the Center for Career Education, alleviates some of the financial burdens associated with unpaid internships and thereby encourages students to accept such internships.
When Mann arrived in Washington D.C. for the summer, she discovered that she was right to be excited about this opportunity. At the White House, she worked with Dag Vega, Director of Broadcast Media, who was charged with monitoring how the Obamas were portrayed in the media, organizing television interviews with political figures and providing television transcripts. It was the interviews that Mann attended that interested her the most.
"Every once in awhile, the person being interviewed would talk to me," said Mann. "One minute they could be talking about the War in Afghanistan or troop withdrawal, and then the next minute they ask me personal questions like where I was from and where I went to school. It was an out of body experience."
In addition to daily office duties, interns for the White House attend weekly lectures and volunteer at special events. At the speaker series Mann heard talks from senior White House officials, ranging from Vice President Joe Biden to actor and Associate Director of the Office of Public Engagement Kalpen Modi. All of the speakers gave great advice about school and pursuing careers, but it was First Lady Michelle Obama who inspired Mann the most. The White House program asked interns to write an introduction for the First Lady and the best one would be chosen to introduce her at the speaker series. Mann won that opportunity, allowing her to have a brief moment with Mrs. Obama backstage.
"Meeting the First Lady was one of the most inspiring experiences I have ever had because it motivated me to be the intelligent, independent, and compassionate woman that she is and to continue on a path of success," Mann said.
As for meeting the President, Mann managed to meet him twice; the first time at a Congressional Picnic he hosted with the First Lady and again at the end of the internship for a group picture and brief discussion. She found it amazing to finally meet and shake hands with the person she admired so much.
But it was being around leaders everyday, from the President to her boss, that inspired Mann to become a strong leader herself.
"I learned how to be a leader by connecting to people on all different levels," Mann said. "In government, you deal with a lot of bureaucracy, a lot of people doing a lot of different tasks, from Senior Officials to interns. But just understanding how to be a leader and how to encourage others will help me in the future."
Now, with graduation approaching, Mann is still interested in communications. And, a result of her internship at the White House, her interest has also expanded to politics. While she is applying for television fellowships, she also hopes to work for President Obama's re-election campaign.
"I discovered that starting a new experience may feel uncomfortable or unfamiliar," Mann said. "But it challenges you to learn and strengthens your confidence. I'm ready for any new experience that comes my way."
Last updated Sunday October 6, 2013