BOOKSHELF
Simon Schama Goes Home (Briefly)
By Timothy P. Cross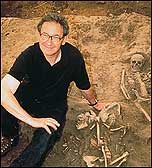 University Professor Simon Schama with skeleton of Black Death victim.
PHOTO: BBC/IAN BREMNER


Related Stories

When the BBC first approached him about doing a documentary on the history of Britain, University Professor Simon Schama politely declined. After all, he hadn't lived in England for two decades and even had moved away from teaching British history. The project, he later told interviewer Charlie Rose, "seemed to be an impossible thing to do. It would eat me alive." He recommended others for it.
Several months later, however, the BBC asked Schama again, and this time he agreed. "A History of Britain" aired in the U.S. from October 30 to November 1, 2000, on the History Channel, which had collaborated on the series. Covering Britain from prehistory to the end of Elizabeth I's reign, the first six hours of what will be a 16-hour series won rave reviews: "An extraordinary academic exercise," said The New York Times; "high caliber programming," said the Wall Street Journal.
Schama admits that he found television "a huge disciplinary master," forcing him to select material for the program. Fortunately, what he was forced to leave out of the series he was able to put in his richly illustrated companion book, A History of Britain: At the Edge of the World? 3500 BC - 1603 AD (Talk Miramax Books, $40), which he says, goes beyond being "the script between hard covers."
The remaining 10 hours of the series, covering from the beginning of the reign of James I to the present, are in production and will air later in 2001. The second volume of Schama's history will be published in conjunction with those airings.