ALUMNI CORNER
Stand Up and Cheer for Old Columbia
By Gerald Sherwin '55
President, Columbia College Alumni Association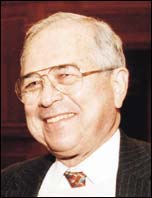 Gerald Sherwin '55
PHOTO: MICHAEL DAMES

On March 7, Columbia College will honor four very distinguished alums at the annual John Jay Awards dinner, to be held this year for the first time at the Plaza Hotel in New York. Honorees will be Tom Glocer '81, CEO, Reuters Information; Michael Gould '66, chairman and CEO, Bloomingdale's; Carlos Muñoz '57, former executive VP, Dime Bancorp, and Cristina Teuscher '00, Olympic medal winner. This promises to be a stellar affair and we hope for a full house to celebrate these outstanding Columbians.
The John Jay Dinner follows on the heels of November's Alexander Hamilton event, when Bill Campbell '62 was honored with the coveted Alexander Hamilton Medal. Bill's incredibly broad appeal drew a truly diverse group of College alumni, students, faculty and administrators, in addition to Bill's friends. Low Library was filled to capacity and echoed with the sounds of bagpipers who serenaded Bill, courtesy of former teammate Brian Dennehy '60.
It is not only in New York City but around the country and around the world that Columbia's intergenerational community abounds with activity. Working through the National Council, alumni are involved in cities such as Atlanta, where social events, mentoring, book awards and interviewing of applicants to the College are taking place. Key players there are Janet Frankston '95, Stuart Berkman '66, Isaiah Delemar '93, Leslie Harris '88, Ben Chance '85, Sally Graham '90 and Tom Detscher '58.
The development and coordination of alumni functions are beginning to take hold in Philadelphia under the auspices of Dennis Langer '71, Phil Cottone '61 and recent grad Andy Dalton '99. Boston is busy getting its activities together, with William Woo '88 and Steve Coleman '83 leading the proverbial "charge" up north. Despite the wintry snow and difficult weather conditions, Mike Savini '97 and Bill Roach '66 are doing a lot of planning in Chicago.
Out on the West Coast, there is a very strong and well-organized alumni base in the San Francisco area, where Robert Kidd '70, Ilene Weinstein '87, Amy Perkel '89 and Tom Ferguson '74 have taken the lead in keeping Columbia top of mind. For those in Los Angeles, a series of events are planned for the spring under the direction of Gary Rachelefsky '63. Other key alums are Ed Hoffman '87, Jason Hallock '93, Lou Rothman '57 and Russell Abbott '62.
Overseas, plans are being formulated for a late spring reception in Singapore under the watchful eye of Conrad Lung '72. The entire spectrum of Columbia people - current students, recently admitted students, alumni and parents - will be invited to join in the festivities.
Back in New York, there are more and more things going on with alumni and undergrads in addition to the two major dinners. The annual tree lighting and Yule Log ceremonies were held in December. Rita Pietropinto '93 and Charles Saliba '00 were very much involved, along with a vast number of the Senior Class ('01).
Two groups that have made a definite impact in getting alumni and students closer together are the Young Alumni (CCYA) and Columbia College Women (CCW).
Among the events sponsored by CCYA are networking nights at various locations throughout the city, and the Columbia Connections program designed to bridge the gap between life as a student and life after graduation. The latter is a series of interactive panels, dinners and activities in which alumni meet with current students every couple of weeks. Besides CCYA President Rita Pietropinto '93, other members of CCYA who play active roles in this group's endeavors are Rebecca Boston '93, Rafay Farooqui '98, Steve Weinstein '91, Andy Topkins '98, Alicia Guevara '94 and Laura Pietropinto '00, while Abigail Black-Elbaum '92 fills a vital role as chair of the Hamilton Associates.
CCW conducts mentoring nights, among other events, culminating each year with the Alumna Achievement Award, to be presented on March 22. Cathy Webster '87, Sarah Lorge '95 , Gabrielle Kleinman Haskell '91, Becky Minervino '95, Bonnie Rosenberg '91, Lee Ilan '87, Angela Ellis '98 and Jill Niemczyk '87 are among those who make significant contributions to CCW's efforts.
Through the Columbia Outreach Committee led by Moselle Thompson '76, there will be events during both Black Heritage Month and El Regreso II, the latter hosted by the Latino Alumni Association. There are mentoring nights planned as well for Black, Latino and Asian students and alumni. The Outreach Committee consists of alums Fernando Ortiz '79 (ex officio), Adlar García '95, Lorenzo Wyatt '93, Judy Kim '87, Syreeta McFadden '97, Rhonda Moore '96, Patrick Yu '88, Brigit Geeson-Alvarez '98, Adrienne Brown '00, Prisca Bae '00 and Dawn Santana '87. Joining García on the Latino Board are Rebecca Castillo '94, Alicia Guevara '94, Angelo Falcon '73 and Grissel Seijo '93. The Asian Mentoring Program is led by Conrad Lung '72 and William Chan '86.
The College year culminates for a good many alumni on the weekend of June 1-3, when the classes ending in 1s and 6s will have their long-awaited reunions. New and different things are being planned this year, as the reunion committees will tell you - in fact, most classes are planning to get a jump start on the weekend with events on Thursday, May 31. The most recent graduating classes (reunion and non-reunion) will be invited to a special function on Friday, June 1, courtesy of CCYA and the Office of Alumni Affairs.
You should want to be part of all that is going on with one of the great institutions of higher learning in the world. As our dean, Austin Quigley, has said: "A successful educational institution is characterized by its history of achievements, but its fixture achievements require the constant renewal and extension of its traditions and resources." That's what Columbia College is all about.
Stay in touch with your roots wherever you may be. Get involved. If you have any questions, comments or need information, please contact me at gsherwin@newyork.bozell.com. Be a part of Columbia's success.