ALUMNI PROFILE
Garnjost Saluted by IOC, U.S. Rowing
By Alex Sachare '71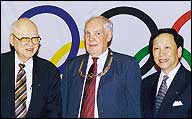 John Garnjost '56 is flanked by L. Henry Hsu (left) and C. K. Wu, former and current IOC members from Taiwan, respectively, at the Olympic Order presentation ceremony.
PHOTO: COURTESY JOHN GARNJOST

When John Garnjost '56 tried out for the freshman basketball team at Columbia, the coach was so impressed, he suggested Garnjost take up rowing. Basketball's loss turned out to be rowing's gain as Garnjost went on to a distinguished career, first as a college oarsmen and then as a highly decorated rowing official.
In September, Garnjost became the 53rd American to receive the Olympic Order from the International Olympic Committee for his contributions to the sport of rowing in Taiwan, where he is regarded as the "father of rowing." And two months later he received the John Carlin Service Award from U.S. Rowing, which is given "to an individual who has made significant and outstanding commitments in support of rowing."
Created in 1974, the Olympic Order may be awarded "to any person who has illustrated the Olympic Ideal through his/her action, has achieved remarkable merit in the sporting world, or has rendered outstanding services to the Olympic cause, either through his/her own personal achievement(s) or his/her contribution to the development of sport." Prior recipients include Avery Brundage, Peter Uebberroth, Andrew Young, Arthur Ashe, Dick Ebersol, Bud Greenspan, Jack Kelly, Jesse Owens and fellow Lion Roone Arledge '52.
"I was really overwhelmed," says Garnjost, an international business consultant who lives in Stamford, Conn., upon learning he was to be honored by the IOC. "When you see the other people who have won the award, you think, `My goodness, who am I?'"
Garnjost took up rowing at Columbia and has been involved in the sport for nearly a half-century, becoming a U.S. rowing official in 1960 and gaining his international license in 1970. Of his decision not to continue competing after leaving Columbia he says, "I wasn't that good and just wasn't interested in rowing competitively. I realized at that time that my contribution to the sport was to be as an official, and I was going to be a good one."
He became good enough to officiate at the Olympic Games in Atlanta in 1996, as well as at numerous World Championships, U.S. Olympic Trials and U.S. Nationals. But it was for his work in Taiwan, where he helped launch competitive rowing while serving as president of Bristol Myers (Taiwan) from 1983-89, that he was honored by the IOC.
"When I got there, the sport was unknown," says Garnjost, who was instrumental in raising funds for equipment as well as raising the profile of the sport. "We established a rowing federation, with the goal of getting onto a par with mainland China. In those first years, oarsmen were recruited from the military. Now, rowers come from Taiwan University and Taiwan Normal, the major schools. Now everyone there knows about the sport."