WITHIN THE FAMILY
A Season of Change
By Alex Sachare '71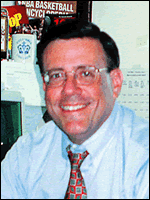 Alex Sachare '71

To everything there is a
season, and at Columbia, this summer is a season of change.
After maintaining a low profile while reacclimating himself to the Columbia community during the spring, Lee C. Bollinger formally became the University's 19th president on June 1. Bollinger, operating from a suite on the fourth floor of Low Library, could not move into the second-floor President's Office right away, however, as construction was taking place on the west side of the building.
Summer is the time when most work is done on the campus' infrastructure. For the College, the most exciting project is the ongoing renovation of Hamilton Hall, where classroom renovations are continuing, with more than half of the building's 38 seminar and lecture rooms scheduled to be completed by the time the fall semester begins. Meanwhile, Dean Austin Quigley and his staff have been temporarily relocated to the new Core Curriculum offices; the Dean's suite, which will share the main floor of Hamilton with the renovated Admissions Office on one side and the new home of the Core on the other, is expected to be finished by September.
Also scheduled for completion during the summer is the new landscaped plaza in front of John Jay Hall, where Lion's Court (a.k.a. the Tin Box, or Casa Metallica) previously stood and where older alumni will remember a tennis court. We'll be sure to have pictures in an upcoming issue.
With a new University president come administrative changes. Two of former President George Rupp's top aides, Provost Jonathan Cole '64 and Vice President and Dean of the Faculty of the Arts and Sciences David Cohen, have resigned to return to faculty positions but will remain in their administrative posts for the upcoming school year to aid in the transition. Another member of Rupp's "cabinet," VP of Public Affairs Alan Stone, left for a similar position at Harvard last winter, and his deputy, Virgil Renzulli, is leaving to become VP of public affairs at Arizona State under new President Michael Crow, who had been executive vice provost at Columbia.
Two names you'll be hearing more about in the future are Robert Kasdin and Susan Feagin, both of whom served under Bollinger at Michigan. Kasdin, who had been executive VP and CFO at Michigan, fills the newly created position of senior executive vice president at Columbia, with a flexible mandate that will allow the job to be shaped as needs arise. Feagin, a 1974 GS graduate who has twice previously worked at Columbia, was VP for development at Michigan and is now VP for development and alumni relations at Columbia.
There also is a change in leadership at the College Alumni Association, where Charles J. O'Byrne '81 has succeeded Jerry Sherwin '55 as president of the Board of Directors (for a look at the complete 2002–03 CCAA board as well as the Board of Visitors, please see page 52). O'Byrne has been active in alumni affairs since his student days and has served on the board in several executive committee positions, including secretary, VP for academic affairs, VP for communications and technology, and first VP. Sherwin, omnipresent at campus events during his two-year term as president, can be expected to remain a highly visible, active advocate for the College.