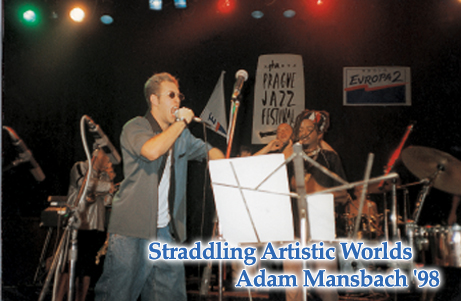 PHOTO: THE APPLE JUICE KID
Adam Mansbach '98 Makes Waves With Hip Hop Novel
By Nina Willdorf '99

With a languid swagger, Adam Mansbach '98 assumes a makeshift stage in the back room of Newtonville Books in Newton, Mass. With a microphone in hand, a black suit and black undershirt as his uniform and a three-piece band to back him, Mansbach reads from his debut novel, Shackling Water (Doubleday, 2002).
Truth be told, reading isn't quite the right way to put it. The performance mixes rhymed verse, rapping, and, at moments, singing. Stepping out in front of a podium, Mansbach uses his words as musical notes; they rise and fall over strains of improvised jazz. His consonants are jarring punctuation, his vowels are crowing notes, and his bobbing head provides emphasis.
Mansbach is reading from the beginning of his novel, which describes the life story of Latif, a black boy from Boston's inner city who experiences a harsh coming of age through music. In Mansbach's fictional world, America, he writes, is "not melting pot but mixing board, wedged between two turntables and a microphone, amalgamating tortured newness from the scraps of dying sonic dynasties."
Is that Latif speaking? Or Mansbach? On a 15-city tour of the United States, Mansbach, 25, has been making waves with his unusual way of fusing literary readings with musical shows that infuse a jaunty, beat-conscious hip hop vibe with more standard literary fare. He juxtaposes jazz influences, hip hop beats and rhymes and shoutouts to his literary luminaries with the cross-genre rapid flow of Cornel West.
The audience at Newtonville Books, composed equally of middle-aged folks and twenty-somethings, watches him; some appear bemused, others nod their heads in time politely, getting into the rhythm. All clap enthusiastically at the end of the performance cum reading cum concert.
Spending equal time in bookstores and clubs as program coordinator for Columbia's Center for Jazz Studies and improvisational hip hop artist, and now touring with Shackling Water, often called "a hip hop novel," Mansbach straddles many artistic worlds.
"Adam brings the aesthetic and the intellectual together in a powerful fusion," says Michael Eric Dyson, author of Holler If You Hear Me: Searching for Tupac Shakur (Basic Books, 2001) and professor of religious studies and African-American studies at the University of Pennsylvania. Dyson taught Mansbach at Columbia in 1998 when he was visiting professor of African American Studies.
Early on, Mansbach, a native of Newton, a wealthy, predominantly Jewish suburb of Boston, found himself drawn to the heady and heated world of hip hop, where artists such as Public Enemy and Run-D.M.C., he found, were saying something politically important. "I got a sense that the community that I was living in had a hypocrisy to it, particularly around things like race," he explains via phone from his apartment in Fort Greene, Brooklyn. "I felt like people weren't grappling with race on its most profound levels. I had a sense of that injustice from a young age."
At 12, Mansbach started listening to Public Enemy, Jungle Brothers and N.W.A., early hip hop artists who broadcasted progressive political awareness. "I became radicalized at a young age," Mansbach says. "Rap then was aggressive in what it was trying to do. I had a little kernel of indignity and outrage and I started trying to do something about it." Mansbach started making his own art, performing at spoken word nights in Boston. He made waves wherever he could in his community, protesting, for example, to have the Black Panthers included in his seventh-grade history class curriculum.
But it wasn't until years later, as a sophomore at the College, that the politically minded, artistically inclined youth was to finally channel that enthusiasm, indignity and artistic eye into his first piece of work.
Mansbach studied English at Columbia under Ann Douglas, George Stade and Kenneth Koch, among others. He also audited a class on hip hop at NYU with Tricia Rose. "The class made me see how hip hop could be critiqued from a place of understanding and respect for it," Mansbach recounts. "I decided I needed to put that dialogue in writing."
Mansbach took the discussion uptown, launching a magazine called Elementary: A Journal of Hip Hop Culture, which Columbia wrote about in its Winter 1996 issue. Douglas acted as a faculty sponsor for the project, which Mansbach developed as an independent study under her direction. "He's a fabulously talented, unbelievably energetic, interesting, brilliant young man," Douglas raves. "Frankly, anything Adam wanted to do was fine by me."
Supported in part by grants from the University, Elementary included an intelligent mix of essays on the genre from graffiti art to dance to music. With a full-time staff of four students, Mansbach was able to woo contributors including Chuck D, Greg Tate, Delfeayo Marsalis (Wynton's brother) and Professor Robert O'Meally, who has continued to work closely with Mansbach as his adviser in his part-time position consulting with the Center for Jazz Studies. "We set out to create dialogue and give it the space to flourish," Mansbach explains. "We were interested in talking about where hip hop had gone." In particular, the journal addressed "the missteps that hip hop had taken since its peak political awareness from 1989-91."
[ 1 | 2 ]