OBITUARIES
Victor J. Zaro '42: Longtime Class President
By Lisa Palladino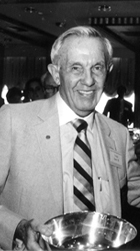 Victor J. Zaro '42


Related Stories

The Great Class of 1942, as it is called by its members, is known around the Alumni Office for its devotion, generosity, involvement and class newsletter. Perhaps the most visible member of this class was its president, Victor J. Zaro. A retired corporate executive, real estate developer and investor who split his time between his residences in Wayne, Pa., and Mulberry, Fla., Zaro died on April 11, 2002, in Mulberry, just a short time before his class' 60th reunion. He was 82.
Born on November 23, 1919, in Buffalo, N.Y., Zaro attended the College, majoring in business administration, thanks to a scholarship that covered the $400 tuition. He was president of his senior class, an honors student, a member of Sachems and a brother in Sigma Alpha Epsilon. Zaro was active in sports while at the College, participating as varsity wrestling captain and a first-year football player. He won the Jochum Trophy three times as most valuable wrestler.
After graduation, Zaro served in the Navy Air Corps from 1942–46 and piloted PBM Martin Mariners in the Atlantic and Pacific theaters in World War II. He was discharged as a lieutenant, and his decorations include the Air Medal with four stars.
From 1949–58, Zaro served in a number of executive capacities with American Machine and Foundry in New York, including director of operations for personnel and operations manager of AMF's nuclear laboratories. In 1958, he joined Philco in Philadelphia as manager of industrial relations. In 1960, he founded the Victor J. Zaro Co., a real estate investment firm that owned apartment complexes and industrial parks. He remained active in the company until the early 1980s, at which time he began to gradually reduce his work hours. He was fully retired by 1983.
Zaro was active in alumni affairs since his graduation, and was honored numerous times by the University. For his class' 40th reunion, he spearheaded a fund drive that resulted in a $400,000 gift, for which he was awarded the Columbia University Medal in 1986 for "conspicuous alumni service" by then-President Michael Sovern. In 1994, Zaro was awarded the President's Cup by then-President George Rupp for his efforts with his class' 50th anniversary gift of $1,985,000. Rupp called Zaro "the exemplar of the enthusiastic, energetic, dedicated alumnus on whom the future of Columbia depends." Zaro also was honored in 1997 by the Columbia University Club of Philadelphia with its Distinguished Achievement Award, which is granted for significant accomplishment to an alumnus who lives or works in the Delaware Valley and who has demonstrated extraordinary loyalty to Columbia. Dean Austin Quigley made the presentation. It is no surprise that Zaro once remarked on a Class Directory questionnaire, "[I have] a deep and abiding affection for Columbia and members of the Great Class of 1942."
Zaro's community-minded and generous involvement extended beyond Columbia. He was a member of Wayne Presbyterian Church since 1959, where he served as an elder, trustee and Sunday School teacher. He also enjoyed leisure activities, especially golf, holding memberships in three golf clubs, including Ballybunion Golf Club in Ballybunion, Ireland. Other hobbies were gardening, carpentry and world travel.
Zaro is survived by his wife, the former Elizabeth (Betty) Miller; daughter, Victoria Loving; sons, Christopher, Timothy and Samuel; and five grandchildren.