Second Careers
By Shira J. Boss '93

When choosing a major or a graduate school program, students commonly feel as if they are rolling out the map of their entire careers. As Dr. Seuss tells graduates in Oh, The Places You'll Go!: "You have brains in your head. You have feet in your shoes. You can steer yourself any direction you choose."
No decision is a one-way ticket, especially in this era of career mobility. Peter Levine '65 and Jim Mummery '65, classmates who majored in history, are examples.
After serving in Vietnam, Mummery went on to a 25-year management career in the business world. Having never lost his passion for history, however, he went back to graduate school, quit his job and became a high school history teacher in his 50s.
Levine, on the other hand, went straight on to graduate studies in history after the College. He enjoyed three decades of teaching the subject at Michigan State University before deciding to leave the classroom for the stage. While others his age are retiring and migrating south, Levine is back in New York honing his skills as a thespian, sending his headshots to agents and lining up at auditions.
Daniel Schechter '83, who transitioned from music to medicine, often finds himself giving advice to others on changing careers. "People are complex, and different interests may serve that individual at different points in life," he says. "People can really change their direction and build on their previous experience with a sense of fulfillment. Where one starts may be very different from where one ends up."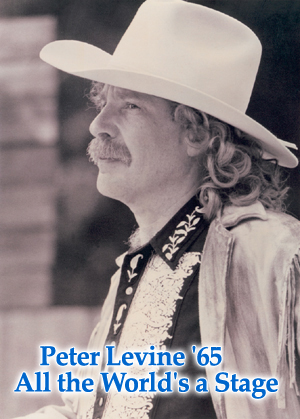 Peter Levine '65 married his childhood sweetheart and has been happy for 41 years. But when it came to his career as a history professor, after 32 years, he left to try something new: show business.
After spending three decades in East Lansing, Mich., Levine returned to his native Brooklyn. He was accepted into a prestigious two-year actors training program, replaced stacks of students' papers with stacks of his headshot and made his off-Broadway debut. "We left very predictable and comfortable and leisurely lives, and those are all good things. But part of us wanted more freedom, more unpredictability," Levine says of himself and his wife, Gale.
Teaching and performing have been linked in Levine's mind since he was a student of history professor James Shenton '49 at Columbia. Shenton was his unofficial adviser, and Levine found the historian an inspiration. Levine earned a master's in history from Columbia in 1966 and then went into a Ph.D. program at Rutgers. In the fall of 1969, he was offered a position in the history department at Michigan State. "It just sort of happened, and happened to be a 32-year career," Levine says.
He specialized in sports history, writing books such as Ellis Island to Ebbets Field: Sport and the American Jewish Experience (Oxford University Press, 1993) and, with Robert Lipsyte '57, Idols of the Game: A Sporting History of Twentieth Century America (Turner, 1995).
"Jim Shenton was my role model," Levine says. "He'd come in with a stack of books and captivate an audience. When I could finally go into a classroom without notes and hold a class's attention, I knew I had arrived." Levine took the performance a step further by having students put on plays that were relevant to the period they were studying.
One afternoon, Levine made his way over to an audition for a community play. From that show in 1986 until 2000, he worked with the university's theater program and performed in dozens of plays. "I did it all with no training," Levine says. "Most of my friends were astonished that someone they knew had the chutzpah to get up in front of people."
In fall 1997, Levine came back to New York for a semester to work on a book. He enrolled in acting classes on the side and got into an off-off-Broadway show in the West Village. "I realized it's what I wanted to be doing," he says.
Levine convinced his wife that they should relocate back to the city, which they did in September 2000. If they had waited just one more year, he says, they probably wouldn't have done it, given the declining stock market and the turbulence of September 11.
In March 2001, Levine started auditioning, and from June to October appeared in four plays. A highlight for him was doing a revival of Madwoman of Chaillot at the Neighborhood Playhouse. It was a minor role, but still thrilling for Levine, especially when he found out that he would be on stage with veteran actress Anne Jackson. "In my mind, I was the leader of the vagabonds," he says.
Like most aspiring actors, Levine also has tried out for commercials. He was excited to get called to audition for a national Volkswagon commercial that called for a professional type. He found himself in front of the camera blowing bubbles and following instructions to act flirtatious before he started feeling ridiculous. To get through it, he repeated to himself: "I'm 57 years old and have had a life, so none of this really matters."
He didn't get that part, but he did land a lead in the Gallery Players production of Front Page in Brooklyn, which ran the first two weeks of April. "Apparently," he says, "I've had as much success and opportunity in one year as many people have in several."