FEATURES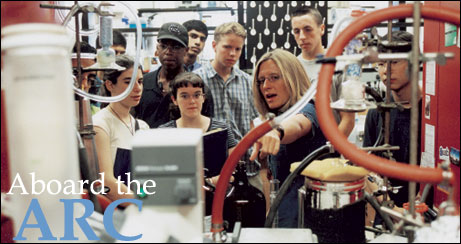 Alumni interviewers help Admissions shape College classes
By Bill Hudgins '72

Related Stories

Do you recall your interview for Columbia? Mine was in November 1967. I don't remember much of what the admissions officer and I discussed. Surely, some of it involved my deep desire to leave my red-clay Virginia hometown for the bright lights of (Upper) Broadway.
I must have been persuasive. Before he left, the admissions officer told the headmaster of my boarding school that he thought that I would be accepted. That left me with a strong sense of obligation and gratitude, so when Admissions recruited me in the late '80s to become a volunteer on the Alumni Representative Committee, I readily agreed.
Today, ARC includes 2,667 alumni in 136 regions around the world, which range from the boroughs of New York City to entire states — such as Tennessee, where I am the chairperson — to great cities such as Singapore.
ARC members interview many of the applicants to the College as well as to The Fu Foundation School of Engineering and Applied Science (SEAS). They also represent their schools at college fairs and attend or host receptions for potential applicants and their parents.
The acronym ARC is apt. The members form a human bridge between the applicants and Admissions. "The ARC member may be the only Columbia representative that the candidate meets face-to-face during the admissions process," notes the ARC handbook.
It's a bridge that runs both ways, say ARC members, many of whom say they feel enriched by meeting so many outstanding young people and satisfied that they contribute materially to Columbia's intellectual coffers.
Take, for example, Marc McCann '88, who financed his Columbia education through a combination of a John Jay Scholarship, grants, work-study jobs and student loans. McCann taught high school until eight years ago, when he joined a nonprofit agency that operates free programs for Pennsylvania children.
"Given my financial background, my nonprofit wages and the fact that it took 13 years to pay off my student loans, I was looking for a way to give back to a great college without spending money. ARC provided that opportunity to me," McCann says.
"I feel more connected to Columbia and I have a better handle on the current students. I just plain love kids and people, and interviewing candidates is always interesting. The 10 or 20 hours, or whatever time I give, is a small way to help the College without reaching into my wallet."
The interview season starts in October for early decision candidates and runs to the end of February. In November 2000, Admissions put the entire process online as a part of Columbia's Web site. ARC chairpersons use the secure site to communicate with members, assign interviews and track the status of applications. Interviewers can upload reports to the site, saving uncounted hours of paperwork.
Because the Admissions Office already has documentation on grades, interviewers look for more qualitative, subjective information: How do the applicants think? Are they truly interested in Columbia, or are they just going through the motions to appease parents or guidance counselors? Do they appear to possess the intellectual curiosity, drive, discipline and resilience to thrive at Columbia?
Recalls Selina Lam '99E, part of the East Bay (Calif.) ARC group: "My interviewer asked about the classes I was taking at the time and my extracurricular activities. We spent a lot of time talking about the part-time job I had. She wanted to know the kind of work I did and the level of responsibilities I had. I had various part-time jobs and summer internships throughout high school, so I spent a lot of time telling her about them."
Alex Labounsky '68E of Long Beach, Calif., has a long list of key success indicators he looks for in an applicant. Among them are vision, intellectual creativity, capacity to generate new ideas, leadership, motivation, implementation skills, organizational skills, time management skills, good-vs.-bad habits, interpersonal skills, personal dynamism/charisma, a "go do it" energy level, breadth of interests, intensity and depth of interests, persistence, determination and stamina to "get it done," personal character traits, personality traits (e.g., extrovert/introvert), propensity to give more than to receive, mental agility, sharpness and power, intellectual development, deep-thinking abilities, conceptualization capabilities and the ability to see the big picture.
Undergraduate applications have skyrocketed in recent years, leading to dramatic drops in admissions rates. A record 14,094 applications were received by the College for 1,007 places in the Class of 2005, compared to 8,714 applications just six years ago. The College admitted 1,720 students, producing a selectivity rate of 12.2 percent, the lowest in Columbia's history and third-lowest in the Ivy League behind Harvard (10.7) and Princeton (11.7). Engineering has experienced a similar boom, with applications rising 82 percent since 1995.
"I've been astounded by the quality of the kids we're interviewing," says Vasos Panagiotopoulos '81E of Whitestone, N.Y. "I've felt that more than half of them are superior to most of my former classmates. The two of the 27 I've interviewed who got in were incredible."
"I am constantly amazed at how much the bar gets raised every year," echoes Aloshri Mukerji '97E of Burlington, Mass. "I start to wonder how I ever got into the school. This year, I met a student who had great grades, played sports, was involved, and on top of that had a job at a local hospital where he was writing programs to help decipher MRIs — and he was writing electronic music on the side as a hobby. You wonder how he finds enough hours in the day."
Some ARC representatives suggest that Columbia's current attractiveness has led to more unqualified and even uninterested candidates who vie for time, attention and interviews.
"The most amusing thing that I have encountered in an interview was a candidate who was incapable of summing up in cogent, coherent terms WHY," says Nina Tannenbaum '99 of New York City. "Why Columbia, why the Core, why New York, why whatever. As an interviewer, the hardest thing is convincing myself of the candidate's ability to think.
"When I asked one candidate what so interested him about Columbia, he responded, 'I just think it would be cool to go to Columbia. Columbia is, like, cool. It'd be fun, like, I don't know, it's just cool.' I grinned at my candidate with reassuring agreement and said, 'Yes, Columbia is cool,' as 'lacks intellectual heft' struck me as the cogent synopsis of him. This was confirmed by other aspects of our conversation, but his response to the 'Why Columbia?' question just happened to be the tip of the iceberg."
Applicants and alumni are well aware of the competition for admission. "Not one of the six who I interviewed in the last year got in!" grieves Bob Mauri '67 of Gaithersburg, Md., echoing a common lament. "Consequently, I find myself playing somewhat the role of a therapist. I tell the student about how bad the odds are of getting into Columbia, the unfathomable nature of the Admissions staff's criteria, and that denial of admission at Columbia has no bearing on their talents and promise."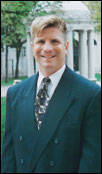 Eric Furda, executive director of undergraduate admissions

Says Eric Furda, Columbia's executive director of undergraduate admissions, "As interviewers and admission officers, we are painfully aware that highly qualified and compelling candidates are not admitted, given the finite number of spots in the class. In fact, Columbia's relatively small enrollment and the size of the applicant pool means that many eminently qualified candidates will not be admitted.
"Even though I am ultimately responsible for the decisions made by this office, I would be stretching the truth to say that I like, relate to or want to be friends with every student admitted to the class. I think it's dangerous when articles paint a picture of an admissions officer who advocates for students because the applicant reminded the officer of himself or herself when he or she was applying to colleges.
"We take the alumni reports seriously, but there are times when a compelling candidate with a strong interview cannot be admitted. At other times, there may be candidates who did not impress the interviewer but present a mix of talent and accomplishment in other parts of the application that will contribute to the incoming class."
Although only about half of all applicants are interviewed, Furda maintains, "There is no clear advantage or disadvantage to having an interview in terms of the admit rates, although students do feel that they are at a disadvantage if they are not interviewed. If the interviewers are being critical in their observations, there will be a balance between interviews that strongly advocate for a candidate and others that are less supportive."
In our brand-conscious society, prestige drives some applicants. "I've been doing interviews in the Washington, D.C., area since 1993," says Alan Freeman '93. "I'm increasingly impressed by the quality of the applicants, but disturbed by the fact that more and more seem to be applying to Columbia based solely on its reputation as one of the country's top schools, and not necessarily because they know what distinguishes Columbia from its peers.
"For example, the students I interviewed six or seven years ago knew all about the Core Curriculum and were able to explain why they wanted that collegiate experience as opposed to anything else. They seemed to have applied to Columbia based on a thorough understanding of why Columbia was different from other schools.
"These days, I find that most applicants have never even heard of the Core and have not even visited the campus. I can only surmise that their interest in Columbia is based on little more than what they've read in the U.S. News & World Report survey."
Although the College and SEAS offer extensive print, video and online information, nothing can quite substitute for someone who's been there and done that. Many applicants don't visit campus until after being accepted, so often the ARC interviewer is that person. And that, as Robert Frost might have said, can make all the difference.
Questions about city and dorm life abound. Some of the most frequent questions are about crime and personal safety. Stuart Berkman '66 of Atlanta, a 30-year-plus ARC veteran whose daughter is a member of the Class of 2005, recalls a comment made by the father of a first-year College student. The family has just moved to Atlanta from Washington, D.C., and the father said that his wife was concerned about crime in New York City.
"I replied (and he agreed) that no one who has lived in Washington and is now in Atlanta has any right even to think about safety concerns in New York! Washington and Atlanta are either No. 1 and No. 2 or No. 2 and No. 1 in the U.S. in terms of violent crime, while New York is not even No. 100."
Many ask whether New York City will distract them from academic demands, while others worry about the reverse. They ask about food, transportation, internships, jobs, financial aid, accommodations, roommates, and ethnic and religious organizations. They even ask about the curriculum.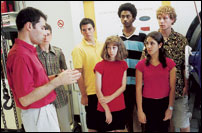 Visiting the campus and its facilities is helpful, but not all students can do so. For many, ARC is their connection to Columbia.
PHOTO: MICHAEL DAMES

ARC members also reach out to applicants by hosting or attending receptions for prospects. These can be simple gatherings at an alum's home or more elaborate affairs, as Philadelphia ARC chair Mark Momjian '83, '86L relates. His group holds a winter reception every year on the Sunday before the Super Bowl. More than 250 student-applicants and their parents attend, as well as ARC members, current Columbia students and area alumni.
"We honor the students accepted in the early decision pool and award a $1,000 scholarship to the winner of our annual essay contest, which is open to current undergraduates from our area. The award rotates every year among Barnard, Columbia College and SEAS."
They also honor famous Columbians. "A few years ago, we celebrated the life of Clement Clarke Moore, the esteemed Hebrew scholar and author credited with penning the famous poem, 'A Visit From Saint Nicholas.' Two students from the Akiba Hebrew Academy (both of whom were accepted in the early decision pool) presented the world premiere of ''Twas the Night Before Christmas' in Hebrew!"
T. Irving Chang '60C and Nick NgPack '78 host a similar gathering each summer in Honolulu. "Parents have been very pleased, as we cover topics such as banking, buying winter clothes, getting set up in the residence halls and other mundane subjects about which parents like to hear," says Chang. "The new kids enjoy the get-together as they meet their classmates and the upper classpersons and get the skinny on the school. The upperclasspersons enjoy it because they are networking with the alums, and they get to see the new faces."
What do ARC members get from their participation?
"Interviewing is fun and enjoyable," says Labounsky. "The more you do it, the more you hone your interviewing skills, which can be useful when your employer asks you to interview applicants for new or expanding project/program positions.
"You hear what the applicants say about their schools, classes, and teachers and so much more about what it's like in their schools today in comparison to what you remember of your school experiences years ago. This feedback helps you to gauge just how good these supposedly better high schools are [that are] right in your backyard."
"I love being an interviewer for the applicants to Columbia in West Tennessee, simply for the stimulation that it provides me," says John Boatner '62. "No altruism, here! Quite to the contrary. My motivation is entirely self-oriented."
Tom Ferguson '74 started interviewing while a senior, served as an admissions officer for two years, and now heads the East Bay Committee in Piedmont, Calif. "I saw that through being an interviewer for Columbia I was going to meet a lot of interesting and knowledgeable people and broaden my horizons considerably."
Ferguson says it also can be personally satisfying, recalling "a memorable moment: being stopped on campus by someone who asked if I remembered him. I said no. He said, 'You interviewed me when I applied here, and what you said made me decide to attend, so I wanted to say thank you.' "
About the Author: Bill Hudgins '72 of Gallatin, Tenn., is editor-in-chief of Road King Magazine, a bimonthly publication for long-haul truck drivers. The author wishes to thank all College and SEAS alumni who took time to respond thoughtfully and at length to his requests for their experiences with ARC activities. "Your enthusiasm and insights are tributes to your Alma Mater."

Related Stories