ALUMNI PROFILE
Soft Landings
By Shira J. Boss '93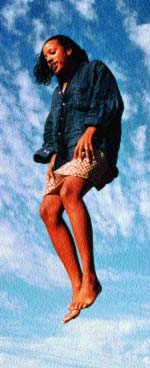 Meredith Norton '92 hopes to make a giant leap - into outerspace.
PHOTO: COURTESY OF MEREDITH NORTON


College students fretting over their choice of a major may be inspired by the story of Meredith Norton '92, who, after nearly a decade out of school, has decided to pursue her childhood dream of becoming an astronaut.
It's a long and improbable path. "A lot of people apply and like nobody gets in," Norton says of the training program. "But for me, it's the process."
Her career as a teacher and entrepreneur already has been an unlikely process. After working in documentary filmmaking in New York following graduation, Norton moved to Oakland, Calif., and started teaching history in a public junior high school. At the same time, she and a friend began making high-end silk pillows and blankets for themselves and as gifts. "Everyone wanted them; stores wanted them!" Norton says. "So we got a pattern-maker, a warehouse base and started going to trade shows." Teaching school the whole time, Norton ran the silk bedding company with her friend for three years. With four other employees, they sold more than 100 products wholesale to catalogues and to 250 stores nationwide.
Was the pillow company about "building a better mousetrap," as the saying goes? Actually, yes. "We had a mouse problem," Norton admits. It started with glimpses of gray fur darting by. Then they noticed holes chewed through entire bolts of silk fabric.
"It was two months of fighting mice. When it first started, we were screaming and jumping up on the pattern table. By the end, we'd just put on our rubber gloves and go after them. We didn't want to kill them, so we tried to catch them and drive them out to the country," she says, for which Norton devised her own mousetrap involving a bucket, bait and towel. ("I should patent that," she says.) They realized what wide-ranging appeal their products had when they discovered a mouse nest adorned with silk scraps in rainbow colors, sequins, and dried rose petals harvested from a bouquet on Norton's desk.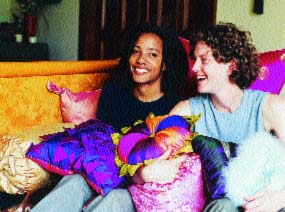 Norton and her pillow company partner, Rebecca Whittaker, with some of their creations.
PHOTO: COURTESY OF MEREDITH NORTON


Eventually, "the usual partnership problems started," Norton says, and they put the pillows aside. Shortly afterward, Norton was leading her eighth grade class through a goal-setting exercise. "The kids had these goals like 'I want to be a secretary,' so I was helping them map out higher goals," she says. But when the kids asked Norton what she wanted to be and she said an astronaut, they asked, 'Then why aren't you an astronaut?'

"I didn't have a good reason. There was no reason I hadn't tried to do it," she says.
So her students inspired her to go back to school and try for astronauthood. Norton is now halfway through a post-bac program that will prepare her for a Ph.D. in aerospace engineering or robotics and control systems. With that, she says, she will apply to the astronaut training program. The program receives several thousand applications for just 23 spots every two years, so Norton has a back-up plan: to return to teaching, this time as a high school science teacher. Even though she would be qualified to teach on the college level, Norton says, "I think you have a much greater impact on high school kids."