AROUND THE QUADS
Michigan's Bollinger to Succeed Rupp
By Alex Sachare '71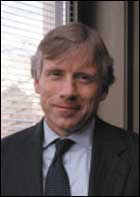 Lee C. Bollinger


Around the Quads

Lee C. Bollinger '71L, president of the University of Michigan since 1997, has been confirmed by the Board of the Trustees as Columbia's 19th president. He will succeed George Rupp in the summer of 2002.
Bollinger's confirmation in October came just six months after a search committee, headed by trustee Henry King '48, was appointed to seek out and then sort through candidates for a new Columbia president. A recommendation for the trustees had not been expected until this spring.
But amid reports that Michigan's board of regents was going to put pressure on Bollinger to commit to remaining in Ann Arbor, the search committee accelerated its process and Columbia got the man who was a leading candidate all along. As soon as Rupp announced his planned resignation, Bollinger's name had been raised as a possible successor — with good reason.
At Michigan, Bollinger is the head of a highly regarded university consisting of 19 schools and colleges with 53,000 students from all 50 states and 130 countries. He worked with an annual budget of $3.6 billion, dramatically increased Michigan's endowment and has been a driving force behind the new $90 million Life Sciences Institute. He is popular with both students and faculty, holding monthly "fireside chats" with students and teaching a political science course about the First Amendment and free speech each fall.
A former clerk to Supreme Court chief justice Warren Burger, Bollinger was dean of Michigan Law School and provost at Dartmouth before becoming president of Michigan. And he has Columbia ties — not only did he graduate from the Law School, but his daughter is currently a student there.
"Like billions of other people, we have a love affair with New York," said Bollinger, when his appointment was confirmed at a meeting of the Board of Trustees on October 6. "I am looking forward to the opportunity to lead one of the nation's oldest and most distinguished research universities. As New York recovers [from September 11], as I am certain it will, and as the city resumes and broadens its role as the cultural and intellectual capital of the world, Columbia will be a vital partner."
"We are delighted to have Lee Bollinger rejoin the Columbia family," said David J. Stern '65L, chairman of the Board of Trustees. "Columbia has gained tremendous momentum during the last eight years under George Rupp's leadership. With Lee's record of accomplishment, with his talent and vision, he will surely build on that record and ensure that Columbia remains one of the world's great universities."
The search committee did not release the names of any other candidates for the presidency, although Stephen Trachtenberg '59, president of the George Washington University, told the Columbia Spectator that he had been interviewed about two weeks before the committee recommended Bollinger. King said his committee had reviewed some 500 nominations in 10 meetings, first cutting the list to about 40 and then narrowing it further before settling on Bollinger, who had been a finalist in Harvard's recent presidential search and a leading candidate for the position at Princeton as well.
"He has a proven track record in a major, distinguished university that is just as complex as Columbia," King said of Bollinger. "We did a lot of homework, including calls to faculty, students, alumni and regents in Michigan. The reports we got were very, very positive, and that is putting it mildly."

Around the Quads