OBITUARIES
Compiled by Timothy P. Cross
As of press time, Columbia College Today had learned of eight Columbia College alumni killed in the destruction of the World Trade Center on September 11, 2001. With the rest of the Columbia family, CCT mourns their loss.
Richard Aronow '75
Robert Murach '78
John B. Fiorito '82
Seilai Khoo '86
Brian P. Williams '94
Joseph della Pietra '99
Brooke Jackman '00
Tyler Ugolyn '01
Biographical sketches of these victims

1921

When Shepard L. Alexander turned 100 earlier this year, he gently squashed plans by family and friends to throw him a big party, consenting only to a small gathering at his home. In retrospect, it seems appropriate that Alexander, who died on September 12 at his home in New Jersey, got his way. He was always someone others listened to, especially at Columbia, where for 80 years he was a trusted adviser, benefactor and friend.
"Shep" Alexander was born on February 4, 1901, in New York, and entered the College at 16. He was acting captain of his freshman tennis team, then moved over to the varsity squad and earned praise in the 1921 Columbian as "a corking good tennis player." He also served on student committees, worked as circulation manager for Varsity (then the College's chief student literary magazine) and was a member of the Pi Lambda Phi fraternity.
After graduation, Alexander jumped into the booming 1920s New York stock market. He worked as a broker for Alexander & Stein from 1922 to 1930, and stayed in the business even in the dark days of the Great Depression. After a brief stint with Hornblower & Weeks in 1930, he joined Hamershlag Borg (later Hamershlag, Kempner & Co.). He stayed with the firm for the rest of his professional career, eventually retiring as a partner. At a memorial service held in St. Paul's Chapel on October 8, John Stern, a colleague at Hamerschlag, Kempner, remembered Alexander as a skilled trader who kept a bottle of scotch in his desk "in case things got a little dry" and possessed not only a "bulldog" temperament but also "an innate sweetness."
Even after his nominal retirement in the 1970s, Alexander remained active as a broker and financial adviser. Christopher Schwabacher, his attorney and close friend, noted that Alexander was managing portfolios until he was 99. "When Shep had a hunch about a stock, he was rarely wrong," Schwabacher said.
Alexander's other great passion was Columbia, and in the eight decades following his graduation he became perhaps the most active alumnus in the College's history. When the Columbia College Fund was established in 1951, Alexander became his class's fund chair, a role he kept until his death. He also served on the board of directors of the fund and as chair of the 11th fund in 1963.
Joseph Coffee '41, first director of the fund, persuaded Alexander to join the College's fund-raising efforts, and in the process launched a 50-year friendship between the two. He remembers Alexander as "a very special Columbia alumnus and friend." Alexander saw the fund, Coffee remembers, as "a natural place for him to increase his friendships." William Oliver '64, who served as director of the Alumni Office in the 1970s and 1980s, also remembers Alexander's commitment to the College. His "devotion was steadfast," Oliver said, and "very few ever turned him down completely."
Alexander was largely responsible for his class's 50 years of support for scholarships, which over the years made it possible for scores of students to attend the College. He supported the Life Income Gifts program, was a life member of the John Jay Associates program and was a class correspondent for Columbia College Today. In 1941, he helped write the Class of '21 Report, a white paper which championed the College and liberal arts at the University. Alexander also served for many years on the College's Board of Visitors.
Although Alexander played tennis while at the College, as an alumnus he became enthralled with Lions football. For decades, Alexander was a fixture at all home games, usually sporting his familiar tam-o'-shanter. Director of Athletics John Reeves described him as "probably the most ardent supporter of Columbia football," and credits Alexander with introducing "the wholesome, inviting" tailgate party to Columbia. In 1998, Alexander and his wife, Patricia, made a major gift, endowing for the first time a coaching position at Columbia. The Patricia and Shepard Alexander Head Coach Endowed Position is currently held by head football coach Ray Tellier.
Columbia was the primary beneficiary of Alexander's generosity, but he also supported hospitals and other charities in New York. His son, Michael '74, remembers Alexander urging him to "always think of those less fortunate than you." He was known as a generous tipper, and Michael boasted that one could track the rise in inflation by the increasing amounts his father would give out to panhandlers on the streets of New York.
Alexander was an avid golfer until his late 70s, and was known to fit in 27 holes on a Sunday morning, often teeing off with the sunrise. He was an accomplished gardener, and all those who knew Alexander remembered his practice of bringing bouquets to friends and business associates. He also possessed an almost legendary knowledge of New York City restaurants, an expertise he maintained until the end of his life. "He seemed to have a personal relationship with nearly every block," Oliver remembered.
In 1961, the University presented Alexander with the Alumni Medal. In 1991, the College presented him with a John Jay Award; the citation lauded him as "an indispensable force in the life of Columbia and a legend in alumni affairs."
At Alexander's memorial service, Dean Austin Quigley said that the College was "mourning the loss of one of its favorite sons. Shep's name will be remembered with gratitude and admiration at Columbia."
Alexander's first wife, the former Muriel S. Creyman, predeceased him. In addition to his son, Michael, and his second wife, Patricia, Alexander is survived by a daughter-in-law, Ann-Marie, and a stepson, Paul.

T.P.C.

1925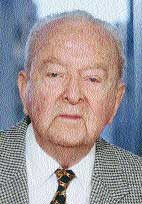 C. Bruner-Smith '25
PHOTO: DANIEL ROOT


C. Bruner-Smith, retired educator, New York, on June 26, 2001. Bruner-Smith was born Clarence Bruner Smith, in Decatur, Ill., where he attended local schools, played the piano from an early age and was a chorister. He entered nearby Milliken University, where he became head of the Elizabethan Society, which invited Columbia professor John Erskine (Class of 1900) to give a lecture. Each made a strong impression on the other, and Erskine persuaded Bruner-Smith to transfer to the College. At Columbia, Bruner-Smith quickly decided to pursue a career as a teacher; he enrolled in Erskine's "General Honors" course, took education classes at Teachers College and became a student teacher at Horace Mann H.S. After two years at the Silver Bay School for Boys in Lake George, N.Y., Bruner-Smith was hired by the prestigious Trinity School in Manhattan, where he spent the rest of his professional life. Beginning in the late 1930s, Bruner-Smith took on an increasingly important role at Trinity, serving as head English teacher and headmaster of the Upper School, shaping the school's curriculum and staff. Bruner-Smith was acting headmaster of Trinity during the 1963-64 academic year, then returned to teaching full time. He used a sabbatical in 1966 to take an around-the-world trip, with many stops to visit Trinity alumni. After his nominal retirement in 1970, Bruner-Smith continued to work at Trinity for many years as head of the alumni office.


1928

Samuel J. Silverman, attorney and former judge, New York, on March 6, 2001. Born in Odessa, Russia, Silverman immigrated in 1913 and was naturalized in 1925. He graduated Phi Beta Kappa from the College and earned a degree from the Law School, where he was a Kent scholar and edited the Columbia Law Review, in 1930. In the 1930s and early 1940s, he practiced law at two New York firms, served as senior attorney for the U.S. Railroad Retirement Board, as assistant corporate counsel for New York City, and as assistant during the reorganization of the Associated Gas & Electric Co. In 1946, Silverman joined what became Paul, Weiss, Rifkind, Wharton & Garrison, where he represented a series of high-profile clients. He was co-counsel for Dr. Robert J. Oppenheimer at his loyalty hearings. In 1953, the Atomic Energy Commissioner had labeled Oppenheimer, who had successfully guided the Manhattan Project in developing the atomic bomb, a security risk because of Oppenheimer's opposition to the hydrogen bomb and his advocacy of civilian and international control of nuclear power. Silverman later referred to his work for Oppenheimer as a public service by his firm and "a blow against McCarthyism." Silverman represented Otto Frank, Anne Frank's brother, in a lawsuit brought by Meyer Levin regarding a Broadway adaptation of The Diary of Anne Frank that Frank had rejected. (A later adaptation, penned by Frances Goodrich and Albert Hackett, won the Pulitzer Prize and Tony Award in 1955.) After years of litigation, Levin settled for $15,000, but only after assigning all rights to his play. Silverman also persuaded NYC Parks Commissioner Robert Moses to allow Joseph Papp to stage free Shakespeare plays in Central Park, an idea Moses initially had rejected. In 1962, Silverman was elected a justice of the New York Supreme Court; after four years, he moved to the Surrogate's Court, but returned to the Supreme Court in 1969. He moved to the court's Appellate Division in 1976 and retired in 1984, when he rejoined the firm of Paul, Weiss as counsel. Silverman kept his ties to the bench, first as a special master for the Appellate Division until 1990 and then as special counsel to the disciplinary commission on judicial ethics until 1998. Silverman is survived by his wife of 60 years, the former Claire Gfroerer, as well as a brother and two sisters.
Randolph Thornton, retired banker and alumni leader, Naples, Fla., on February 10, 2001. Thornton joined First National City Bank in 1929 and stayed there for his entire career, retiring as an assistant vice president of Citicorp. Thornton also is widely remembered as a singularly active alumnus, including service as president of the Columbia College Alumni Association from 1958-60. He received the Alumni Medal in 1960 and the Lion Award in 1964. Thornton is survived by his wife, Elizabeth.

1930

Theodore Lidz, psychiatry professor, Hamden, Conn., on February 16, 2001. Lidz, who received his medical degree from P&S in 1936, was a specialist in the causes and treatment of schizophrenia. After briefly teaching at Yale, Lidz joined the faculty of Johns Hopkins. During World War II, he served as a lieutenant colonel in Army hospitals in New Zealand, Fiji and Burma, at one point caring for several hundred psychiatric casualties of the fighting on Guadalcanal. At war's end, he returned to Johns Hopkins but then rejoined the medical faculty at Yale, where he remained for the rest of his career. Lidz wrote extensively on schizophrenia in journals and books, including his most important book, The Person: His and Her Development Throughout the Life Cycle, which is still in print. One of Lidz's regular collaborators was his wife, Dr. Ruth Wilmanns Lidz, a German-born psychiatrist with whom he wrote Oedipus in the Stone Age: A Psychiatric Study of Masculinization in Papua New Guinea. Among his other professional accomplishments, Lidz was an investigator for the National Institute for Mental Health, psychiatrist in chief at the Yale-New Haven Hospital and a fellow at the Center for Advanced Studies in the Behavioral Sciences at Stanford. Lidz is survived by three sons, eight grandchildren and five great-grandchildren. Ruth Lidz died in 1995.

1931

Robert Guernsey, retired research engineer, Williamsburg, Va., in October 1999. A native of East Cobleskill, N.Y., Guernsey also earned bachelor's and master's degrees from the Engineering School, and was a member of Phi Beta Kappa, Sigma Xi and Tau Beta Pi. He worked in a series of research positions for General Motors in Michigan, retiring as senior research engineer for GM's Research Labs. Guernsey moved to Williamsburg after his retirement.

1932

Donald McKay Shafer, eye surgeon, Dunedin Isles, Fla., on April 4, 2001. Born in Grove City, Pa., Shafer received his medical degree from Cornell in 1936. During World War II, Shafer served in the Army as lieutenant colonel in charge of a hospital ophthalmology unit. Shafer joined the staff of the Manhattan Eye, Ear and Throat Hospital in 1948 and the faculty of the Cornell University Medical College in 1958. He also consulted at the U.S. Naval Hospital, Roosevelt Hospital and other medical establishments. Shafer developed a reputation for his innovative surgical techniques that forestalled blindness and for training generations of ophthalmologists. His specialty was the eye's vitreous body, the clear, gelatinous substance filling the eyeball between retina and lens. In the early 1950s, Shafer devised a procedure to identify indications of retinal detachments and tears, now known as "Shafer's sign." His treatments of vitreoretinal disease led to advances that allow doctors to remove and replace the eye's vitreous body during the repair of complex retinal detachments. In the 1970s, Shafer served as chairman of ophthalmology at medical college and the hospital. He was a member of the Eye Bank for Sight Restoration and a fellow of the American College of Surgeons and the American Academy of Ophthalmology and Otolaryngology. He retired as surgeon director emeritus of the hospital in 1979. A longtime resident of Westport, Conn., Shafer had moved to Dunedin Isles, Fla, after his retirement. He is survived by his wife of 63 years, Ann Brady Shafer, as well as two daughters and three grandchildren.
Sidney Siegel, physicist, Pacific Palisades, Calif., on March 16, 2001. A New York native, Siegel was a member of Sigma Xi and selected Phi Beta Kappa at the College. He earned his doctorate in physics from the Graduate School in 1936 and one year later joined Westinghouse Electric as a research fellow studying the effect of radiation on solids. He went to work at Westinghouse Research Labs in 1939, helping the company develop torpedo triggering devices and airborne radar systems during World War II. In 1946, Siegel became chief scientist at Oak Ridge National Laboratory in Tennessee, where he worked on nuclear reactor development. After a two-year stint at Bettis Atomic Power in Pittsburgh, Siegel joined Los Angeles-based Atomics International as vice president and technical director. He worked on a variety of peaceful uses of nuclear energy, such as powering communication satellites and other space vehicles. Siegel had been an American representative to the Atoms for Peace Conference, a fellow of the American Physical Society as well as a founding member, past vice president and past president of the American Nuclear Society. He held five patents for solid state instruments and nuclear power devices. He was frequent lecturer and prolific author on the virtues of nuclear energy, which he argued was preferable to the burning of fossil fuels for the production of electricity. He also was an avid sculptor and photographer, and an exhibition of art and photographs was on display in Oakland, Calif., at the time of his death. He is survived by his wife of 63 years, the former Lilyan Ferges, four daughters, eight grandchildren and three great-grandchildren.


1934

Lawrence W. Golde, retired attorney, Rye, N.Y., on January 16, 2001. Golde, who earned his law degree from Columbia in 1937, had been a partner at Thacher, Proffitt and Wood in New York from 1942 until his retirement. His service to his alma mater included many years as a class officer. He is survived by his wife, Josephine, and two sons.
L. Floyd Rodman, retired food broker, Dallas, on March 8, 2001. Rodman, a native of Gulfport, Miss., worked for Standard Brands in Tulsa, St. Louis and Dallas, before becoming president of Rodman-Hornburg-Phillips, a food brokerage based in Dallas. Rodman later worked at Clements-Prinzhorn Realtors in Dallas before retiring.


1935

Eugene A. Mechler, retired electronics engineer, DeLand, Fla., on January 31, 2001. A native of Pennsburg, Pa., Mechler, who also had a degree from the Engineering School, had worked at the Franklin Institute Research Labs, RCA, in Pennsylvania and New Jersey before retiring to Florida. He is survived by his wife, Alice.


1937

Lyman D. Chipman, retired, Gales Ferry, Conn., in August 30, 2000.

1939

Irwin Heimer, retired real estate broker, Great Neck, N.Y., on January 3, 2001. Heimer was a partner in (and later president of) the Alden Associates real estate brokerage, first in the Bronx then on Long Island. At the College, Heimer was a member of the Beta Sigma Rho fraternity, and he remained friends with his fraternity brothers for the rest of his life. His wife, Gertrude Schaffer Heimer, Barnard '42, died in 1993; he is survived by four children, including Sandra Saydah, Barnard '64, and Marian Block, Barnard '67, and eight grandchildren, including Jordan Heimer '04.


1940

Donald Kursch, educator, Syosset, N.Y., on April 17, 2001. Following five years of service as an officer in the U.S. Navy during World War II, Kursch, who earned a master's degree from Teachers College in 1941, enjoyed a 32-year career as a teacher and educator in the Westbury, N.Y., public school system. A strong advocate of workers' and employees' rights, he was a member of the National Education Association, a founding member of the Transport Workers Union and served as president of the Westbury Teachers' Association. He also was a devoted alumnus, participating in the alumni scholarship committee, serving as his class's president and regularly participating in campus events, such as Dean's Day. He is survived by his wife, Eleanor Haskell, Barnard '40; a son, Donald; a daughter, Virginia; and a granddaughter, Catherine '95.

1943

Robert M. Glinane, retired aviation insurance specialist, Jamesburg, N.J., on January 15, 2001. Before his retirement in the early 1980s, Glinane had been a vice president at Richard J. Berlow & Co. in Teterboro, N.J., and later vice president and director of Southeastern Aviation Underwriters in Clifton, N.J. A longtime resident of West Milford, N.J., Glinane had moved to Jamesburg in the early 1990s.

1951

Wendell R. Sylvester, physician, Purcell, Okla., in January 2001.

1954

John Casella, educator and newspaper columnist, Orange, Mass., on April 4, 2001. The son of immigrants, Casella was born in Athol, Mass. He served in the U.S. Navy (1945-48) and was awarded the World War II American Campaign, Asiatic-Pacific Campaign, Good Conduct and Japanese Occupation Medals. After his discharge, Casella worked in a shoe shop and studied at Cushing Academy before entering the College. While at Columbia, Casella played football, becoming known as the ''Iron Lion'' for his endurance. During his junior and senior years, he played in 16 of 18 games on the offensive, defensive and special teams. He was named to All-Ivy, All-East, All-Scholastic and All-Italian/American football teams. He also served as secretary-treasurer for his class. In September 1955 he joined the faculty of Athol High School, where he taught English and creative writing, was director of dramatics, served as a class adviser and coached the line for the Red Raiders football team. He remained at the school until June 1967. He also completed his graduate work at the University of Massachusetts Amherst and Fitchburg State College. From 1967 to 1973, Casella was principal of the Hayden School in Dorchester, a facility for boys with emotional problems. He later taught children with learning problems in Winchendon, Mass., and served as football coach in Murdock, Mass. Casella was active in local Massachusetts civic life. He served two terms as an Athol selectman, participated in the bicentennial committee and was chairman of the planning and personnel boards. Casella left teaching in 1977 to work in different parts of the country — in the North Dakota Badlands oil fields as a tool pusher, in North Carolina in the concrete business, and building condominiums in St. Petersburg, Fla. In July 1985, Casella returned to Athol, where he became a sportswriter and columnist for the Athol Daily News. In 1987, he returned to teaching social studies at Gardner Junior High School, from which he retired in 1992. Since retiring, Casella wrote weekly columns, was a radio color commentator for local football games and traveled extensively. He published two collections of his columns — Enduring Generations and They Also Endure. Casella was a member of the local American Legion post and Alcoholics Anonymous. A devoted alumnus, Casella would bring his family on annual "pilgrimages" to Morningside Heights, maintained contact with classmates, and closely followed the football team. He is survived by his wife of 17 years, Virginia, four sons, two daughters, and eight grandchildren. The family asks that memorials be made to the Athol High School Scholarship Association, c/o Beverly Tarolli, Box 338, Athol, MA 01331.


1955

Robert L. Friedheim, professor, Playa del Rey, Calif., on January 31, 2001. Friedheim, who earned a master's degree from the Graduate School in 1957 and a doctorate from the University of Washington in 1962, was an expert on ocean and environmental policy. He taught at Purdue University from 1961-66, when he joined the Institute for Naval Studies in Arlington, Va., as a strategic analyst. He taught at the University of Southern California's School of International Relations from 1975-2001, and served as director of the school from 1992-95. He was also director of USC's Sea Grant Program from 1980-89 and served as associate director of the USC Institute for Marine and Coastal Studies from 1976-89. He was a professor of international relations at USC at the time of his death. Friedheim's early research helped underpin the United Nations' Law of the Sea Treaty, which the United States refused to sign because it granted common rights to about 70 percent of the world's oceans. In recent years, he focused on whaling, seeking to find common understanding among competing international viewpoints. Friedheim was an adviser to the U.S. Arctic Research Commission from 1986-96. He was the author of more than 20 book chapters and 50 scholarly articles. Friedheim authored or co-authored nine books, including Toward a Sustainable Whaling Regime, which was published posthumously. (See Bookshelf in this issue.) Friedheim is survived by his wife, Robin, Barnard '56, GSAS '58, as well as two daughters and one grandchild. Donations in Friedheim's memory may be made to the Robert L. Friedheim Scholarship Fund, USC School of International Relations, Von KleinSmid Center 330, Los Angeles, CA 90089-0043.


1956

Herbert Friedman, consultant, London, on December 20, 2000. Friedman had been a consultant with the World Health Organization in London.