ALUMNI PROFILE
College Experience Leads to Life as Author and Amnesty Official
By Jonathan Lemire '01
Part of the College's traditional mission is to expose its students to a wide range of academic opportunities and real-world experiences, allowing them to discover their interests and shape their lives accordingly.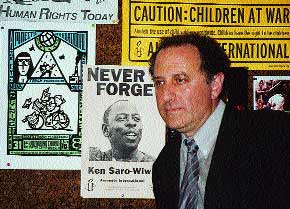 Joshua Rubenstein '71, in his office at Amnesty International

Joshua Rubenstein '71 is one example. Not only did his decision to study Russian at the College directly lead to his authorship of three books of Soviet history, but his experience as a stretcher-bearer during the campus demonstrations of 1968 led him to a career at Amnesty International that has lasted more than a quarter-century.
"What I learned at Columbia was that I was a Menshevik," reflects Rubenstein. "I had sympathy with the [demonstrators'] cause, but I parted company with their actions. Carrying a stretcher was the right thing to do."

A native of New Britain, Conn., Rubenstein fondly recalls his academic pursuits at Columbia, especially a seminar with Lionel Trilling '25 and his decision to study Russian.
"I always knew that I wanted to study a foreign language with a different alphabet," he says. "I thought that by learning Russian — no matter what else I studied at Columbia — I would leave with something concrete that I would have for the rest of my life."
Rubenstein did not know at the time, however, how his study of Russian would affect the rest of his life. During a six-week language tour of the Soviet Union in 1970, he met an artist in Leningrad whom he would eventually profile, and it was this piece that convinced the editors at the Boston Phoenix to hire him as a book reviewer specializing in Soviet issues.

"At the time," Rubenstein recalls, "there were very few of us reviewing the literature being produced by Soviet writers, especially dissident writers, and that's what led to my first book."
Soviet Dissidents, Their Struggle for Human Right (1980) launched Rubenstein's career as a "professional student of Soviet history" and led him to a position at Harvard's Davis Center for Russian Studies. His follow-up work, Tangled Loyalties: The Life and Times of Ilya Ehrenberg (1996), was a widely praised biography of a Stalin-era writer/journalist that took more than 13 years to research and write.
"It took a number of trips to Moscow to complete that book," Rubenstein says. "When I first started working on the book in 1982, I could barely get in the country or get anyone to talk to me, but by the time I made my last trip in 1990, things had relaxed so much that I was asked to give a lecture series!
"I am most proud of that book," he adds, "and its theme, a Jewish topic."

This theme would be repeated in Rubenstein's most recent work, Stalin's Secret Pogrom: The Postwar Inquisition of the Jewish Anti-Fascist Committee, published in May. Rubenstein edited and helped translate the transcript of the secret trial of 15 Jewish intellectuals and authors in Moscow that ended with their execution in August 1952 on what has become known as "The Night of the Murdered Poets."
The subject matter of Stalin's Secret Pogrom could not have been more appropriate for Rubenstein: not only is it Soviet history, but it's also a study of the violation of basic human rights, a topic to which he dedicates his professional life as Northeast regional director of Amnesty International, USA.
Rubenstein stresses that his grass-roots organization plays a vital role in combating human-rights abuses domestically as well as globally. "In addition to organizing U.S. citizens to write letters about international issues," he says, "we want to make them aware of issues in our country like police brutality, the treatment of women in prisons and the death penalty."
Rubenstein, who lives in the Boston area with his wife and son, joined Amnesty International in 1975 as a volunteer because he "was interested in politics and it seemed that Amnesty had a balanced and sensible approach to political problems." Today, Rubenstein is one of the organization's two longest-serving employees and is responsible for overseeing the operations of its branches in New England, New York and New Jersey.
"My primary task is to organize Amnesty chapters at local high schools and colleges," he says, "as well as to do some fund-raising and work with the media. I am proud of my contribution and look forward to seeing what comes next."