AROUND THE QUADS
Hartley, Wallach Form Living and Learning Center
By Shira J. Boss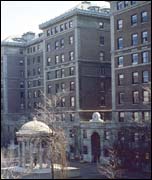 Hartley (left) and Wallach Halls form the new Living and Learning Center.

Hartley and Wallach this fall are no longer just residence halls. They have been transformed into a Living and Learning Center, open by application to students of all years who will plan and participate in events meant to foster an outgoing residential community.

In focus groups held during 1997-99 about residential life, some students complained about a lack of community. "The same people you met on your floor [as first-years] in John Jay are who you're still hanging out with senior year," said Tricia Beckles '01, president of the Undergraduate House Council.

The LLC was designed to give students the option of living with students of all years and in an environment that has more interaction among residents. Students are encouraged to mingle during a full schedule of events and some Core classes that may be held in Hartley and Wallach lounges or seminar rooms. In turn, students must commit to helping organize two or three events per semester for the LLC community, some of which will be open to the campus as a whole.

"Rather than being brought together for one event, the same people come back again and again and contacts and relationships get built on a deeper level," said Dean Austin Quigley.

Events will involve not only residents but also faculty, guests and alumni, some of whom already have committed to working with the LLC. "It's an experience that brings students, faculty and alumni together, so it's not only inter-class but inter-generational," said Dean of Student Affairs Chris Colombo.

Residents can stay for more than one year, and are encouraged to mentor members of lower classes. "The idea is to help the residential environment be a place where community forms and interaction happens," said Case Willoughby, a manager in the student affairs office who helped organize the LLC.

What it is not is a transition to a house-based system popular at some other colleges. "We don't like the idea of having one model of how housing is offered," Quigley said. "We like variety. We're trying to add variety rather than establish a new paradigm."

Colombo points out that whereas at other schools 40-100 students are grouped in a house and stay there for three or four years, Hartley-Wallach is a community of about 460 students who can stay for as few or many semesters as they want.

Events in dorms now are organized by RAs or the Undergraduate House Council. "What will be unique about the LLC is that the RAs will help some, but the students will shape and mold the agenda," said Brian Paquette, assistant dean of student affairs. There may be career panels, alumni speakers, themed parties, and mini-courses not for credit. "People assume that this is a glorified study hall. Far from it. This has to be fun!" Paquette said.

Examples of events that applicants proposed include an International Music and Dance Night where students would teach one another foreign dances like Israeli and Salsa, a literary magazine produced by the LLC, an art exhibition and critique in the Hartley-Wallach lounges, and a discussion roundtable for debate among campus groups and faculty as well as LLC residents.

Through a "faculty affiliates program," resident faculty members will organize fellow teachers to give presentations and get involved with the LLC. "We want to build up to about a dozen faculty members who feel an affiliation with the residence hall and really take part," Quigley says. (Since the early '90s, faculty have been living in Schapiro, Hartley-Wallach and East Campus.)

Colombo noted that the center is eager to get alumni involved on many levels. "Alumni don't have to come lead an event or be a speaker," Paquette said. "They can attend an event, meet and mingle, sign up as mentors, hear a faculty member and mix with students at a reception."

One idea Quigley suggested: "A prominent alumnus brings a reading list and shares with the students five or six times throughout the course of the year." Another of his ideas is for alumni to take LLC students behind the scenes of their work, "to get inside a Wall Street business and see how it runs, or to see what goes on in a concert hall or theater besides what you see on stage."

The application for admission required students to write an essay describing why and how they would participate in the LLC and its programming. For 155 slots this semester, 282 applications were received. "It was much more competitive than we had anticipated," Quigley says.