I
n the context of Columbia College's 258-year history, the era of coeducation is relatively short. Plotted on a timeline that begins with the founding of King's College in 1754, women's arrival in autumn 1983 carves a notch nearly nine-tenths of the way down. And yet, for those who are first walking the campus today, those earlier all-male years are difficult to imagine. People see a student body that is split nearly 50-50 between men and women, watch women play on 15 varsity teams, follow their accomplishments in the arts and academics — and wonder, could the shift to coeducation really have happened so recently?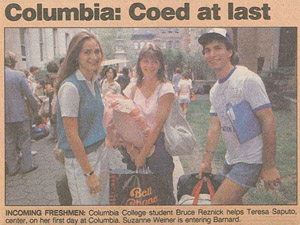 In a way, the seamlessness of the transition is an important reason to mark the 25th anniversary of the graduation of the Class of 1987. Women's influence on the life of the College was immediate and wide-ranging, and without an understanding of what came before, it is difficult to fully appreciate what happened afterward. 
As this special section shows, coeducation's ripple effects are still being felt — by women students and the alumnae who mentor them, by female faculty and the administration that encourages their presence, by the mothers and children who are forming bonds over a shared undergraduate experience.
It also is worth remembering that the decision to admit women was motivated less by feminist principles than by the dual goals of increasing application numbers and improving the quality of life for all students, which it did. Looking at the bigger picture, coeducation, together with guaranteed student housing and the revitalization of New York City, has led to a sustained renaissance for Columbia College.
For this, we celebrate.
Marking the end of the four-year transition from the all-male school it had been since 1754, Columbia College graduated its first fully coeducational class 25 years ago this spring.
We want to hear from alumni about this turning point in the College's history. Share your memories of the transition on campus and in the classroom, and let us know about the impact that Columbia has had on your life.
Coeducation spurred recruitment of female faculty, though parity remains a work in progress.
Columbia College Women matches students with alumnae in successful mentorship program
In the years since the Class of 1987 graduated, Columbia alumnae have excelled in fields from business and law to philanthropy and the arts. Amid their journeys, many have started families and had children — a handful of whom now attend the College themselves.
A decade after coeducation transformed Columbia College, a special issue of Columbia College Today examined the changes to campus during that time.
This spring, the Columbia Daily Spectator published a series of articles looking at the history of coeducation and the relationship between Columbia College and Barnard.