When David Loverne CC '09 found out that his company was going to the Center for Career Education's annual Spring Career Fair on Friday, March 8, he welcomed the opportunity to come back to campus.
For his first time since graduation, Loverne stood in Lerner Hall not as a student, but as an alumnus, recruiting students for the company he now works for, EF Education First.
"When I found out that EF Education First was going to table at the career fair, I jumped at the chance to come back," Loverne said. "It's nice to come back as an alumnus, though it's a little weird to be on this side of the table."
A sales systems analyst, Loverne urged students to recognize that skills learned in the College can be applied in the world beyond the Columbia gates. As a European History major, Loverne initially struggled with translating his academic skills to career competencies, he said. But he successfully applied them first to sales and then as a business analyst.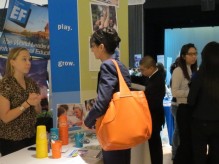 EF Education First was one of several companies that brought alumni recruiters to the Spring Career Fair on March 8.
"Skills and values from the social sciences are transferrable," Loverne said. "I have been reaching out specifically to social science and humanity majors to show them that EF Education First is a great fit for others like myself."
EF Education First was one of more than 130 companies at the Spring Career Fair representing a wide array of industries, from finance to consulting to media and marketing. Hosted by the Center for Career Education (CCE), the annual career fair offers employers and students the opportunity to connect and discuss internships, jobs and full-time careers.
A number of other companies also brought Columbia alumni with them, including AppNexus, Bechtel Marine Propulsion Corporation, Gerber Scientific, HEICO, JetBlue, Microsoft, the New York County District Attorney's Office, Palantir  and Uniqlo. Alumni recruiters wore baby blue ribbon under their nametags so students knew they could turn to them to ask about their careers after Columbia.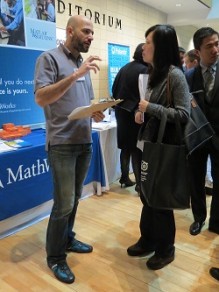 Nearly 1,400 people attended the career fair, including students and alumni from Columbia College and 12 other undergraduate and graduate schools.
"I like coming back and helping talk the students through what they want to do in the future," said Mitra Sexton CC '96, SEAS '98, an astrophysics major who works at the Bechtel Marine Propulsion Corporation.
"We look forward to filling many technical and non-technical internship and full-time employment slots with motivated, talented, and energetic current and former Columbia students," said Eric Mendelson CC '87, Business '89, co-president of HEICO Corporation, which recruited at the Spring Career Fair for the first time. 
 The Center for Career Education also hosted a number of workshops in preparation for the career fair, including "Making the Most of the Spring Career Fair."
Arriving in formal attire with resumes in hand, despite a morning snowstorm, students impressed Columbia alumni with fresh enthusiasm and energy.
"The students have a sort of energy and desire, and they are always a lot of fun," said Jeff Monroe SEAS'86, who works at Gerber Scientific and also volunteers with the Alumni Representative Committee. "It's always really invigorating to talk to Columbia students, and it's always great to come back."
"HEICO was greatly impressed with the caliber of the students," added Mendelson, who serves on the executive committee of the Columbia College Alumni Association. "This serves as another example of the strength of the Columbia network."