Wednesday, March 26, 2014
Acclaimed actor and screenwriter Dan Futterman CC '89, known for his screenplay of the award-winning film Capote (2005), will deliver the keynote address at the 2014 Columbia College Class Day ceremony. The annual event, which honors graduating seniors, will take place at 9:30 a.m. on Tuesday, May 20, 2014, on the South Lawn of Columbia's Morningside Heights campus.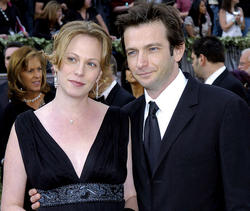 Dan Futterman CC '89 and his wife, Anya Epstein, on the red carpet prior to the 78th Academy Awards in Los Angeles on March 5, 2006. PHOTO: AP PHOTO/CHRIS PIZZELLO
Futterman has appeared on stage in the Broadway production of Tony Kushner CC '78's Angels in America (1993); in the Off-Broadway productions of Howard Korder's The Lights (Lincoln Center Theater, 1993), Jon Robin Baitz's A Fair Country (Lincoln Center Theater, 1996) and Patrick Marber's Dealer's Choice (Manhattan Theater Club, 1997); in the television show Judging Amy (1999); and in films such as A Mighty Heart (2007), alongside Angelina Jolie, Urbania (2000) and The Birdcage (1996)
Also an accomplished writer, Futterman was recognized for his 2005 screenplay for Capote, starring the late Philip Seymour Hoffman, with an Independent Spirit Award, a Boston Society of Film Critics Award, a University of Southern California Scripter Award (shared with Capote biographer Gerald Clarke), and a Los Angeles Film Critics Association Award; and nominated for an Academy Award, a British Academy of Film and Television Arts (BAFTA) Award, a Writers Guild of America Award, and a London Film Critics Association 'Screenwriter of the Year' Award.
Futterman has most recently co-written the upcoming film Foxcatcher, which stars Steve Carell, Channing Tatum, and Mark Ruffalo, and is due for release in 2014. Futterman, along with his wife and writing partner, Anya Epstein, was a writer/executive producer for the third season of the HBO series In Treatment, managing the day-to-day operations of the series. Together they are currently writing and producing a new series, Gracepoint.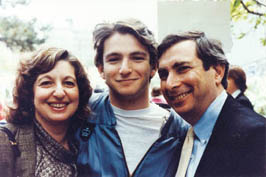 Futterman with his parents, Linda (née Roth) BC '62 and Stanley CC '61, on his Class Day in 1989. PHOTO: COURTESY DAN FUTTERMAN CC '89
"We are honored that Dan Futterman has accepted our invitation to return to campus to speak to the graduating class of 2014. While at the College, Dan nurtured his love of theater, devoured Ted Tayler's famous Shakespeare class, and so thoroughly enjoyed David Helfand's 'Physics Without Mathematics' course that he would have taken additional physics classes, had he not been a senior and had the courses not required so much math," said James J. Valentini, dean of Columbia College and vice president for undergraduate education. "But he completed his degree in English and Comparative Literature, and the world of film beckoned without many math pre-requisites. We are very proud of Dan's accomplishments as an actor and a screenwriter, and all our graduates are, I am sure, looking forward to hearing words of wisdom from such a talented and creative alumnus."
Futterman grew up just north of New York City, in Westchester County. At Columbia College, he majored in English literature and performed in experimental theater groups on campus, including productions of Tina Howe's Museum and Peter Shaffer's Equus with the Columbia Players, as well as in numerous original student-written plays. He has remained involved with Columbia since graduation, most recently participating in a dinner and discussion event with students jointly hosted by the Center for Career Education and the Columbia College Alumni Association's Career Education Committee. He and Epstein live in Brooklyn with their two daughters.