Thursday, October 22, 2020
This academic year, the Columbia College experience is taking place in all corners of the world. To help keep our community connected, we're asking students to share about their classes and extracurriculars, what they're learning about themselves during the pandemic, and what they look forward to doing when campus is fully back in session. This week, we speak with Blessing Utomi CC'22 a theater and education double major from Houston, Texas.
What do you like to do outside of class?
In terms of Columbia, I'm an intern with the Office of Undergraduate Admissions, helping a lot with its virtual programming for prospective students. That's been really fun — we just started virtual tours; it's like a PowerPoint that personalizes all the places and stops that would be on an in-person campus tour, and then we talk about those places and add our own anecdotes. We also do info sessions that are a little more presentation-based but still incorporate personal stories, and we run panels where the audience can pose questions to student panelists. I also help run our YouTube Q&A chats, which is two students talking about their experiences at Columbia — that's really popular. So I still get to meet lots of prospective students and families and also stay in contact with my Columbia friends and my friends in the Admissions Office.
Outside of Columbia, I love to run; I started running in high school. I think everyone has tapped into at-home workouts during this time! I also love ballet — I take classes through Barnard, and that's been a nice way to stay active.
What is something you've learned about yourself during the pandemic?
I've learned that I like structure a lot. When we're on campus, my friends and I joke about having our G-Cal filled, but I realize that even being virtual I like to have processing time and ordering my tasks in chunks. So during my day I set goals and to-do lists for myself, both during the summer and now to have some sort of productivity during the day. Of course, some days are still for Netflix from bed, but I like having that structure!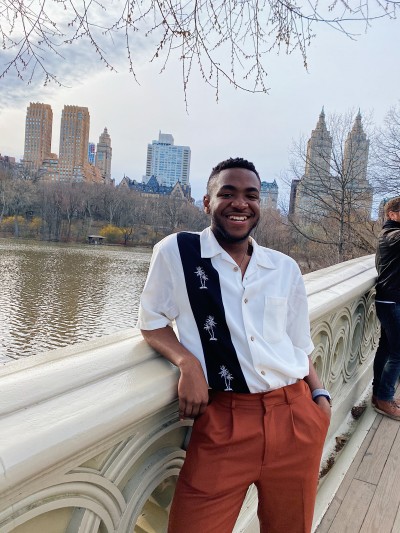 Photo courtesy of Blessing Utomi CC'23
What's the first thing you'll do when you're back on the Morningside Heights campus?
I want to check on Brownie's, the café underneath Avery Library; it's my favorite place to go for breakfast. They're just really nice people! They knew my order as soon as I got there and were really sweet. I also miss College Walk and sitting on Low Steps, just taking in the sun and everything.
What's been your favorite class at the College, and why?
This term I'm taking quite a few interesting classes, but my favorite so far is "Shakespeare in America," taught by Professor James Shapiro '77. It's really cool because it's more about the performance history of Shakespeare's plays, how they've been interpreted in America and how they've been applied to topics like the Civil War, gender, race, conspiracies and politics. The class is always interesting because you can see how Shakespeare has had a huge impact on American culture, and you can see the intricate connections between the texts we read.
What keeps you close to Columbia while remote?
I think my job has been the biggest thing, because a lot of our work is training tour guides and giving info sessions. That's been really nice for meeting new Columbians and staying in contact with work friends. We text each other about funny things that happen and have meetings to still see each other's faces. It's nice to have those small moments together.