Alex Navab CC'87, chair of the Columbia College Board of Visitors, has been honored with the 2016 Ellis Island Medal of Honor, presented annually to U.S. citizens "whose accomplishments in their field and inspired service to our nation are cause for celebration."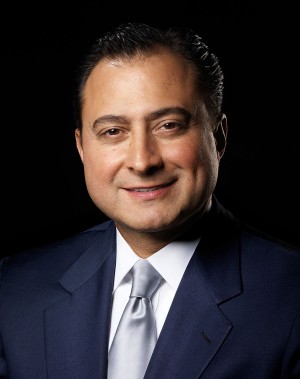 The prestigious award, presented by the National Ethnic Coalition of Organizations, is officially recognized by the U.S. Senate and House of Representatives and all recipients are listed in the Congressional Record. Navab is one of 91 individuals to receive the 2016 medal. 
Navab is the head of global investment firm KKR's Americas Private Equity business. He serves as the chair of the Americas Private Equity Investment Committee and the chair of the Americas Portfolio Management Committee, as well as serving on KKR's Special Situations Investment Committee.
Navab graduated from the College with honors and as a member of Phi Beta Kappa, and holds an M.B.A. from Harvard Business School. He received the College's John Jay Award for distinguished professional achievement in 2011. Along with his role as chair of the College's Board of Visitors, he is actively involved in many other philanthropic, educational, community and national organizations.
The Ellis Island Medal of Honor embodies the spirit of America in its celebration of patriotism, tolerance, brotherhood and diversity. The Medal recognizes individuals who have made it their mission to share with those less fortunate their wealth of knowledge, indomitable courage, boundless compassion, unique talents and selfless generosity, all while maintaining the traditions of their ethnic heritage as they uphold the ideals and spirit of America. This year marks the Ellis Island Medal of Honor's 30th Anniversary.
The awardees were honored on May 7 at a ceremony on Ellis Island. Navab gave brief remarks, reflecting on his family leaving Iran and emigrating to the United States in the early 1980's.
Read Navab's story in his blog post, "What does the American Dream mean in today's America?"