Monday, September 22, 2014
Standing outside Lerner Hall on a Friday morning in September, one could see a line of eager and professionally-dressed students, resumes in hand, stretching the length of Lerner's ramps, from its fourth floor all the way to its first. The line is a hallmark of the Center for Career Education's annual Fall Career Fair, forming long before the auditorium doors open and bringing Columbia students together with employers who are just as excited to be there.
"[Companies] need a lot of people," said Leo Ohannesian CC'13, who works at IBM. "We want [students] to keep showing up. If [they] show interest, we'll show it back."
IBM was one of more than 130 employers represented at this year's annual career fair, held on September 19 in Lerner Hall, which included a diversity of for-profit, not-for-profit and government employers, ranging from global asset management firm AllianceBernstein to apparel company Ralph Lauren to tech firms like Microsoft and Dropbox to government organizations including the Federal Bureau of Investigation and the Peace Corps.
The Fall Career Fair was sponsored by the Center for Career Education, which works to help students and alumni take the necessary steps and make informed decisions to achieve their career goals. Nearly 2,450 students attended this year's fair – a five percent increase over last year – including students from Columbia College and 14 other undergraduate and graduate schools.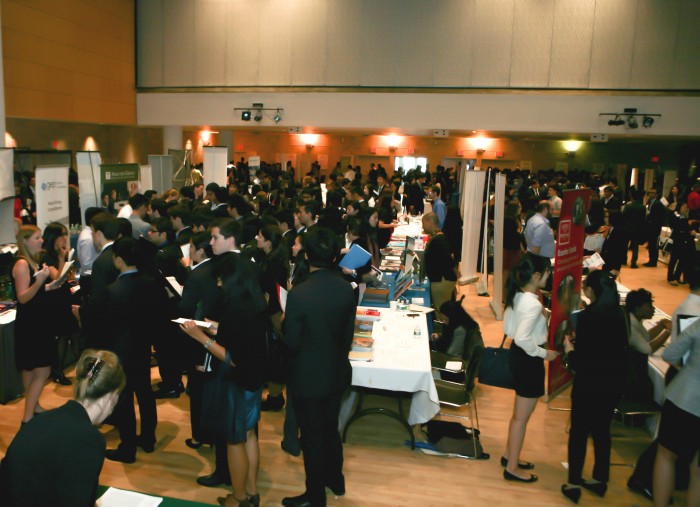 The Center for Career Education's annual Fall Career Fair was held on September 19 in Lerner Hall. Photo: Char Smullyan
The Fall Career Fair is one of eight annual career fairs and other special career events that the Center for Career Education hosts each year. These include the Spring Career Fair, which also features a wide range of employers, as well as the Engineering Career Fair Dinner and Networking Reception, the Engineering Consortium Career Fair and the Startup Career Fair. CCE also hosts a Media Networking Night, an exclusive opportunity for students and professionals working in film, publishing, graphic design and related industries to network in an informal setting, as well as a number of Fall and Spring Industry Showcases, each focused on different fields, from management consulting, to fashion, to advertising, marketing and public relations, to boutique consulting, to consumer products and general business to financial services.
"Our goal at CCE is to introduce students to a wide variety of industries and connect them with a wide variety of employers and opportunities," said Kavita Sharma, dean of the Center for Career Education. "The career fair is one place for students to connect with employers and learn about the diversity of fields. Additional employers come to other events organized throughout the year, including our Engineering Career Fair, Media Networking Night, Startup Career Fair, Industry Showcases and more, as well as our Spring Career Fair."
All of these events provide Columbia students with an opportunity to forge connections with specific employers, as well as encounter new employers who may not have initially been on their radar, Sharma said.
Ganiatu Afolabi CC'12, a recruiter for Teach for America, said she sees this broadening of horizons when she attends career fairs. A student may come to the fair to talk to representatives from Microsoft or IBM, she said, "but then [he or she] walks by the Democracy Prep [Public Schools'] table and thinks, 'Hey, what's going on over there?'"
Megan Gaughn CC'13, who now works in Burger King Corporation's Leadership Development Program, said that experiencing a career fair can be "eye-opening" for students. After attending, students realize, as Gaughn put it, "'I'm a lot more qualified than I think I am!'"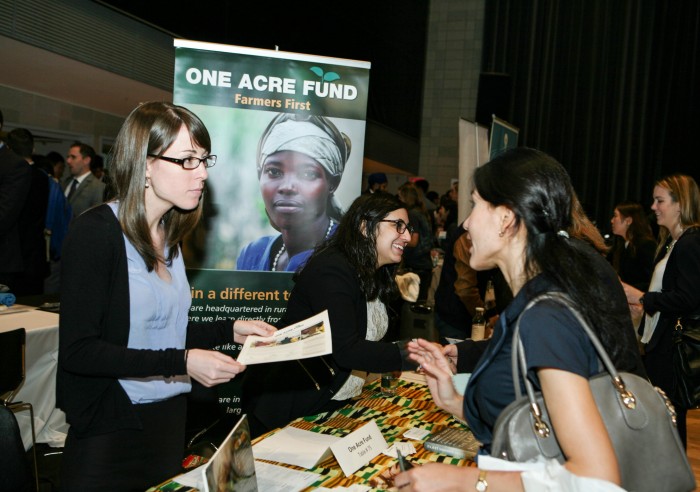 Photo: Char Smullyan
"Students should definitely come to the career fair," added Shane Strumwasser CC'12, who also works for Burger King. "There are tons [of opportunities] they don't regularly see… Students should be open – they should come to the fair to explore new opportunities."  
With the flow of the room set up thematically by industry, a career fair can give students a thorough introduction to the many fields available to them when they enter the work force.
The fair is "a great way to talk to a lot of companies in a short amount of time," said Joan Huang GSAS'12, a product manager at Etsy who was representing her company at the fair.
The nature of the fair also provides a unique environment for students preparing themselves for the job application process.
The fairs are a "great learning experience on how to pitch," said Cindy Luk CC'10, a representative for Democracy Prep Public Schools. "Even if you fail, you get to try a hundred times. Get out there and throw yourself into it!"