Wednesday, April 22, 2015
Concert Spirituals and the Black Soprano, a performance and panel discussion that reconsiders the role of singing concert spirituals among black sopranos in relation to political resistance, musical virtuosity and the sacred, will be held at 7 p.m. on Wednesday, April 22, in St. Paul's Chapel. The event is co-sponsored by the Center for the Core Curriculum; the Music Performance Program; the Department of Music; the Louis Armstrong Jazz Performance Program; the Center for Ethnomusicology; the Institute for Research in African-American Studies; and the Institute for Religion, Culture and Public Life. It will open with a performance of a selection of concert spirituals popularized among 20th-century black sopranos, immediately followed by a panel discussion held in conjunction with the Core Curriculum's Music Humanities course.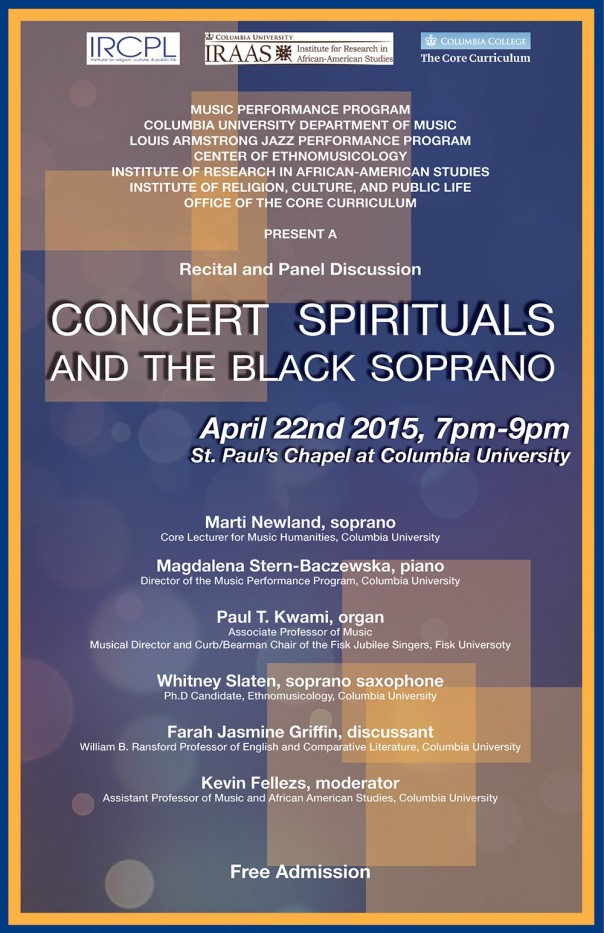 The performance and panel will be hosted by Marti Newland GSAS'14, postdoctoral core lecturer for Music Humanities, and will include Magdalena Stern-Baczewska, director of the Music Performance Program and a lecturer in music; Farah Jasmine Griffin, the William B. Ransford Professor of English and Comparative Literature and a former Literature Humanities instructor; Kevin Fellezs, assistant professor of music and African-American studies; Whitney Slaten, PhD candidate in music; and Paul T. Kwami, associate professor of music at Fisk University and director of the Fisk Jubilee Singers.
The Fisk Jubilee Singers were an inspiration for W.E.B. Dubois, whose work, The Souls of Black Folk (1903), was the basis for this event. Dubois' text is read in the Core Curriculum's Contemporary Civilization course. In addition, several themes found in Music Humanities – including the reconsideration of relationships between voice type, genre, gender and race in the making of a performance of "art" or "concert" music, as well as romantic era song and musical nationalism – are central to this event.
"Concert spirituals rupture the divide between 'folk' and 'art' music, and the story of their development at Fisk University and their enduring popularity among musicians and audiences exemplifies a canonization process in western music," said Newland. "The event is situated within the studies of art songs and musical nationalism that Music Humanities students encounter in their engagement with the romantic era. The event is also a call to reconsider how the relationships between repertoire, blackness and gender shape a musical tradition."
This program is free and open to the public.