Christian Collier Domenico Vivadelli CC'16, from Richmond, Va., was commissioned as an officer in the United States Navy in a ceremony in Low Rotunda on May 19. Vivadelli is the first Naval Reserve Officer Training Corps (NROTC) Midshipman to commission from Columbia College since the program was reestablished after a nearly 40 year absence. He was commissioned to become a Nuclear Submarine Officer.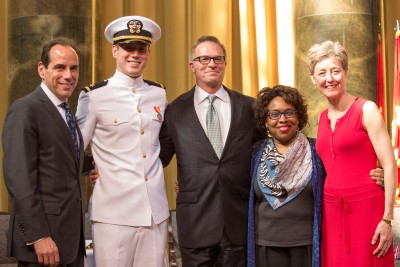 From left to right: John Vivadelli, Christian Vivadelli CC'16, Dean James J. Valentini, Chaplain Jewelnel Davis and Stephany Vivadelli. Photo: Christian Balmer CC'07, SOA'14 At the College, Vivadelli, who graduated with a joint degree in political science and statistics, was a member of the NROTC program, where he helped facilitate communication between the ROTC Unit and Columbia to strengthen the relationship for future midshipmen. He was also on the Men's Swimming team, where he helped break the pool record in the 4x200 freestyle relay and scored points at the IVY Championships.
Columbia College Dean James J. Valentini offered opening remarks, noting that the celebration marked the end of Christian's four years at the College and the beginning of the next stage of his life.
"Your Columbia College road goes on forever," Valentini said. "It is our honor to know that along with red, white and blue, Christian will bring with him a bit of Columbia's Pantone 292."
Senior Vice President of Military Affairs John Bird, the program's guest speaker, addressed Vivadelli, saying,  "You have what it takes to be very successful in a Navy career. The term I like is 'grit': the rare combination of passion and perseverance that leads to success in any endeavor."
In the ceremony, Vivadelli was presented with a sword by Ted Graske CC'59, a retired U.S. Navy captain, and the oath of office was administered by Lieutenant Colonel T. Michael Songster, U.S. Marine Corps Commanding Officer in the NROTC Unit at SUNY Maritime College. Vivadelli's parents, Stephany and John — himself a retired Naval commander — installed Christian's rank, and he was given his first salute.
Vivadelli will report to Charleston, South Carolina in November 2016 for Nuclear Power School.