Columbia College Student Council members are elected to serve as representatives on the students' behalf and to advocate for those students to the wider University community. CCSC organizes and funds campus life events, contributes to University policy changes and communicates with the student body on a host of issues. Meet Teji Vijayakumar '24 (she/her), president of the incoming 2023–24 CCSC Executive Board, and Chukwuma Orji '24 (he/him), VP policy of the 2023–24 CCSC Executive Board. Vijayakumar is a double major in computer science and visual art from Yonkers, N.Y., and Orji is a cognitive science major with a concentration in computer science, who grew up in London and New York City. The two look forward to leading the College next year!
---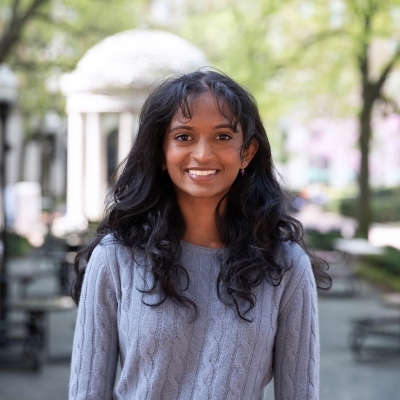 How did you get involved in CCSC?
Vijayakumar: I was elected a class representative in freshman year, which was super fun and exciting. It was during Covid-19, so all of our work was online. We hosted a bunch of Zoom events! But the job that I most enjoyed was writing the weekly newsletter and sending everyone updates on what their classmates were doing, which is then what I did for the next two years as VP of communications.
Orji: I got involved in my sophomore year. I was the international students' representative, so I was doing a lot of work with Multicultural Affairs, helping out with travel issues during Covid, that kind of stuff.
And what are you hoping to accomplish with CCSC next year?
Vijayakumar: We have a lot of goals! I'm so excited about making healthcare more transparent and accessible on campus — a lot of students don't really understand how medical insurance works or what is or isn't covered. We want to address and try to expand this as much as possible. I'm also really excited for smaller events that I hope will build spirit and community. Little seasonal events, like Easter egg hunts or snowman-making contests or a Butler haunted house!
Orji: I'm looking at continuing the conversations that our current VP policy is working on with both academics and mental health on campus. We're looking at class registration and how we can make that an easier process; we're going into our senior year, and sometimes people are still getting in to only one class that they need, which can be frustrating and stressful! And then we're also continuing conversations about how we can improve mental health on campus, like how we can make resources more accessible and how we can raise awareness of the options for seeking help.
What's been your favorite class so far?
Orji: This past semester I took a small seminar, "Evolution of Intelligence, Animal Communication and Language," with Professor Herbert Terrace. I've learned so much I never thought about before, like how babies think and where language comes from.
Vijayakumar: I took a class this past semester, "Epic India: The Rama Story in Visual Art," taught by Professor Subhashini Kaligotla in the art history department. It was amazing. We basically spent the whole semester talking about and looking at one Hindu epic, the Ramayana, and ways it has been portrayed in paintings, cartoons, movies, animation and so on. Alongside the visuals, we also read a bunch of essays and several translations and retellings of the Ramayana. So, really just becoming extremely familiar with this one story — which I've also known my whole life, because I grew up with it as a kind of bedtime story and through going to religious classes at temples — has been super, super rewarding and engaging.
How do you like to take advantage of being in New York City?
Vijayakumar: I love going to museums! I'll go even if I have just two free hours. In the past two weeks, I've been to the Met twice for two different classes. There's also a museum on 107th and Riverside, the Nicholas Roerich Museum, where I'll often go if I have some free time.
Orji: I'm a fiend for restaurants and cafes; if I have a free hour or two, I will pick a random location and just see what's there. I love how many different options there are for food and drinks in New York, so I just like to see as many as I can.
Outside of CCSC, what extracurriculars do you participate in on campus?
Orji: I'm part of the Columbia Bartending Agency, which is super exciting. You take a mixology class, and you can get certified and do different gigs with a lot of alums. It's really fun to work with other students outside of the classroom — you get a team and you decide who's going to be the point person, who's going to be at the bar, who's going to be greeting guests. I think it's really nice to meet new people in that kind of way.
Vijayakumar: I'm on a dance team called Taal. It's a South Asian classical fusion dance team, and I love it. It's so much of my life! I joined in freshman year; we all met online and we became close. I'm on the executive board as well, and I run its Instagram. We choreograph everything together and are a really tight-knit group!