Monday, November 21, 2022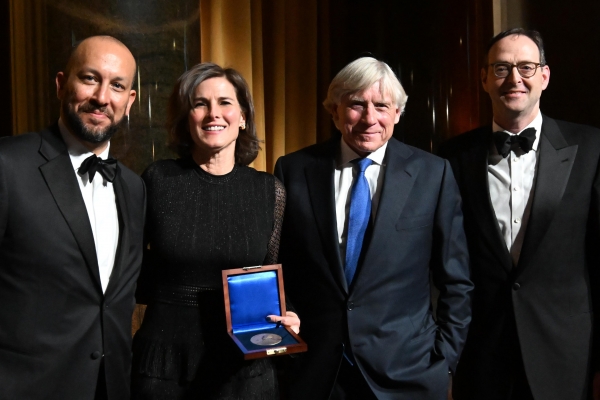 Photo courtesy of Eileen Barroso
Claire C. Shipman CC'86, SIPA'94 was honored with the Alexander Hamilton Medal on November 17 at a black-tie dinner in Low Rotunda. Shipman, a journalist, author and public speaker with deep expertise in international relations, U.S. politics and women's leadership, is the second woman to receive the Hamilton Medal in the 74 years since its inception. The medal is the highest honor awarded to the Columbia College community for distinguished service and accomplishment in any field of endeavor, and the Alexander Hamilton Award Dinner is one of the College's signature fundraising dinners. This year's proceeds of more than $600,000 will benefit College students by supporting the Core Curriculum and financial aid.
Remarks honoring Shipman were given by Theodore Schweitzer CC'91, LAW'94, president of the Columbia College Alumni Association; University Trustees Jonathan S. Lavine CC'88 and Victor H. Mendelson CC'89; Dean Josef Sorett; and President Lee C. Bollinger. Shipman's family and friends, along with alumni, faculty, students and other guests, celebrated her achievements. The Clefhangers capped off the evening with a lively rendition of "Roar, Lion, Roar" before guests joined them in singing "Sans Souci."
Sorett spoke of Shipman as a role model for current students. "We lift up individuals like Claire not just to honor their remarkable achievements and to thank them for their service but to remind our students, and our entire community, of what our highest aspirations are and what it looks like when they are realized," he said.
In a video honoring her accomplishments, Shipman reflected on the importance of "turning our knowledge to what is most critical for the world right now." She affirmed that she will continue to bring the fruits of her College education to her work: "I really want to continue to serve as best I can. I know there's a lot more I can do, so this [Hamilton Medal] will be motivating for me to keep digging in."
Shipman, who was part of the first coeducational class to enter the College, has co-authored four New York Times best-selling books on women, girls and leadership. A fifth, on women and power, is scheduled to be published in May 2023. Her research on the economic argument for more women in leadership and the science behind the confidence gap between genders has driven important changes in the workplace and in schools.
Shipman's forthcoming book focuses on the ways in which women are redefining power — scientifically, philosophically and practically. It builds on the case she has been making for years: that female leadership benefits everyone — companies, governments, communities and families. She has also hosted numerous discussions on women's issues at the White House and the State Department.
Before becoming an author, Shipman built a career as one of the nation's leading television journalists. At CNN, NBC and ABC she covered major events around the world, from the collapse of the Soviet Union to the election of multiple American presidents; through her reporting, she became a trusted, analytical voice on domestic and foreign policy matters. Shipman spent 15 years as a senior correspondent and substitute anchor for ABC's Good Morning America and regularly contributed to the network's other flagship shows, such as This Week and World News Tonight. Before that, she was the White House correspondent for NBC News for five years, reporting on presidential policy and politics for NBC Nightly News and Today, and was a monthly columnist for George magazine.
Shipman is a vice-chair of the University's Board of Trustees and has been a member of the board for nine years, focused on academic affairs, crisis management and communications. She is also on the Board of Directors of Washington Spirit, the reigning championship team of the National Women's Soccer League, and played a key role in resolving a recent, high-profile ownership dispute.
Shipman received a National Headliners Award and a Peabody Award for her incisive, often round-the-clock reporting from Moscow (where she was posted for five years with CNN), which included exclusive interviews with Boris Yeltsin and Mikhail Gorbachev as power changed hands. She won a DuPont Award and an Emmy Award for her coverage of the 1989 Tiananmen Square student uprising, as well as a DuPont Award for coverage of the 1995 Oklahoma City bombing. Shipman was presented a 1999 John Jay Award for distinguished professional achievement. She earned an M.I.A. from SIPA and a B.A. in Russian studies.