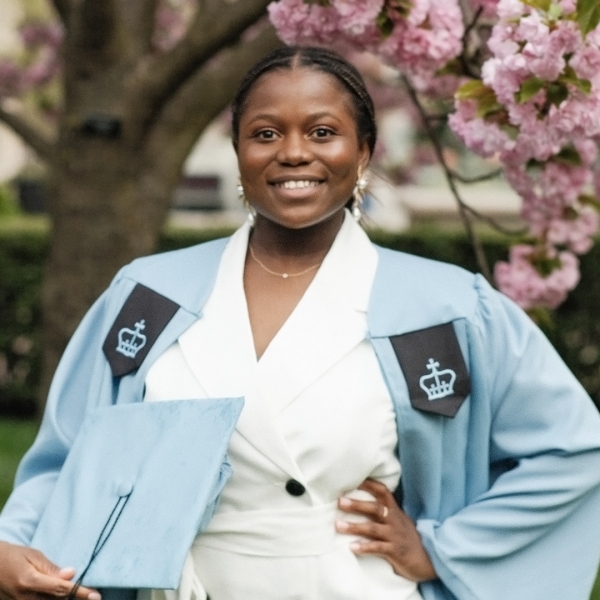 Wadzanayi Michelle Mayiseni CC'23 is not one to back down from a challenge. After surviving cancer, she took a leap into the unknown to attend the College, arriving for her first year from Harare, Zimbabwe, having never traveled outside of Africa. Just months later, the Covid-19 pandemic brought campus life to a halt and left her unable to travel home. Little did she realize all the ways that Columbia would become the home she needed.
Mayiseni, a neuroscience and behavior major, will draw from her experiences to impart a message of empowerment and resilience to the Class of 2023 as the student speaker on Class Day, Tuesday, May 16.
Her winning speech (chosen from more than 25 entries) reflects on her journey as a first-generation, low-income student who came to the United States seeking a world-class education. She is eager to share her newly expanded view of the world, and urge her classmates not to let fear hold them back. "We all came to Columbia not knowing what would follow," she writes. "We allowed ourselves to be newcomers — beginners who dared trust they would make it to the finish line. And now we have made it to this beautiful end."
Mayiseni's path from Zimbabwe to College Walk was detailed in the 2019 New York Times article "The Surprising Path That Some Kids Take to the Ivy League." She was diagnosed with bone cancer at age 12, which resulted in the amputation of her left leg. Mayiseni told the Times that the experience made her even more determined to succeed. "You're not defined by the things that hold you back," she said. "You're defined by how you rise above them."
She earned a scholarship to an esteemed private high school in Harare that hosted college fairs with representatives from the Ivy League; Whitney Green SEAS'10, TC'13 presented from Columbia. Mayiseni especially liked what Green had to say about the College offering first-rate academics along with the opportunity to learn as part of a diverse community in a big city.
"That was really captivating because I come from a very small town," Mayiseni says. "Even if I didn't know exactly what I wanted out of a college education, I knew that I wanted exposure to different people from different parts of the world." (Mayiseni is a recipient of the Louise and Robert Brunner Family Scholarship Fund and received assistance from the United Student Achievers Program, a nonprofit trust registered in Zimbabwe.)
She arrived in New York City with only a few acquaintances. "I just kind of threw myself into the wild, trusting that I would be safe and have a fun experience," she says.
"Columbia Assured My Safety"
Mayiseni started making connections right away and became an RA in December 2019. Then, in the spring of her freshman year, Covid-19 happened. Without any other options for accommodation in the city, Mayiseni was able to stay on campus, living in Hartley with a handful of other international students with whom she formed valuable friendships.
"During a point in time when the most horrific realities unfolded in the world, Columbia assured my safety," she says. "And then on top of that, making the best of friends and learning so much about people whose cultures and traditions are so different from mine. It was such a blessing, and I don't think I would have gotten that anywhere else."
She declared a major in neuroscience; as an amputee who regularly has phantom pain, she wanted to study how the brain shapes our subjective and shared experiences. Mayiseni assisted Nobel Laureate and University Professor Eric R. Kandel in his lab at the Zuckerman Institute, and is currently a research assistant at the Abdus-Saboor Lab; she is also the accessibility director for Columbia's neuroscience journal, Grey Matters.
Mayiseni is excited for Class Day, and is working on getting a visa for her mother so she can attend. After graduating with honors, she is headed to the Yale School of Medicine, where she is one of six neurology fellows leading clinical trials. After that? Mayiseni is unsure: maybe a Ph.D. in neuroscience, or maybe medical school.
What she does know is that she wants to have an impact in Zimbabwe. In 2018, Mayiseni established the nonprofit Youth Against Cancer in Harare, which advocates for improved cancer care in the region. "It's something I want to continue to work on," she says. "Right now we're fundraising for radiotherapy machines, because people are being referred to South Africa for treatment. There are some populations who can't even afford the transportation to the hospital — imagine asking them to go to a whole different country!"
Whatever her future holds, Mayiseni says she "can never be thankful enough" for her College experience. "I'm just so excited to graduate to the next stage and bring with me all the lessons I've learned — not just from the classroom or the lab, but also from relating with so many different people," she says. "Like, being able to validate a person's feelings by showing up and meeting them wherever they are as a leader and a friend. I think just that by itself is transferable to any environment that I will end up in."