Wednesday, August 20, 2014
Constantine "Costa" Dimas CC'96 has been elected chair of the Board of Friends of Double Discovery Center (DDC), a Columbia College program that works to enhance the higher education opportunities for low-income and first-generation youth in the surrounding community.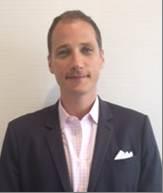 Constantine Dimas CC'96, chair of Double Discovery Center's Board of Friends
Dimas is senior vice president and chief business officer of Loews Hotels, where he oversees a division responsible for developing and executing Loews' new business strategy. He has worked in hospitality since 2003, beginning at the Tribeca Grill and later opening three of his own restaurants. Previously, he worked in investment banking and real estate development, as a trilingual aide in the White House and as deputy chief of staff for Senator Charles E. Schumer.
The son of immigrants and product of the New York City public school system, Dimas said he first became aware of the power of DDC to change and improve lives as a Philosophy major in the College. He later became closely connected to the organization, helping to secure vital financial support to ensure DDC's continued growth. He has been a member of the Board of Friends since 2011.
"That positive impression of a great institution wishing to help better those in its environment had a tremendous positive impact on me," Dimas said. "Few things in life have the ability to impact one's life more than education. Helping shine light on that process and aid along the way is one of the greatest services we can provide to our youngest citizens and neighbors."
Dimas' election comes as DDC celebrates the 50th anniversary of its founding during the 1964-1965 academic year. Started as Project Double Discovery, the program was the creation of Columbia undergraduates moved by the disparities between their Ivy League institution and the surrounding Harlem community. The goals are and have always been to ensure high school graduation, college enrollment and completion, career preparation and responsible adulthood.
Today, the organization offers a variety of academic-year and summer programs for students age 12-27, including afterschool tutoring, Saturday enrichment classes, and college application and financial aid assistance. Annually, 90 percent of high school seniors participating in DDC graduate from high school on time and enter college the following fall semester, which surpasses city, state and national outcomes for low-income, first-generation college and minority students.
The Board of Friends, a 17-member board, provides valuable advice and direction to Columbia College Dean James J. Valentini regarding Double Discovery Center, and works with staff to raise support for programs and opportunities. New officers are selected every two years. Rules allow for up to 24 members on the Board of Friends.
"Over the years the Board of Friends has been a crucial support to DDCs diverse programming, especially in times of transition," said Joseph Ayala, executive director of Double Discovery Center. "The new Board leadership will bring renewed energy, commitment, and strength as we seek to build on DDC's legacy and expand Columbia's outreach to the surrounding communities."
"Double Discovery is now in its 50th year, having helped thousands of deserving but needy New York City high school students since 1965," added Roger Lehecka, a founder of DDC and member of the DDC Board of Friends. "It's time for the program to get the attention and support it has earned by changing so many lives. I am very sure that the Board of Friends' new leadership, working with Executive Director Joe Ayala, will see that it does."
Costa will serve alongside Vice Chair of the Board of Friends Graydon Barz, an executive at Canepa U.S., an asset management company based in New York, who has also been on the board since 2011. Graydon, who also attended public schools, previously worked at Citigroup, McKinsey & Co., and at a financial-technology start-up in California. An officer in the U.S. Air Force, he holds a Ph.D. in Engineering-Economic Systems from Stanford University, a Masters in Mathematics from Wright State University, and a B.S.E. from Princeton University. 
"It is both humbling and inspiring to have been selected to serve the students, staff and Board of DDC, especially on the eve of the organization's 50th anniversary," Dimas added. "Dean Valentini's guidance and stewardship of DDC in recent years has only strengthened the potential for DDC to change and positively impact the lives of our neighbors who wish to better themselves through education. I am excited to be able to play a part in this great legacy of service."