Yousef Abou Areda CC'23, a psychology major, has been named valedictorian of the Class of 2023; Anthony Ozerov CC'23, a computer science and statistics double major, has been named salutatorian. Abou Areda and Ozerov were both selected by the Committee on Honors, Awards and Prizes based on the strength, breadth, depth and rigor of their academic achievements, as well as on evidence of their intellectual promise, character and achievement outside the classroom.
---
Yousef Abou Areda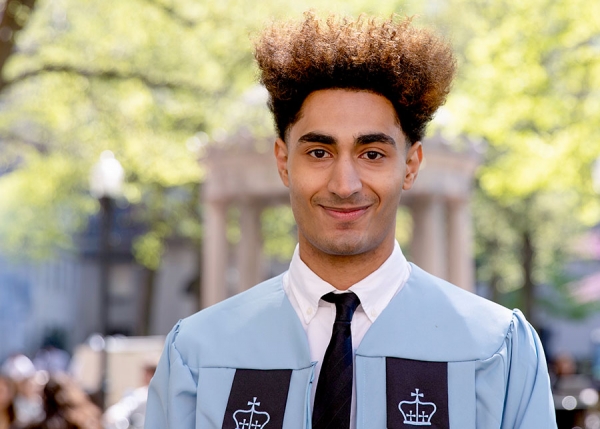 A Brooklyn native, Abou Areda came to Columbia excited to be able to explore his interests. He interned at the Center for Justice, a campus organization dedicated to ending mass incarceration. At the center, Abou Areda TA'd for several prison education courses and supported programs that assist formerly incarcerated individuals with reintegration back into society. His experiences inspired him to pursue an honors thesis, for which he designed a study that examined how education and rehabilitation can be used to reform the justice system. Abou Areda also conducted research at Columbia's Adaptive Behavior Lab, where he studied the neural mechanisms of learning and temporal processing under conditions of uncertainty. During the Covid-19 pandemic, Abou Areda spearheaded several philanthropic projects on campus, such as Raise4Refugees, which raised $12,000 to provide humanitarian aid to refugees affected by the pandemic.
Abou Areda's former professors spoke highly of him: "Yousef is one of these rare students whose academic excellence is exceeded by the quality of his character," said Professor Geraldine Downey, the Robert Johnston Niven Professor of Humane Letters in Psychology. "He is guided in all that he does by an unshakeable moral compass and a compassion for others. He is an inspiration to all of us who have had the good fortune to work with him."
Professor of Psychology Nim Tottenham added, "He is a deep and innovative thinker, a thoughtful scholar, and he is the type of individual who I am sure will contribute meaningfully to society and continue to improve the lives of those around him."
After graduation Abou Areda will take a gap year, with plans to attend medical school in order to ultimately improve the quality of life for under-resourced communities around the world.
"My parents immigrated here from Egypt in hopes of better educational opportunities for my siblings and me," Abou Areda said. "And while there's nothing I can really ever do to repay them for the countless hardships that they had to endure, I just hope that my accomplishments here, and my contribution to the University, reflect how appreciative I am of them. And of course, I have a great relationship with all the faculty members who constantly supported all of my endeavors — inside and outside of the classroom — and who helped me grow into the person I am today."
---
Anthony Ozerov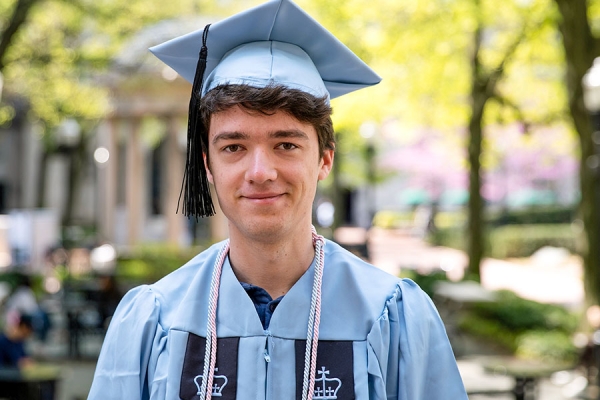 Ozerov was born in New York City and grew up in Moscow with his twin brother, Max Ozerov CC'23. At the College, Ozerov worked on algorithms to infer phylogenetic trees from single-cell sequencing data, spent a summer modeling trading strategies and worked in the statistics department's help room. His most recent work relates to planetary defense and is with the SETI ("Search for Extraterrestrial Intelligence") Institute and NASA on space-based detections of bolides (exceptionally bright meteors).
"Anthony took two of my graduate classes in theoretical computer science, and was the very top student in each of them," said Professor of Computer Science Rocco Servedio, one of Ozerov's former professors. "His performance [...] was simply flawless... but that's not why I remember him; the real reason Anthony stood out is that he made many insightful posts on the course discussion board answering questions posed by other students. Anthony was unique in this regard — essentially all other student participation on the discussion board was asking questions, while Anthony was answering them (and answering them well!)."
"I have had the pleasure of knowing Anthony for three years as his instructor, advisor and supervisor in the tutoring lab," said Gabriel Young, a statistics lecturer, who characterized Ozerov as "the cream of the crop." He continued, "His reputation is outstanding in the statistics department and many faculty share these positive opinions towards [him]. We all look forward to seeing his career flourish and following his success in academia or similar fields."
"I'm very proud to have been selected by the faculty for this honor," Ozerov said. "It's so nice having all these faculty members who know and support me — it's such a supportive community here. Aside from learning math and programming and all those other academic things, while at Columbia I've learned a lot about myself and about what I want for myself in the future."
Outside of school, Ozerov enjoys programming, reading, traveling cross-country by train and spending time with his partner in Canada. He will begin a Ph.D. in statistics at UC Berkeley in the fall.
Abou Areda and Ozerov will be recognized at Class Day on Tuesday, May 16.