Almost 4,000 College alumni and their guests returned to campus and to venues throughout New York City for Alumni Reunion Weekend and Dean's Day 2013 from May 30–June 2. Alumni who graduated in years ending in 3 and 8 gathered on campus this year, and all alumni and parents were invited to Dean's Day for lectures and Mini-Core Courses that represent the Columbia College experience.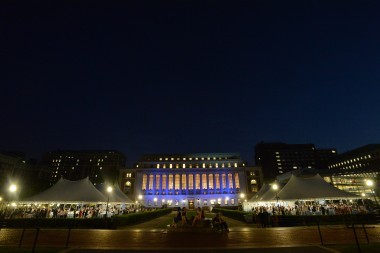 Among the weekend's highlights were cultural events in Midtown on Thursday; Mini-Core Courses and the Young Alumni Intrepid Party on Friday; and lectures, an alumni BBQ and an address by Dean James J. Valentini on Saturday. Perennially popular events, such as the All-Class Chelsea Art Gallery Crawl, the Wine Tasting and the Starlight Reception, were back this year, and some classes also held panel discussions, giving alumni a chance to revive their Columbia-honed debate skills and to discuss topics of interest. Sunday offered a new event, the "Celebration of Service to Columbia, Community and Country," an interfaith service held in St. Paul's Chapel.
Another new event was the presentation of the Dean's Leadership Award, which recognizes those who demonstrate extraordinary class leadership and honors an alumnus/a "whose behavior raises the sights of all classmates and has a positive impact on the College's fundraising priorities." The inaugural recipients were CCT Class Correspondent Paul Neshamkin '63; University Trustee Jonathan S. Lavine '88; and Board of Visitors Member Andrew Borrok '93, '01 Business. Each was honored by Valentini at his class dinner on Saturday.
Several reunion classes set records with their Class Gifts to the University this year. The Class of 1963 presented the largest 50th reunion gift to date with $1.925 million, the Class of 1988 presented the largest reunion gift ever with $19.88 million and the Class of 1993 presented $242,612, a class record.
Next year, classes ending in 4 and 9 will celebrate. Save the date for Thursday, May 29–Sunday, June 1, 2014. For details, or to join the Reunion Committee, contact the appropriate staff member: for events, Vanessa Scott, vs2470@columbia.edu or 212-851-9148; for fundraising, Esfir Shamilova, es3233@columbia.edu or 212-851-7833.
Photo: Eileen Barroso