Former Columbia Fencing team members Nicole Ross CC'13, Nzingha Prescod CC'15 and Margaret Lu CC'17 made history when they — together with fencer Lee Kiefer — won a silver medal in the team foil event at the 2017 FIE World Championships in Fencing, the best result in a team foil event for U.S. women in world championships history.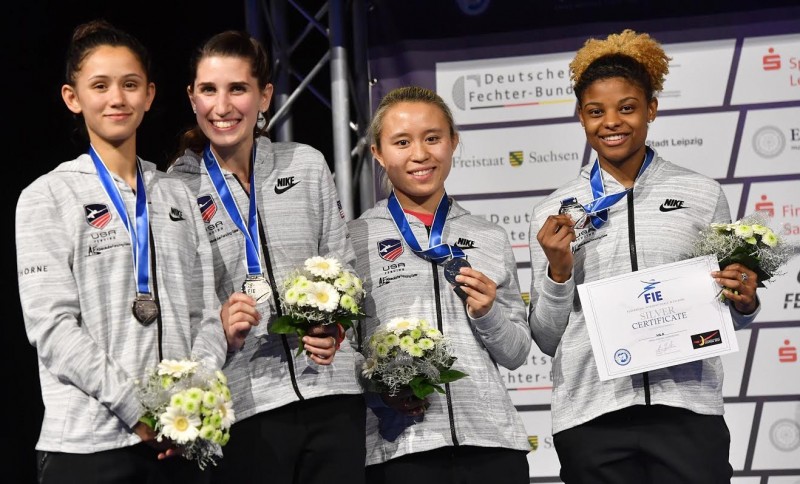 Photo: Augusto Bizzi / FIE
Ross, a member of the 2012 U.S. Olympic team, majored in art history at the College and has been an assistant coach for Cornell Fencing since 2016. She was previously head coach at Marymount School for Girls and has also served as a program coordinator for Win4Youth, Adecco Group North America's social and philanthropic organization. While at Columbia, she was first team All-American for three years straight and was named Columbia's Student Athlete of the Month in both January and March 2010.
Prescod majored in political science with a concentration in ethnicity and race studies at the College; she was selected as one of Glamour's Top 10 College Women in 2014. A two-time Olympian, she was the first American women's foilest to win a Grand Prix title (2013) and the first African-American woman to win an individual medal at the Senior World Championships (2015). She has served as a sports ambassador for Fencing in the Schools and is currently working at Ernst and Young. While at Columbia, Prescod was named Ivy League Rookie of the Year and was first team All-Ivy.
Lu, who graduated in May, majored in psychology at the College and was a member of Columbia Fencing's NCAA Championship team in 2015. While on the Columbia Fencing team, she received the Connie S. Manniaty Award in 2017, was named the William V. Campbell Performer of the Year in 2015, was first team All-Ivy, first team All-American and finished with the best individual women's foil record at the NCAA Championships in 2017.