Cristen Scully Kromm has been appointed Dean of Undergraduate Student Life for Columbia College and The Fu Foundation School of Engineering and Applied Science, effective Feb. 1, 2015.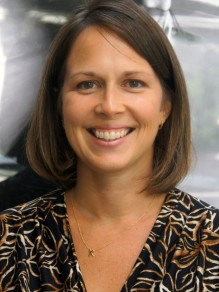 Cristen Kromm
Kromm currently serves as Associate Dean of Residential Life for Columbia College and The Fu Foundation School of Engineering and Applied Science, where she is responsible for residential life within the College and Engineering and is actively involved in the co-curricular life of students. Kromm has worked closely with students and partners throughout the University to develop programs such as Responsible Community @ Columbia (RC@C), a peer-facilitated conversation about alcohol and drugs during NSOP (in collaboration with Alice! Health Promotion), and the popular "Puppy Coalition" study break during finals (in collaboration with students). She has collaborated with Athletics, Fraternity and Sorority Life, and Student Engagement to ensure consistency in hazing prevention education across student groups, and with Housing and Facilities to create the Production Advisory Board, which gives students an opportunity to provide direct feedback about residence hall conditions.
"We are thrilled that Cristen will be leading our Undergraduate Student Life team in the important work they do to build a vibrant, inclusive and respectful undergraduate community," said James J. Valentini, dean of Columbia College and vice president for Undergraduate Education. "We look forward to continuing to work with her to strengthen the programs and services we offer to support our undergraduate community."
Kromm has lived in Morningside Heights since 2000, when she joined the Barnard Office of Residential Life and Housing. She later served as Director of College Activities in the Barnard College Activities Office, where she oversaw Barnard's New Student Orientation Program and provided leadership training and advising for student organizations. She previously worked in student life at the State University of New York, Stony Brook. She holds a bachelor's degree in sociology from Wheaton College in Massachusetts and a master's degree in social work from New York University.
"Cristen has built a remarkable career as a student life professional, demonstrating a significant commitment to supporting undergraduate student success, which makes her a wonderful fit for this role and for our schools," said Mary C. Boyce, dean of The Fu Foundation School of Engineering and Applied Science.  
Undergraduate Student Life supports the undergraduate community through residential and community programming, student group advising, leadership development, advocacy, diversity education, and civic engagement.
"I have a unique perspective on student life and the student experience, given the opportunity to live with my family in Wallach Hall, and value student participation, collaboration and enthusiasm," Kromm said. "I have treasured my time in this community and am excited to take on this new role, building new partnerships, and enhancing the undergraduate experience of students at the College and Engineering."