Michael Abolafia CC'17, an English and comparative literature major from Rochelle Park, N.J., and Hui Yu Wong CC'17, an art history major with an anthropology concentration from Singapore, have been named valedictorian and salutatorian respectively, the top academic honors for the Columbia College Class of 2017.
Abolafia and Wong were selected by the faculty Committee on Honors, Awards and Prizes based on the strength, breadth, depth and rigor of their academic achievements, as well as on evidence of their intellectual promise, character and achievement outside the classroom.  
Michael Abolafia CC'17 Abolafia, a Junior Phi Beta Kappa inductee who has excelled in his coursework and research, was described as "a remarkable student," "superbly intelligent" and "a star" by faculty members in the Department of English and Comparative Literature.
"Michael stands out in my mind as the single most articulate, insightful, creative and generous participant in any lecture course I've taught here," said Eleanor Johnson, associate professor of English and comparative literature. "I remember feeling a sense of glee when he would raise his hand."
Abolafia, who as valedictorian will speak at Columbia College Class Day on Tuesday, May 16, has worked as a research assistant to Pulitzer Prize-winning biographer and historian Tom Reiss and Michael Rosenthal, special research scholar in the Department of English and Comparative Literature.
In Summer 2016, Abolafia received the Richmond B. Williams Traveling Fellowship to conduct independent research through the BBC's Written Archives Centre in Reading, England, where he uncovered unknown writings by major 20th-century authors; he hopes to publish his findings later this year.
"Michael Abolafia is the only undergraduate I've known at Columbia who has made a major literary discovery," said Edward Mendelson, the Lionel Trilling Professor in the Humanities.
Abolafia is a co-editor of The Book of Jade, a book-length scholarly edition of a Victorian poetry collection, and Dead Reckonings, a scholarly periodical in the Gothic literature field. His writing has also been published in the New York Daily News, Brooklyn Magazine, Tincture, Lovecraft Annual, Spectral Realms, Sunlit and Edison Literary Review.
Susan Crane, the Parr Professor of English and Comparative Literature, said Michael has "great eloquence," "deep engagement with contemporary social thought," and "a terrific scholarly talent."
"He bases bold new work on his substantial research and reading," said Crane. "On the broadest scale, Michael is fascinated by how cultures are made and changed; on the minutest scale, he can trace those changes unfolding in a metaphor or a stanza form."
Aside from his research, Abolafia has interned at Simon & Schuster, W. W. Norton & Company and New York Review of Books, and served as an assistant to the publisher at Hippocampus Press. Following graduation, he will begin an MSt in English (1900-present) at the University of Oxford.
"I consider being named valedictorian of the Class of 2017 to hold both honor and a sense of obligation," said Abolafia. "My deep pride is outweighed only by the immense gratitude I have for this transformative institution, and for the faculty and staff who have been instrumental in steering me towards academic success."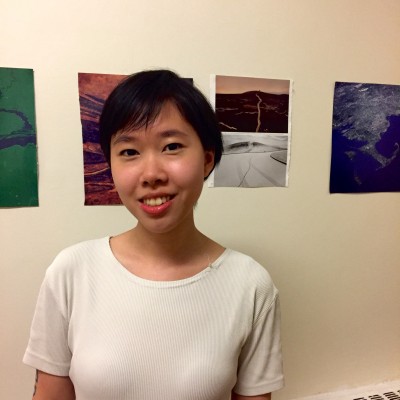 Hui Yu Wong CC'17 Wong was also described in her nomination by faculty members as "remarkable," and "one of those rare, genuinely brilliant students who moves with much intelligence and grace across a number of fields of inquiry."
Wong, who studied abroad in Spring 2016 through the Columbia in Paris: Reid Hall program, speaks French and Mandarin and is currently learning German. A 2014-2017 Loke Cheng Kim Foundation Scholar for Art History, she has interned at the American Federation of Arts through the Columbia Arts Experience, the Asia Art Archive in America, and Singapore's National Gallery.
"In short, Hui has a brilliant and sophisticated mind. She is a true intellectual," said Zoe Strother, the Riggio Professor of African Art.
"Her work is always so smart, inventive, and remarkably well researched," said John Pemberton, associate professor of anthropology, who currently teaches Wong in a course on the ethnographic study of sound. "She hears so much and is so capable of conveying to others what she hears — conveying through writing, in conversation, and within composition."
Wong is currently devising and planning workshops to facilitate at Singapore's O.P.E.N. Festival — a public engagement initiative from the Singapore International Festival of Arts — in Summer 2017, and serves as a board member for the Columbia University Artist Society, a fine-arts creating group that runs weekly informal figure drawing sessions. She also volunteers at Read Ahead, a non-profit that matches elementary school students with reading mentors for weekly reading sessions.
"I am so grateful and humbled to have received this quite unanticipated honor," said Wong. "Sharing and learning in the company of inspiring friends and professors these past four years has been a thorough reward in itself, and I'm grateful to have been given yet another special way to say thank you."