Sofia Nina-Bernardes Martins CC'19, a comparative literature and society major who will also graduate with a special concentration in linguistics, and Jessica Bai CC'19, an economics-mathematics major, have been named valedictorian and salutatorian respectively, the top academic honors for the Columbia College Class of 2019.
Sofia Nina-Bernardes Martins
Martins, who is from Rio de Janeiro but grew up in Seattle, and Bai, who is from Princeton, NJ, were selected by the faculty Committee on Honors, Awards and Prizes based on the strength, breadth, depth and rigor of their academic achievements, as well as on evidence of their intellectual promise, character and achievement outside the classroom.
Martins, a Junior Phi Beta Kappa inductee, has been described by Professor of French Peter Connor as "an exceptional person, whose commitment to the life of the mind and to the exploration of issues of injustice arising from forced migration is genuinely impressive."
Hana Worthen, assistant professor of theatre and performance studies, noted that Martins' " attraction to complex ways of thinking, her engaged response to the conceptual work of political and cultural theories, and her passion for a more just world and a more livable world for those in distress make for an excellent valedictorian."
Martins is a Mellon Mays Undergraduate Fellow who studies the relationship between cinema, government censorship and political activism in Latin America, and has served as an editor for Portales: The LAIC Journal of Undergraduate Research, which is housed in the Department of Latin American and Iberian Cultures.
"I am tremendously honored and surprised by this award," said Martins, who is also a former president of the Double Discovery Student Organization, a student group that recruits and trains more than 100 Double Discovery Center volunteers annually, and organizes events for DDC's high school students. "It is a testament to my supportive, encouraging, insightful and inspiring professors who made me want to engage with the material in front of me as deeply and as thoughtfully as I could."
"I am also deeply thankful for my friends and family, whose love has been unconditional, and without whom I would never have found the strength within myself to continue through the stumbles, falls and hardships," she added. "Nos briga mas nos se ama, Mom!"
"Sofia Martins is an endlessly inquisitive and rigorously reflective student who has struck me from our earliest acquaintance as a combination of two things — burgeoning scholar and citizen of the world. She is the kind of student who makes me proud to be part of the Columbia University faculty," said John McWhorter, associate professor of English and comparative literature.
After graduation, Martins will pursue a master's degree in migration studies at Oxford University with the support of a Doctorow Scholarship, which annually provides a Columbia College senior with funding for a year of post-baccalaureate study at St. Edmund Hall, Oxford, in a social science or related field.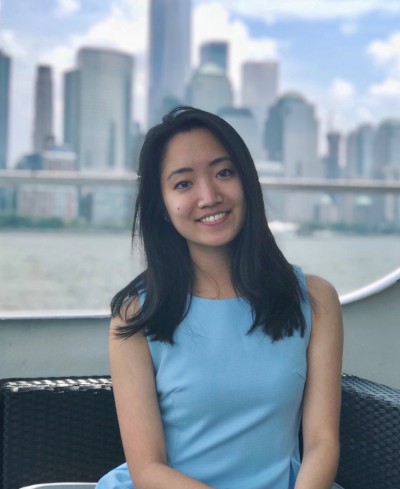 The salutatorian, Bai, was a recipient of the Department of Economics' Parker Prize for Summer Research in 2017 and is a Junior Phi Beta inductee. She has served as president of the Columbia Economics Society and senior editor of the Columbia Economics Review, the University's undergraduate economics research journal and the first undergraduate economics journal to be founded in the United States.
Bai — who studied econometrics, a graduate level course, alongside doctoral students this past year — is "easily the best undergrad I have had in my career — she has the combination of keen intelligence, enormous energy and an extremely positive attitude," said Bentley MacLeod, the Sami Mnaymneh Professor of Economics and Professor of International and Public Affairs. Following graduation, Bai will pursue a Ph.D. in economics at Harvard.
"She is one of the most motivated, academically mature and intelligent students that I have met in my 15-plus years as Director of Undergraduate Studies at Columbia,"said Susan Elmes, the Andrew Barth Senior Lecturer in the Discipline of Economics."The faculty of the economics department looks forward to seeing her research career develop and anticipates that she will make remarkable contributions to our field."
"I feel incredibly humbled to be receiving this honor," said Bai. "I am grateful for the guidance and encouragement of my professors, for those who saw potential in me as a scholar and all those who have supported me on this journey. My academic interests, which I will pursue in graduate school and beyond, were largely cultivated by the exceptional energy and creative spirit of this university. I look forward to a future of conducting research — the foundations of which were laid here at Columbia."