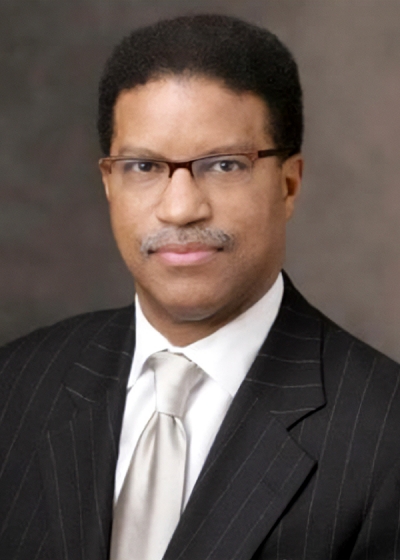 The 2023 Alexander Hamilton Medal will go to financial services executive George Van Amson CC'74, managing director of institutional equity sales and trading at Morgan Stanley. Van Amson is currently the head of The Americas Analyst and Associate Advising and Development Programs in Morgan Stanley's Institutional Equity Division.
The Hamilton Medal is the highest honor awarded to a member of the Columbia College community and recognizes distinguished service to the College and accomplishment in any field of endeavor.
An economics major at the College, Van Amson is a 45-year Wall Street veteran with expertise in domestic and international markets as well as in organizational leadership. He joined Morgan Stanley in 1992 and held various senior trading roles before becoming manager of the sales trading service desk for global wealth management clients. Prior to that, Van Amson was a VP at Goldman Sachs in the Trading and Arbitrage Division. He earned an M.B.A. with honors from Harvard Business School in 1982.
"George's journey has been nothing short of extraordinary, marked by a resoundingly successful career and decades of dedicated service to both Columbia and the community more broadly," says Dean Josef Sorett. "He stands as a beacon of inspiration, an exceptional role model not only for our students but for the entire Columbia community."
Van Amson has received numerous awards during his career, including being named to Black Enterprise's "Top African Americans on Wall Street" list three times (in 1992, 1996 and 2006). He was also the recipient of the 1993 World Economic Forum Global Leader award; the 2007 Racial Harmony award, presented by the Foundation for Ethnic Understanding; the 2013 Distinguished Alumni Award from Brooklyn Technical H.S.; and the 2017 Harvard Business School Alumni Professional Achievement Award.
He has also been extremely active in his community. Van Amson was on the board of Harvard Business School Alumni Association and president of the HBS African American Alumni Association. He has been a member of the Riverside Church Council; chair of the United Negro College Fund Wall Street Campaign; a board member of Alpha Phi Alpha Fraternity; and on the investment committee of the Rockefeller Brothers Fund. He is currently vice-chair of the board of the Amsterdam Nursing Home and on the Board of Directors of the Metropolitan Opera.
As an undergraduate, Van Amson was the president of his first-year and sophomore classes, a varsity football and baseball player, a leader of Alpha Phi Alpha and an active member of the Black Students Organization. A dedicated alumnus, he visits campus often to mentor students and attend Lions football and basketball games.
Additionally, Van Amson remains connected to Columbia as a University Trustee emeritus and as a chair emeritus of the Columbia Alumni Association. He is also the director of Community Impact, a service organization that sends student volunteers into New York City neighborhoods, and has also been on the Columbia College Board of Visitors. Van Amson was honored with a 2000 John Jay Award for distinguished professional achievement, a 2009 Columbia Alumni Achievement Award and a 2013 Varsity C Alumni Athletic Award.
"Columbia gave me so much," Van Amson told Columbia magazine in 2011. "It gave me confidence, an intellectual foundation to build my career on and lifelong friends. I'm very loyal. And I love coming back here. I love being around the people here, participating in life on campus, and making the institution an even better place."
A Bronx native, Van Amson resides on the Upper West Side of Manhattan with his wife, Wendy PH'83; they have three children, Alexandra CC'13, Victoria CC'15 and Schuyler CC'17.
The 75th annual Alexander Hamilton Award Dinner will take place on Thursday, November 16, in Low Rotunda.