Wednesday, October 7, 2020
This academic year, the Columbia College experience is taking place in all corners of the world.

Our students are getting creative and making the most of this unique moment in time. So, we've asked them to share their experiences with us through a new story series called "Columbia College Chronicles."
This series kicks off with Amy Muller CC'21, a sociology major with a statistics concentration from Deerfield, Ill., who's living in an apartment off campus in New York City this term. Amy spoke to us at the beginning of the fall term.
What's your major?
Sociology with a statistics concentration. The statistics concentration is, at this point, unlikely to be completed. But who's to say? Anything could happen!
What do you like to do outside of class?
I'm part of the Columbia University Low-Budget Sketch Show; I'm a big fan of that and general comedy things. I'm also in CU Sign, the sign language club, which is really fun. Off-campus, I've had a number of jobs and internships; I interned at Full Frontal with Samantha Bee last fall, and I took last spring off to do an internship at West Wing Writers, a speech writing firm.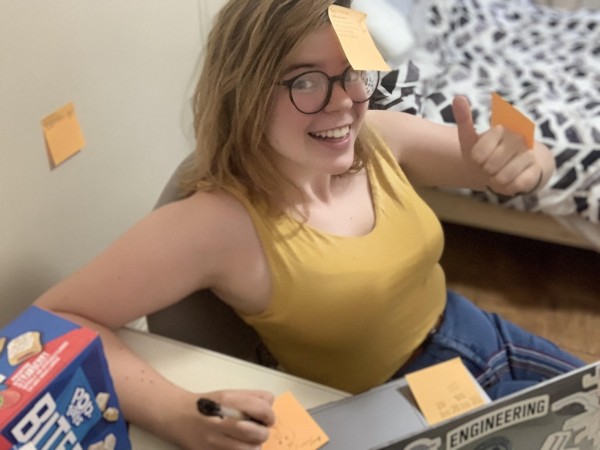 Photo courtesy Amy Muller CC'21
What is something you've learned about yourself during the pandemic?
I could have told you before this happened that I was really dependent on seeing my friends and being able to hang out with people, and being able to run into someone accidentally and have a nice conversation. I think I knew how much I valued that, but I didn't realize how much I depended on it. This is the 13th of my 14 days in quarantine since I came to the city from a danger state, and I haven't been able to see anyone.
But on a slightly positive note, since I took last semester off I had never done Zoom learning before. I went into it with quite a stormy attitude, thinking it would be awful but it's my senior year so I just need to do it. But I've been pleasantly surprised! Not that I didn't expect my professors to adapt well, but I'm not a big believer in the format and I was surprised in my own ability to keep up and take notes and be engaged.
Which class has been your favorite so far at the College, and why?
I'll go with "Sociology of Work and Gender." I am a Professor Teresa Sharpe [director of Undergraduate Studies and lecturer in the discipline of Sociology] stan; this was the second of her classes that I took. The material was really interesting. I remember my mom visited and we went out to dinner, back when those two things were allowed, and we sat down and I was like, "So, I learned all these things about women and jobs," and I was able to have a really interesting conversation with my mom about what we were learning, both the history of it and how things are today, and it kind of changed the way I looked at jobs I've had since. I'm going to toss an honorable mention to "Stars and Atoms"; I learned so much about space. I had Marcel Agüeros — iconic professor, king of space!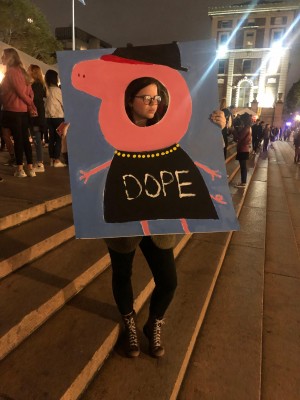 Photo courtesy Amy Muller CC'21
What's the thing that keeps you close to Columbia while remote?
The student groups and clubs I'm in are just getting fired up now, so while I anticipate that being more of a thing, it's not much of a thing yet. I annoy my friends constantly; I cold-call them to say, "I'm bored! I miss you!"
It's hard to answer this question because I've been away from school since finals last fall. So on the one hand, I'm still trying to navigate being a grownup who didn't have to do her readings, who just went to work and made dinner and went to bed every day — and now I'm adjusting to centering my life around campus, and I don't quite know what that looks like yet. I can't yet leave the apartment, so I can't be walking around or breathing in the air while on Low Steps. But I think it's just going to class, getting back in the mental habit of being a student, spending time just talking to my friends and people whom I associate with campus and make college a place I like to be.