My Columbia College Journey is a tool designed to encourage students to reflect and assess their ongoing personal development.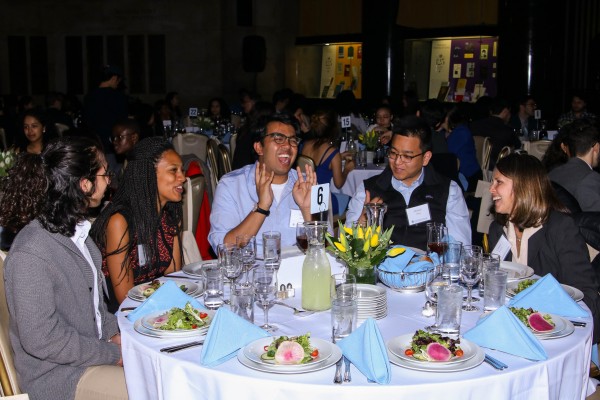 Photo: Maryam Hassan CC'20
On April 9, 2018, a launch event was held in the Rotunda of Low Library, where nearly 300 students engaged in discussions about
My Columbia College Journey
over a family-style dinner with staff and faculty members. The event included speeches by Dean James J. Valentini; Heidi Julavits SOA'96, associate professor of writing; Dustin Rubenstein, associate professor of ecology, evolution and environmental biology; and Katie Day Benvenuto CC'03, BUS'06, senior executive director for development for Columbia College, Arts and Sciences, and Athletics. The evening was emceed by Nathan Rosin CC'18, president of the Columbia College Student Council (CCSC) Executive Board, and Nicole Allicock CC'18, VP Policy on the CCSC Executive Board.
"The Journey encourages you to see the interconnectedness of your experiences for the very first time, to examine all the possibilities your mind can envision and to ask yourself questions that will focus on the process — not just the outcome," Valentini said at the launch event.
With the help of this initiative, students will be able to articulate the impact of the Columbia College experience, through their academic work, extracurricular activities, residential life, internships, research, global opportunities and community engagement — regardless of their major or concentration.
With efforts being driven by Valentini, faculty and College staff members, My Columbia College Journey grew out of faculty conversations in the Committee on Instruction (COI) during the 2015–2016 academic year.
Photo: Maryam Hassan CC'20
"This Committee [on Instruction] discussed what we wanted to teach our students beyond the information that we conveyed in our courses," Julavits, previous member of COI, said of the creation of
My Columbia College Journey
. "All of us with very different knowledge and expertise discussed for two years how we inspire our students to understand who they were and also who they weren't, and who they aspire to be."
Since the initial discussions began, the initiative has been reviewed by more than 100 faculty members as well as alumni leaders from the Columbia College Board of Visitors and the Columbia College Alumni Association.
My Columbia College Journey will serve as a way for students to reflect on their undergraduate experience — during their time at the College and throughout their lifetime. The Journey encompasses a shared language of 13 "Core Competencies," enabling students to assess what they have already learned and what they want to learn in the future.
The competencies include: civic and individual responsibility; community engagement and inclusion; creativity and innovation; critical thinking; global awareness; information and technological literacy; knowledge; oral communication; teamwork and collaboration; research; quantitative literacy; and written communication.
Referring to the Core Competencies, Benvenuto said, "If you can, try to believe it's possible that the pie chart of your life can grow in many directions all at once."
Columbia College faculty, advisers, mentors and program coordinators in the Berick Center for Student Advising, the Center for Career Education, the Office of Global Programs and Undergraduate Student Life as well as in residence halls and activities will support students in order to help them articulate how the Core Competencies can help students identify and pursue their interests.
Students are encouraged to write their own reflections of their Columbia College experience, ask questions and share feedback on the My Columbia College Journey website.
Rubinstein, a current member of the COI, shared words of wisdom as well: "Not all of what you learn is in class. It's important for you to challenge yourself, and get outside your comfort zone."