Friday, November 10, 2017
Columbia College mourns the passing of long-time Columbia College employee Peter V. Johnson.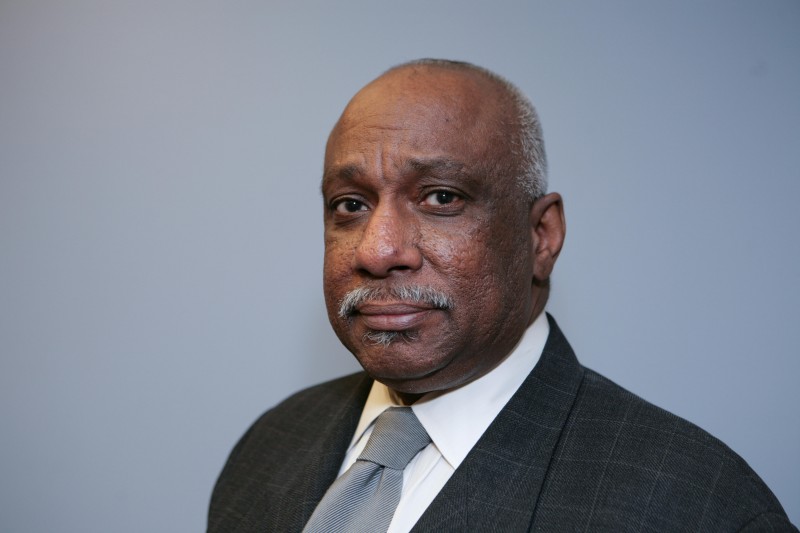 Johnson worked at Columbia for more than 35 years and most recently served as director of enrollment group special projects and special assistant to the dean of Undergraduate Admissions and Financial Aid for Columbia College and The Fu Foundation School of Engineering and Applied Science. In his time at Columbia, Johnson shaped the college aspirations of thousands of applicants and served as a cherished mentor and friend to countless members of the community.
"The number of lives that Peter has influenced and touched, however, far surpass those mere years — he was a mentor, guide, adviser, friend and stalwart educational leader in all he did," said Jessica Marinaccio, dean of Undergraduate Admissions and Financial Aid for Columbia College and The Fu Foundation School of Engineering and Applied Science. "His legacy will live on in the Columbia graduates he inspired, the colleagues he supported, the admissions office he always made sure was doing the right thing and, most importantly, in the family he loved so very dearly."
Johnson's career in higher education began in 1971 at his alma mater, Earlham College, where he worked with the Upward Bound program. He was at Hampshire College for a decade, serving in Residential Life before beginning his career in college admissions. He came to Columbia University in 1982 to serve as assistant dean of student affairs for Columbia College; through seven years in that role, he established his reputation as an educational leader and mentor.
Johnson has been, literally, the voice of the undergraduate admissions office for many years, his sonorous voice greeting callers on the office's welcome recording. Renowned as a powerful and inspirational presenter, Johnson spoke at countless high school and community-based organization programs across the country. He was also known to many campus visitors and eventual Columbia students simply as the kind gentleman with the bowtie outside Hamilton Hall who would patiently answer question after question.
Service to others was the hallmark of his 27 years in the Office of Undergraduate Admissions, especially in his commitment to lifting up under-resourced and under-represented students. Through Johnson's vision and effort, a small annual campus college fair was opened to the larger community, transforming Columbia's Summer Programs College Fair into one of the marquee college access events in New York City, bringing together hundreds of students, dozens of community organizations and a hundred colleges annually.
Johnson was also a fervent supporter of the Columbia Lions for many years. In his capacity as an athletic liaison, he worked closely with coaches, supported prospective athletes through the admissions process and served as Columbia's representative to the Ivy League. Outside of these professional responsibilities, he remained close with countless athletes over the years, serving as an informal advisor, mentor and parental figure.
Johnson brought his abundant wisdom and generous heart to scholarship committees, professional associations, coaching staff searches, college access programs, neighborhood partnerships and innumerable individual relationships. He made Columbia a home away from home for countless students, helping them feel welcome and gain the confidence to reach their potential. Through his mentorship of colleagues, he has had a profound impact on the field of education, influencing and guiding a generation of leaders.
In 2016, Johnson received the Black Alumni Council Heritage Award, which honors individuals who have made considerable contributions to the community and to their respective fields. The Black Alumni Council is an organization of current and future Black alumni from all Columbia schools, affiliates and generations and is dedicated to the support of the history, preservation and success of current and future Black alumni.
In accepting the award, Johnson said, "My 33 years here have been 'A Love Supreme.' You have challenged me, taught me, supported me, proven to me that this is the best college in the world."
Johnson was a contributing writer for The Multicultural Student's Guide to Colleges: What Every African American, Asian-American, Hispanic, and Native American Applicant Needs to Know About America's Top Schools; was a judge for the ABC prime time unscripted drama "The Scholar"; and was featured in "First Generation," a feature-length documentary released in 2012 that delves into the lives of four high-achieving low-income students trying to be first in their families to go to college.
Johnson served on the College Board Middle States Regional committee and the Board of Friends of Columbia's Double Discovery Center. He was a long-serving member of the scholarship committee for the New York Hotel Trades Council and Hotel Association of New York City. He was awarded the New York State Association of College Counseling's Distinguished Service Award in 2014, presented yearly at the national conferences of The College Board and the National Association of College Admission Counseling, and was the keynote speaker for the New Jersey Association of College Admission Counseling regional conference.
Johnson is survived by his wife, Jo, and his daughters Zenzele Johnson and Joya Powell.
Columbia College invites you to celebrate Peter V. Johnson's life at a memorial in his honor, to be held on Sunday, December 17, beginning at 3:00 p.m. in Roone Arledge Auditorium, Lerner Hall, with a reception to follow.