Columbia College mourns the loss of Wm. Theodore de Bary CC'41, GSAS'53, the John Mitchell Mason Professor Emeritus and provost emeritus. He was 97.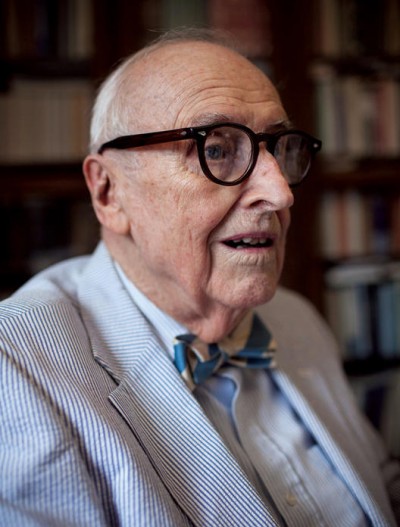 Photo: Natalie Keyssar/Columbia College Today
"Ted de Bary was a pioneering scholar of East Asian studies, an inspiring teacher, whose great contributions to Columbia College extended over many decades," said Columbia College Dean James J. Valentini. "He was deeply engaged with the Core Curriculum in all its dimensions, and generations of students benefited from his knowledge, devotion and commitment to East Asian studies. His impact on the College has been far-reaching and will long continue to be felt."
At the College, de Bary was deeply invested in the Core, starting with his time as a student in Contemporary Civilization under the tutelage of Harry J. Carman, GSAS Class of 1919, an American historian who later became Dean of the College. It was Carman's urging to expand the idea of "Contemporary Civilization" beyond Western civilization and into Asia that inspired de Bary to study Chinese as an undergraduate.
Carman later charged de Bary with developing a core program in what was then called Oriental Civilizations and Oriental Humanities. In 1947, de Bary established the first "Oriental Studies" program in the country, an elective colloquium in Asian classics called "Oriental Humanities," modeled on Humanities (now Literature Humanities). In 1950, he created "Oriental Civilization," an elective course modeled on Contemporary Civilization.
In the 1950s, in response to a lack of English sources for undergraduate courses, de Bary joined with Donald Keene CC'42, GSAS'49, now the Shincho Professor Emeritus of Japanese Literature, and Burton Watson CC'50, GSAS'56, a scholar and translator of Chinese and Japanese literature, to translate Asian texts, launching a series that now includes more than 150 titles produced by the University Committee on Asia and the Middle East and Columbia University Press.
Photo: Philippe Cheng/Columbia College Today
De Bary also headed a committee charged with re-evaluating the College's curriculum in 1988. At the time, the phrase "General Education" was being used for the courses required by all College students; the committee suggested Core Curriculum, a designation which persists to this day.
"Ted was the most vocal and dedicated advocate of the Core in the entire Arts and Sciences faculty," said Roosevelt Montás CC'95, GSAS'04, director of the Center for the Core Curriculum and associate dean of Academic Planning and Administration. "He saw the Core's mission as central to the University and dedicated his career to cementing its place in it and to expanding its reach to traditions not included in the original curriculum."
He also established both the Heyman Center for the Humanities and the Society of Senior Scholars, a group of distinguished retired faculty who add their instructional firepower to the Core's multi-departmental teaching staff, and was involved in the creation of the Lionel Trilling Seminars, the University Lectures, the Society of Fellows in the Humanities and the Alumni Colloquia in the Humanities.
De Bary — who continued to teach without pay after his retirement in 1989 and co-taught a Core capstone course on Asian and Western classics, "Nobility and Civility," as recently as Spring 2017 — was an intrinsic part of the University as well, serving as chair of the Department of East Asian Languages and Cultures (1960-1966); chair of the Executive Committee of the newly formed Columbia University Senate during the 1968 student uprising; and executive vice president for academic affairs and provost (1971-1978), the University's highest academic office.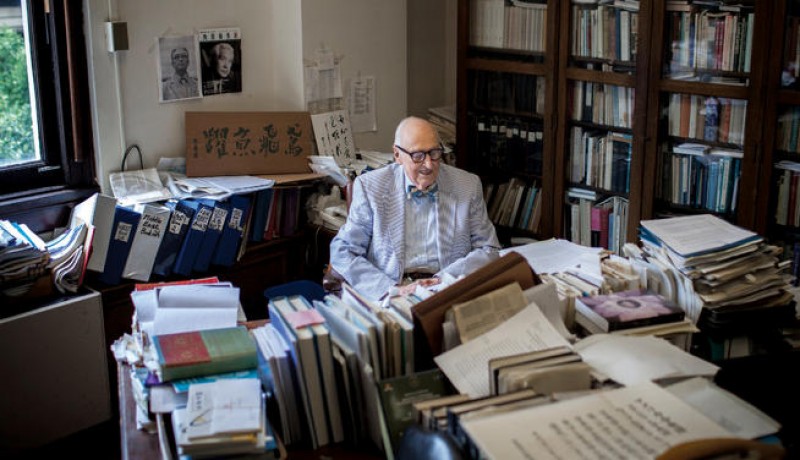 Photo: Natalie Keyssar/Columbia College Today
"An esteemed Sinologist with a shelf of at least 30 books to his credit, either written or edited by him," according to an obituary published in The New York Times, de Bary has been honored numerous times for his scholarship and dedication to teaching, both by the University and beyond.
At Columbia, he received the College's Alexander Hamilton Medal, the Society of Columbia Graduates' Great Teacher Award and an honorary doctorate. Beyond Columbia, he was awarded membership in the prestigious Japan Academy in Tokyo; the Tang Prize in Sinology; and, in 2013, the National Humanities Medal for his pioneering work in East Asian Studies, presented by then-President Barack Obama CC'83.
De Bary's family is also deeply tied to Columbia. He met Fanny Brett BC'43 — his wife until her passing in 2009 — at a Sunday afternoon tea dance in Barnard's Brooks Hall during his junior year. They married in 1942 and together had four children: Paul de Bary CC'68, BUS'71, LAW'71, a lawyer and financial adviser; Brett de Bary BC'65, a professor of Japanese literature and film at Cornell; Beatrice de Bary-Heinrichs GSAS'84, a teacher; and Catherine de Bary Sleight BC'73, JRN'77, who co-owned a company that represented high-tech magazines and was editor-in-chief of EC.Com Magazine, which the company published, before her passing in 2010. Along with his two daughters and his son, de Bary is survived by eight grandchildren, a step-grandchild and three great-grandchildren.