Thursday, August 27, 2020
The Columbia College community is saddened by the death of James V. Mirollo, the Parr Professor Emeritus of English and Comparative Literature. Mirollo, a stalwart supporter of the College and the Core Curriculum, died on August 21, 2020. He was 92 and lived in New York City.
Born on August 5, 1928, Mirollo earned a Ph.D. at GSAS in 1961 and joined the Columbia faculty in 1967. A scholar of European Renaissance and Baroque literature and art, he taught generations of alumni in Lit Hum and the Nobility and Civility Colloquium. Mirollo also helped found and taught in the Friends of the Heyman Center Alumni/ae Seminars. He was presented a Great Teacher Award in 1988 and the Mark Van Doren Award for Teaching in 1995, and was the co-recipient of the first award for Distinguished Service to the Core Curriculum, with J.W. Smit, in 1993.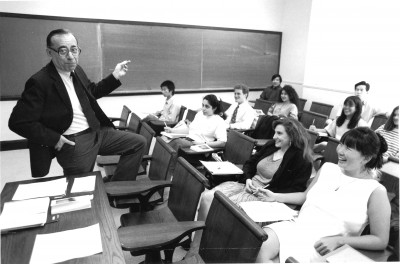 "The College community is deeply saddened by the loss of Jim Mirollo," said James J. Valentini, dean of Columbia College and vice president for undergraduate education. "As a former instructor and chair of Lit Hum, his work was critical to strengthening the Core Curriculum. He had a lasting impact on College students, as evidenced by the many distinguished teaching awards he received. His legacy will forever be marked by his commitment to providing the very best education to our students."
Mirollo's presence in the classroom often made as deep an impression upon students as the works themselves. As Patrick McGarrigle CC'86 told Columbia College Today upon the 75th anniversary of Literature Humanities, "He brought the varied collection of classics to life with energy, humor and passion. I recall his 'juxtaposition' — one of his favorite words at the time — of Confessions and Inferno and how fortunate I was to hear this titan's love for Dante."
Mirollo's Great Teacher Award citation observed that he was known for his animated style: "Voluble, dynamic, witty, colloquial, as a teacher you make the classic texts contemporary."
Indeed, Mirollo's wit as well as his views on what makes for good teaching were on display in his acceptance speech, which began with a wry reference to his oft-quoted remark, from a heated Humanities staff meeting, that he "would teach the telephone book if we as a staff decided that it belonged on the reading list."
"This was variously interpreted," Mirollo said, "and has been cited since, to mean, for example, that Mirollo is so desperately hooked on teaching that he will teach anything, as long as you let him go into the classroom for his daily fix! Come to think of it, this is actually not too far from the truth."
He went on to explain, "My remark, in fact, was a rhetorical ploy, a way of saying to my colleagues that after all of the arguments about which books to include have subsided and a compromise list is reached, there is still waiting the matter of how to teach the chosen books to undergraduates, and to teach them well. It is one thing to discuss the issues involved in a course like Humanities A at staff meetings ... and quite another matter to determine whether undergraduates are likely to be well served by a year's discussion of such issues, as opposed to a year's experience of reading complex tests, and of learning how to read them critically. It is absurd to think that any current teacher of Humanities A presents a text like the Iliad entirely on its own positive terms, as hollowed or sacrosanct, excluding inquiries into its possible negative meanings or influence. That is not being apolitical; that is being a bad teacher."
Gareth Williams, the Anthon Professor of Latin Language and Literature and a director of Undergraduate Studies in the classics department, as well as a former chair of Literature Humanities, said of Mirollo, "In his Core teaching and his leadership of Literature Humanities, Professor Mirollo combined an enviable scholarly reach and expertise with a wonderful personal manner.
"A very engaging and much-loved teacher, he was also a person of great warmth and generosity who not only gave his students profound insight into the texts he guided them through, but also much more than that: He was in many ways a living embodiment of the ideals of a Core Curriculum education, and the example he set as a truly remarkable educator will long live in the memory."

Mirollo was predeceased by his wife, Julia (née DiTieri), in 2015. He is survived by his children, Renato CC'80 and Gabriella; and daughter-in-law, Robin. A memorial service will be arranged at a later date.