Columbia College student athletes were among those honored at the 15th annual Academic Achievement Luncheon hosted by the Department of Intercollegiate Athletics and Physical Education on April 9.
The luncheon celebrated 181 student athletes and recent graduates (Classes of 2012-2016) from the College, the Fu Foundation School of Engineering and Applied Science, General Studies and Barnard who made Dean's list at their schools within the past year, including the 37 who received a 4.0 grade point average or higher. History Professor Chris Brown was the keynote speaker at the luncheon. Patrick Foley CC '10, a former men's basketball player, also spoke at the reception.
"I don't know how you do it, but I think I know why," Professor Brown said. "You do it not because it will make you rich or famous but because it makes you happy, because there are few things are more satisfying than to have mind, body and soul fully engaged, fully dedicated in something that you truly love to do, to give your all to something that, in the end, is more than you."
The Department of Intercollegiate Athletics and Physical Education has honored student athletes for their academic achievements since 1999. At Columbia College, students who have earned a GPA of at least 3.6 are placed on the Dean's List for each academic term. 
The following Columbia College students were inducted into "the 4.0 Club" this year:
Class of 2013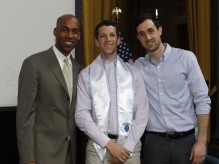 Professor Brown and students at the Academic Achievement Luncheon
Cyril Bucher, Men's Varsity Tennis
Andrew Heinrich, Varsity Football
Diana Lee, Women's Varsity Basketball
Devan Luster, Varsity Football
Dean Perfetti, Varsity Football
Alexander Simmonds, Men's Varsity Lightweight Rowing
Noelle Van Rysselberghe, Women's Varsity Cross Country/Track & Field
Jessica Werlin, Women's Varsity Rowing
John Zucchi, Men's Varsity Lightweight Rowing
Class of 2014
Michael Attal, Men's Varsity Soccer
Danielle Cosentino, Women's Varsity Field Hockey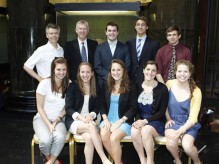 Student athletes at the Academic Achievement Luncheon Liana Diamond, Women's Varsity Swimming & Diving
Charlee Dyroff, Women's Varsity Volleyball
Marvellous Iheukwumere, Women's Varsity Track & Field
Sara Lavenhar, Women's Varsity Archery
Maxwell Segall, Men's Varsity Lightweight Rowing
Raul Silvia Behrens, Men's Varsity Cross Country/Track & Field
Nathan Yueh, Men's Varsity Swimming & Diving
Class of 2015
John Tuddenham, Men's Varsity Fencing
Ashok Narayana, Men's Varsity Tennis