Wednesday, October 12, 2022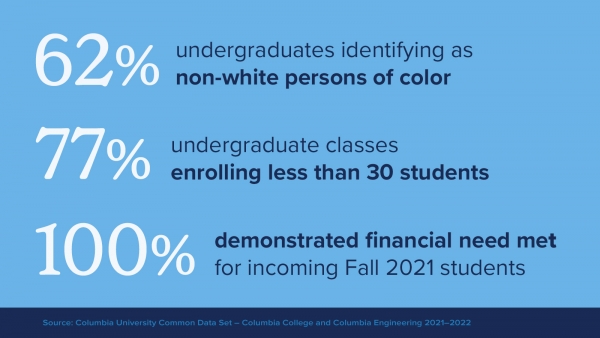 Prospective students and their families have a new tool from Columbia to help in their college decision-making process. A Common Data Set (CDS) for Columbia College and Columbia Engineering was released in September, offering detailed information about the undergraduate experience across 10 categories. Among them are financial aid, annual expenses, academic offerings, instructional faculty and class size, and student life.
Columbia has committed to releasing an updated CDS annually, joining the collaborative effort across higher education to improve the quality and accuracy of institutional data, and to share that data in ways that are easily comparable.
Highlights from the CDS for the College and Engineering are below; Columbia's complete data sets are available here.
Students, faculty and classes
The ratio of students to faculty remains 6 to 1, as it has been for many years, while 77 percent of undergraduate classes enroll less than 30 students, and 74 percent less than 25 students. More than 57 percent of all classes have enrollments less than 20.
Financial aid
All incoming students received aid for 100 percent of demonstrated financial need, with 99.6 percent of demonstrated need met across all undergraduates. Need-based aid is provided through university grants — totaling more than $186 million for all undergraduates in the 2020–21 academic year — rather than loans, which are not used to meet financial need.
Undergraduate diversity
More than 62 percent of domestic undergraduate students identify as non-white persons of color, with foreign citizens making up 16 percent of the undergraduate population, and first-generation students comprising 17 percent of the incoming class in Fall 2021.
---
Data in the CDS reflects available records as of October 2021.