Tuesday, September 9, 2014
The University has taken many steps in recent months to help prevent sexual assault and other gender-based misconduct on campus, to make it easier for survivors to report such incidents and to educate students about the subject and the resources available to them. The actions, whichinclude a new University Gender-Based Misconduct Policy for Students and related response procedures announced by President Lee C. Bollinger on August 15, are detailed on Columbia's Sexual Respect website.
First-year students who arrived on campus in August underwent enhanced mandatory training at the New Student Orientation Program (NSOP) that focused on Columbia's gender-based misconduct policy and resources and engaged students in discussions about consent, respect and the importance of bystander intervention related to sexual violence and more. In the week before their arrival, incoming students received a five-minute video that introduced them to Columbia's community standards and the University's policies regarding sexual respect and consent. At NSOP, new programming was introduced including CU Step Up!, which included concise guidelines for gauging consent and featured the tagline "Be a Leader. Make A Difference."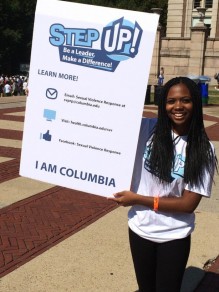 In response to student requests, a second Rape Crisis/Anti-Violence Support Center was opened in Lerner Hall at the beginning of the Fall semester, in addition to the existing location in Hewitt Hall on the Barnard campus. Staff have been added both to the Sexual Violence Response office, which provides a confidential resource for survivors and offers urgent response through the Rape Crisis/Anti-Violence Support Centers, and the Gender-Based Misconduct Office, which employs investigators and conducts investigations; manages the hearing, sanctioning and appeals process; and supports students with case managers who can help students navigate the process. The added personnel should ensure that students have 24-hour on-call access to professional staff, while keeping fully intact existing access to peer advocates.
The changes to Columbia's Gender-Based Misconduct Policy, which follow a year of conversations with students in multiple forums, reflect recent guidance from the White House, the Department of Education and federal legislation, as well as recommendations from members of the Columbia community.
A significant component of the new policy involves the key personnel responsible for its implementation. Investigators will be taking on a larger role in determining credibility and responsibility, and will possess the requisite professional background and training to do so. Individuals serving on the hearing panels will be drawn from a designated pool of Columbia professionals with expertise in student life who have been tasked with this duty as part of their jobs. Consistent with federal guidance, students will no longer serve on these panels. Advisers, including an attorney if a student so chooses, may now accompany students who are parties to the investigative and disciplinary process at all hearings and official meetings.
In addition, new case managers employed by the Gender-Based Misconduct Office will provide students with a University staff member dedicated to helping them access support services and secure accommodations regarding their academic work and housing arrangements.
On July 24, Bollinger named Suzanne Goldberg, the Herbert and Doris Wechsler Clinical Professor of Law, as Special Advisor to the President on Sexual Assault and Response. In a letter to the Columbia community announcing the appointment, Bollinger wrote, "One of Suzanne's responsibilities will be to help create the right organizational structure for the new office of the Executive Vice President for Student Affairs so that it will better support our efforts to prevent and respond to sexual assault matters on campus."
Bollinger also announced that he had "charged the Presidential Advisory Committee on Sexual Assault (PACSA) with developing an ongoing, multi-year, comprehensive plan to address sexual assault within our community … The EVP [for Student Affairs] will then work closely with PACSA to help ensure that our campus culture does not tolerate sexual assault and that our adjudicatory process is responsive, sensitive, efficient and fair."
Comprehensive information regarding Columbia's policies and resources concerning gender-based misconduct, along with messages from the president and details on new initiatives, are available on the Sexual Respect website.