Trustee Michael B. Rothfeld CC '69, JN '71, SIPA '71, BU '71 was honored at Community Impact's Gala Benefit Auction on March 7 with the "Making A Difference Service Award." The award recognizes people whose belief and investment in Community Impact's work helps the organization serve neighbors in need in Upper Manhattan.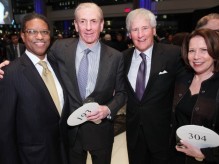 Left to right, George Van Amson CC '74, University trustee emeritus; Michael B. Rothfeld CC '69, JN '71, SIPA '71, BU '71, University trustee and the evening's honoree; Bill Campbell CC '62, TC '64, University Trustees chair; and Susan Feagin, special advisor to President Lee C. Bollinger, celebrate Rothfeld's selection as the recipient of Community Impact's 2013 "Making A Difference Service Award" at the event's auction fundraiser. PHOTO: MICHAEL DAMES
Rothfeld, a former journalist, investment banker and private equity investor, is a director of the Jed Foundation, an organization founded by Phil Satow CC '63 and his wife, Donna GS '65, that works with university students' and young veterans' to promote emotional health and suicide prevention. He is also very involved in theatre production and other volunteer activities and is a  former chair of the Columbia College Board of Visitors. In 1979, he was a member of the first official cultural delegation from the United States to the Peoples' Republic of China.
Rothfeld was selected as this year's honoree because of his belief in and generous support of Community Impact's work through the years. He has helped the organization expand the reach and the impact of its services, Community Impact Development Officer Audra Acey said.
"Mike cares about everything that the next generation might need to succeed. It is perfectly fitting that he should receive CI's 'Making A Difference Award," said Austin E. Quigley, the Brander Matthews Professor of Dramatic Literature and Dean Emeritus of Columbia College. "He has long displayed a readiness to devote time, effort and resources to the next generation, not with the expectation that they will conform to alumni values and ideals, but with the wish to give them the opportunity to develop values and ideals of their own."
Community Impact, the largest service organization on campus, works to provide a bridge between the University and surrounding communities and seeks to empower the children and adults it serves to envision and achieve a better life. Its 900 student volunteers work with 100 partner organizations to serve approximately 8,000 people annually. Volunteers spend approximately 50,000 hours each year providing meals to homeless and low-income families, educating youth, assisting with adult education and job training and working on other service projects.
Rothfeld said he is proud of the service that students do in the neighborhood through Community Impact.
"When I came to Columbia in September 1965, the University was effectively isolated from the neighborhoods surrounding it," he said. "Today, Columbia is fully engaged with its community and one of the most important participants in that engagement is Community Impact. It is Columbia at its best."
Proceeds from the silent and voice auctions, which were held at The Park Café at Time Warner, will benefit Community Impact's educational and social service programs for children and families in need in Upper Manhattan.
Click here for additional photos.