Dean Baquet, a Pulitzer Prize-winning journalist and executive editor of The New York Times, urged Columbia College's graduating seniors at Class Day not to be blinded by ambition.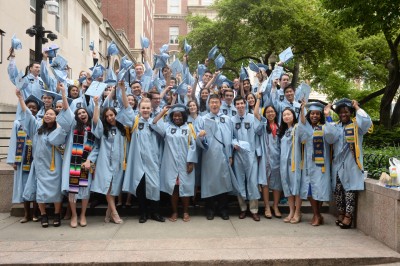 Photo: Eileen Barroso "Don't have your eyes so focused on the goal that you fail to enjoy the journey," Baquet said. "Don't be so ambitious for one thing that you fail to see when something better comes along. Don't let ambition warp your sense of self or your principles. Pay attention when everyone you encounter tells you their ambition is causing them pain, because they're probably right."
Baquet entered with the Class of 1978 and majored in English, but left school shortly before graduation when he was offered a reporter's job at his hometown newspaper in New Orleans. "If I would have known graduation was this fun, I would have stuck around and graduated," he joked.
He recalled coming to Columbia at 17 "aimless and scared" before his world gradually expanded during his time on campus. "It was at Columbia that I learned two valuable lessons," he said. "Listen and listen hard. And while you shouldn't question your own ethics, you should question your certainty about everything else."
"Look for the possibilities in whatever you are doing. Everything you do is part of the happiness of the way," Dean James J. Valentini said in his remarks. "I hope you will take this with you in the future — that you will have a life filled with new explorations enhanced by your Beginner's Mind."
Dean Baquet and Dean James J. Valentini at Columbia College Class Day. Photo: Eileen Barroso
The speeches highlighted two days of pomp and circumstance for the Class of 2016, with Class Day on May 17, which included the 13th annual Alumni Parade of Classes, and the University-wide Commencement the following day. The 50th-anniversary Class of 1966 led the parade, which included alumni marchers from almost every class from the Class of 1946 — which held its 70th reunion celebration following the ceremonies — through the Class of 2015.
U.N. Secretary-General Ban Ki-moon was among seven honorary degree recipients and spoke along with President Lee C. Bollinger at Commencement. Also at Commencement, three College alumni were among 10 recipients of Alumni Medals for distinguished service of 10 or more years to Columbia: Dr. Paul J. Maddon CC'81, GSAS'88, PS'89; Rita Pietropinto-Kitt CC'93, SOA'96; and Mozelle W. Thompson CC'76, SIPA'79, LAW'81.
Bollinger drew one of the biggest responses at Class Day when he said, after telling the audience that he did not want his statement to be taken politically, that after watching the lengthy presidential campaign, his admiration and appreciation for Columbia College and the Core Curriculum have gone "up and up and up."
"Imagine what our world would look like if it were mandatory for anyone running for office, especially higher office, to spend a gap year taking the Core Curriculum," Bollinger said. "And pass."
-Alex Sachare CC'71
A version of this story appeared in Columbia College Today.