Friday, December 20, 2019
On December 7, James J. Valentini, dean of Columbia College, and the late Alex Navab CC'87 were honored at the annual King's Crown Rowing Association (KCRA) banquet.
The KCRA's annual banquet recognizes current men's and women's rowing team members, as well as outstanding alumni. Proceeds from the dinner support the Columbia Rowing Endowment.
This year's dinner was preceded by a boat dedication on Low Plaza in honor of Valentini. The women's rowing team named their new shell "Deantini," by which the dean is affectionately called by Columbia undergraduates. Valentini is the only sitting Columbia dean to have a women's rowing shell named after him.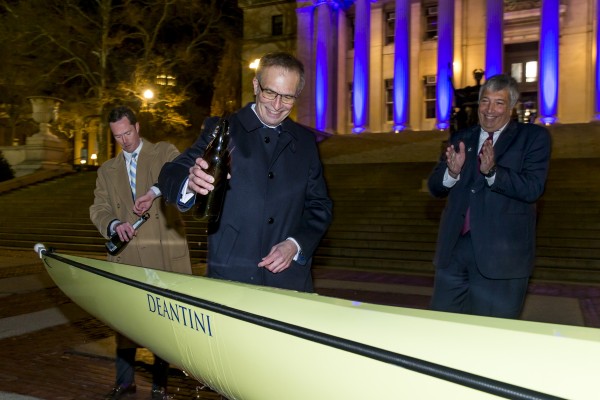 "One of my goals as dean is to build a culture in Columbia College that values teamwork as the preeminent virtue, a culture that calls forth the kind of determination and commitment displayed by successful rowing teams... If I can succeed in creating a College culture in which everyone pulls not just for himself or herself but for everyone else, then I will have something that will last beyond my tenure as dean, and will truly make us the greatest college in the greatest university in the greatest city in the world," Valentini said. "Thank you, Columbia Rowing, for being an inspiration to me."
The new boat was generously donated by Tom Cornacchia CC'85, a former Columbia rower and current chair of the Columbia College Board of Visitors.
"The 38 years I've stepped foot onto this campus, rowing has kept me attached to this campus," said Cornacchia, who is also a 2013 recipient of the John Jay Award for distinguished professional achievement. "Within the last 10 years, the friendship and bond I've built with Dean Valentini has brought me back to the College. It's really made me understand the value of the College and what it is today and what it was for me back then."
"Dean Valentini has been a huge supporter of athletics and Columbia and experiential learning," said Emerson Curry, head coach of the women's rowing team at Columbia. "Dean Valentini has put a tremendous amount of personal and intellectual energy into this place and these opportunities.
The dinner also paid tribute to Navab, a University Trustee and former chair of the Columbia College Board of Visitors who passed away earlier this year. Navab was captain of the varsity lightweight crew team as a student at the College and a recipient of the 2018 King's Crown Rowing Association honor.
"It is clear that Alex became the person he was in part because of his rowing experience, so I also want to pay tribute to Columbia Rowing, whose alumni have been so prominent on the Board of Visitors," Valentini said. He went on to speak about Beginner's Mind, a translation of the Zen concept "Shoshin," as well as about related Zen concepts embodied by rowers — both current student-athletes and the many alumni who, like Navab, have brought their Columbia Rowing experiences with them in their work with and for the College.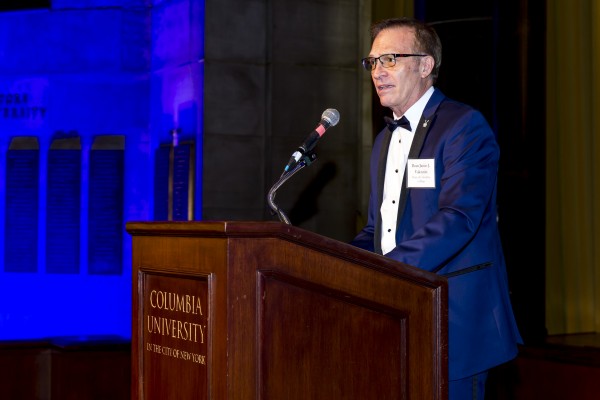 The boat dedication was followed by a dinner attended by students, alumni and administrators.
"He cares more than anybody I've seen in this type of environment; he cares about every single individual student," Cornacchia added. "When I listen to him talk, listen to him think about the growth of this campus, the growth of this individuals...he means it, down to the last individual."
"I'm deeply honored to have my name on this magnificent vehicle and to [have it] be rowed by [a] magnificent group of eight CC women," said Valentini, who — per Columbia tradition — followed his remarks by pouring Harlem River water over the boat.