For 50 years, the Double Discovery Center has worked to increase high school graduation, college enrollment and completion of high school education by low-income and first-generation college-bound youth from low performing schools in northern Manhattan. Founded in 1965 by Columbia University and Barnard College undergraduates who wanted to address the disparities between the Ivy League institution they attended and the underserved and underperforming schools in the community around them, the program set forth to improve local schools by exposing students to the rigor of Columbia while simultaneously engaging Columbia and Barnard students with their surrounding neighborhood.
Now in its 50th year, DDC has made college a reality for more than 15,000 of its alumni, providing services that include one-to-one advising, workshops, homework help, tutoring, academic classes, internships, college trips and special events that range from career days to science labs. Annually, 90 percent of DDC high school seniors graduate from high school on time and enter college the following fall, a record that far surpasses City, State and national outcomes for low-income, first-generation college-bound and minority students. DDC continues to foster a culture of achievement, instilling the skills, confidence and hope needed for these students to pursue their highest aspirations, complete their educations and become productive members of our communities.
DDC will host a 50th anniversary fundraising gala on Thursday, September 10, 2015, at 6:30 p.m., in Columbia University's historic Low Library Rotunda. This celebration will honor Joel Klein CC'67, CEO of Amplify and executive vice president of News Corp, and Roger Lehecka CC'67, GSAS'74, a founding member of DDC.  All proceeds will support DDC in its work to expand access to higher education for low-income high school students from underperforming schools, almost all of whom will be the first in their families to attend college, by providing mentorship, academic support, college advising and cultural enrichment.
In honor of DDC's 50 years of service to the community, DDC profiled current and former DDC students and volunteers.
---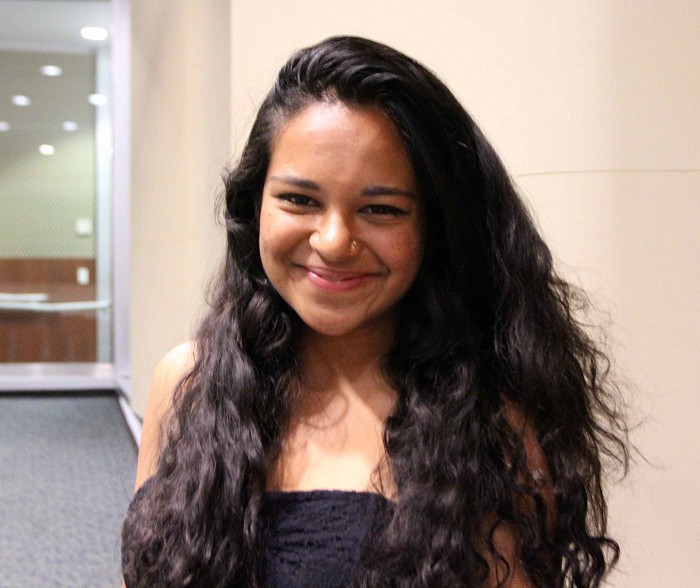 Farah Taslima DDC'13, CC'17 grew up on Manhattan's Upper West Side and learned about DDC from her sister, a Columbia College student who encouraged Farah to apply. Farah started at the Double Discovery Center in the seventh grade and continued in the Talent Search program through her senior year of high school at The Calhoun School.
One of the biggest influences on Farah's DDC experience was her tutor and counselor, Claytoya Tugwell CC'10, GSAS'12.  "Claytoya was a great person to have on my side," says Farah. "She really helped me through high school. I had her number—I could text her if I was having a meltdown. She would tell me, 'The fight isn't over, you've got to keep going.'"
Through DDC, Farah studied abroad in Turkey. "I went abroad for six weeks the summer between my junior [and] senior years of high school…. The program was a highly coveted scholarship program, The NSLIY, National Security Language Initiative for Youth, through the U.S. State Department and American Field Service," says Farah. "I learned about the world outside the U.S. and learned a new language while I was there."
"It totally changed my life," she adds.
For Farah, the summer she spent as a DDC student in 7th grade made an impact. "I was taking all these classes and meeting all these people and all this great stuff. It was such a good experience," says Farah. "I felt so mature doing all this stuff at a college university and meeting all these kids that were also really interested in going to school more and learning more. It was a really good environment especially when I was so young."
Farah entered The Fu Foundation School of Engineering and Applied Science in Fall 2013 and transferred to Columbia College in Fall 2014. The summer in between, Farah worked as a DDC summer residential teaching assistant. "I remember when I was in the program, there were very few counselors who had actually participated in the program and I wish there was someone who understood what I was doing in the program," says Farah. "Being a year out of the program, I would tell the kids, 'This is a great opportunity, make sure you take advantage of it.' I could see myself in some of them."
"I was the face of their future," says Farah. "I think that was something that was exciting for them to see. That all of the work that they're doing now, [that] this is what it could lead to was very exciting to them."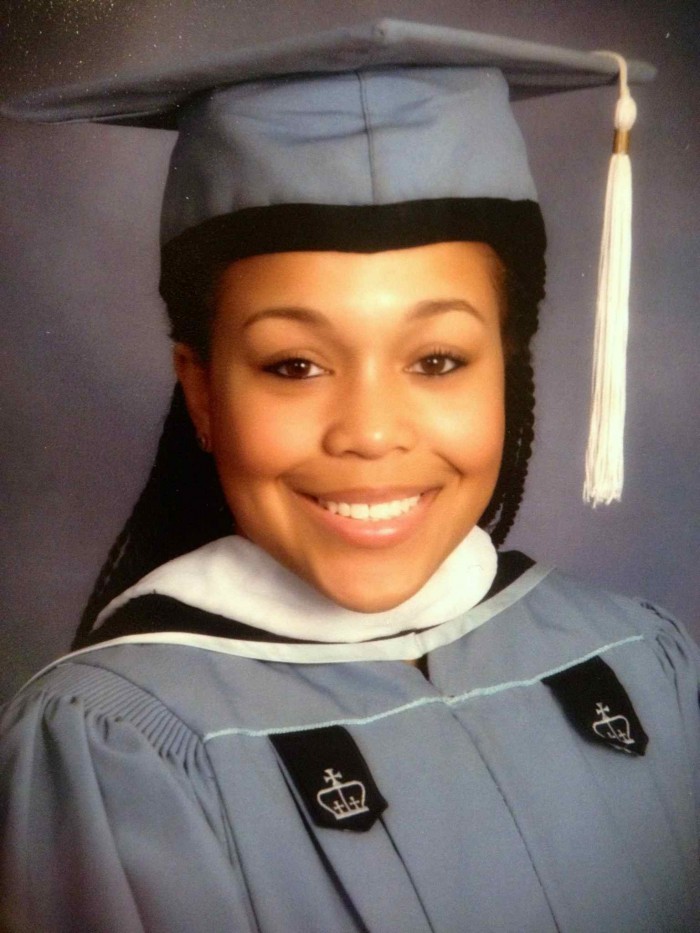 Dana Mondesire DDC'10, CC'14 grew up in the Bronx. She learned about the Double Discovery Center from high school classmates who had also attended the program and enrolled during her junior year at Manhattan Center for Science and Mathematics, a high school in East Harlem.
The college application assistance, the SAT prep and the chance to interact with Columbia College students are the things that stood out to Dana during her time at DDC.
During her SAT prep course, she learned the significance of the exam and the key component it plays in college admission. "I knew the test part of the admission process, but learned the significance of the exam for college while at DDC," she says.
DDC also provided one-on-one counseling and assisted Dana with developing her college list. "The college counselors at my high school were really busy and just did not have time for that one-to-one interaction," she recalls.  She said that having DDC's guidance was extremely helpful.
Dana, who now works at Columbia's Center for Career Education, also credited DDC for showing her all the "little things" that make the difference during the application process. "Sitting down [and getting assistance] with the financial aid application, filling out the CSS [College Scholarship Service] profile [and] the senior checklist [of deadlines and of] what you need to do really helped," she adds.
Inspired by the positive interactions with Columbia undergraduates, who served as DDC tutors and role models, Dana applied to the College and was accepted. During her time as an undergraduate, Dana volunteered at DDC. "I realized that seeing [and interacting] with a Columbia College student can be inspiring," she says. Dana worked as a college mentor assisting DDC students with their college applications and their personal statements. She also worked as a residential teaching assistant during DDC's summer program.
In the spring of 2014, during DDC's annual College Discovery Day, where students attend academic classes with Columbia College, Barnard College or The Fu Foundation School of Engineering and Applied Science undergraduates, Dana spoke as a panelist. She discussed studying abroad and encouraged DDC participants to include overseas study as part of their college curriculum. "It is the chance to break with what is familiar [and discover new opportunities]," she says.
Dana's DDC experience showed her that she had the same potential as high school students from wealthier backgrounds. "DDC helped me to understand that I can have [the same access and opportunities]," she says. "DDC can change someone's life and their entire perspective on life. This is a big reason why DDC is so beneficial."
---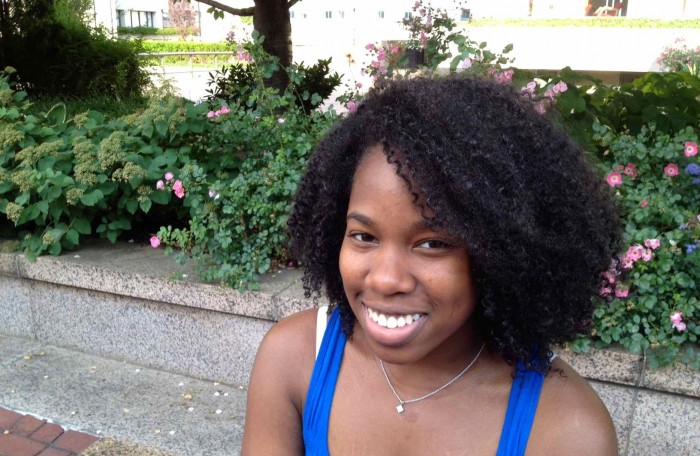 Evy Exime DDC'13, CC'17 grew up in Washington Heights. She learned about the Double Discovery Center from her six cousins and older sister who all graduated from DDC. Evy was in DDC's Talent Search program all four years of high school.
What Evy remembers most during her time at DDC is her college essay writing workshop and working closely with her counselor, Claytoya Tugwell CC '10 GSAS '12. Evy wrote two versions of her personal statement the summer before her senior year and presented the drafts to her counselor. She was shocked by the initial feedback. "Good start," Evy recalls her counselor saying. Together, they worked on both versions. "I wrote three drafts for one and five drafts for the other. And that [second] one became the one that was my college essay," Evy says.
Evy also participated in DDC's Freedom and Citizenship program. The yearlong course is a partnership between DDC and the Center for American Studies at Columbia University. The syllabus is modeled on Columbia College's Core Curriculum.
"I [studied] the writings of Thoreau, Rousseau, Socrates and Plato, W.E.B Du Bois and all of these wonderful writers," Evy recalls. According to Evy, DDC's Freedom and Citizen course helped her during her senior year of high school when she was assigned some of the same readings in school and already had an in-depth understanding of the material.   It also prepared her for some of her coursework once she became a student at the College, in 2013.
Evy credits DDC with teaching her to be a proactive participant in her education and, when needed, to seek assistance. Until the Freedom and Citizenship program, she was reluctant to ask for help and would search for the answers to questions about her homework on her own. She says that DDC taught her "how to ask for help" and that "it's okay not to know all of the answers." Coming full circle, Evy will be a residential teaching assistant for the Freedom and Citizenship course in the summer of 2015.
In the spring of 2014, Evy was a panelist during DDC's annual College Discovery Day. The event gives DDC students the chance to experience a day in the life of an undergraduate. Participants attend classes with undergraduates from Columbia College, Barnard College or The Fu Foundation School of Engineering and Applied Science. The day also includes panel discussions on topics such as college life, financial aid and studying abroad. Evy spoke to students about making the transition from high school to college, encouraging them to take advantage of all of the opportunities at DDC and to work closely with DDC staff in the college application process.
"Finding people and resources that can help you get to where you need to get to is something DDC really teaches you," Evy says.