Thursday, November 19, 2015
Eric H. Holder Jr. CC'73, LAW'76, the former Attorney General of the United States, received the 2015 Alexander Hamilton Medal on November 19, at the Alexander Hamilton Award Dinner, an annual black-tie event in Low Rotunda.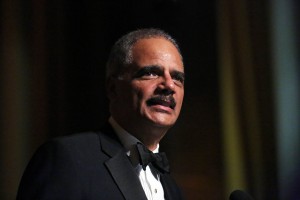 Eric H. Holder Jr. CC'73, LAW'76 at the 2015 Alexander Hamilton Dinner. IMAGE: Bruce Gilbert
Holder served as the 82nd Attorney General of the United States from February 2009 to April 2015. He has since rejoined the law firm of Covington & Burling in Washington, D.C., where he had been a partner from 2001 until joining the Obama administration.
"During an era when many in our public life have tried to argue that we live in a post-racial society despite all the stark evidence to the contrary, Eric Holder has played a unique role as our nation's Attorney General in forcefully standing up to defend the our iconic civil rights and voting rights laws — as well as our efforts to ensure that American colleges and universities are truly diverse and inclusive," said Columbia President Lee C. Bollinger in referencing the upcoming rehearing of the Fisher v. University of Texas case before the U.S. Supreme Court.  "As graduate of both Columbia College and Law School, and an active, engaged alumnus, Eric has been a constant and courageous voice for these core values and we are proud to honor him for his leadership."
Holder is the third-longest serving attorney general in U.S. history and the first African-American to hold that office. He is an internationally recognized leader across a broad range of regulatory enforcement, criminal justice and national security issues. In 2014, Time magazine named him to its list of "100 Most Influential People," noting that he had "worked tirelessly to ensure equal justice."
Including his tenure as attorney general, Holder — a 1996 recipient of the College's John Jay Award for distinguished professional achievement — has served in government for more than 30 years, having been appointed to various positions requiring U.S. Senate confirmation by Presidents Obama, Clinton and Reagan. He was deputy attorney general from 1997 to 2001; U.S. Attorney for the District of Columbia from 1993 to 1997; associate judge of the Superior Court of the District of Columbia from 1988 to 1993; and trial attorney, Public Integrity Section of the U.S. Department of Justice's Criminal Division, from 1976 to 1988.
"Eric Holder has been a public servant—a public servant in the sense that most of us use that term as meaning an officer in government—for much of his career. But actually, public service has been his entire career," James J. Valentini, dean of Columbia College and vice president for undergraduate education, said at the dinner. "I hope he will continue to be involved in the life of our College and our University for as long as I am dean, and well beyond."
Before becoming attorney general, Holder maintained a wide-ranging investigations and litigation practice at Covington. Among numerous significant engagements, he led the firm's representation of a major multi-national agricultural company in related civil, criminal and investigative matters; acted as counsel to a special investigative committee of the board of directors of a Fortune 50 technology company; successfully tried a complex discrimination lawsuit on behalf of a leading financial services company; and represented several life sciences companies in litigation and investigations. He now advises clients on complex investigations and litigation matters, including those that are international in scope and involve significant regulatory enforcement issues and substantial reputational concerns.
A University trustee from 2007 to 2009, Holder was the Class Day keynote speaker in 2009 and a Dean's Day speaker in 2013. He was a member of the College's Board of Visitors from 1997 to 2003, and then again from 2003 to 2007, and was a member of the Law School's Board of Visitors from 1995 to 2003. 
Holder is married to Dr. Sharon Malone PS'88, an obstetrician, and the couple has three children.
Holder said at the dinner that his life has been shaped by his time at the College. "My sense of myself and how I fit in the world was substantially impacted by all that Columbia allowed or appropriately forced me to confront," he said. "My desire to be involved in the life of this country was stoked by experiences I had inside classrooms here, but also outside the gates of Morningside Heights in Harlem, and in a city in which I was born and raised, but I really got to know as a student here. My determination to play a role in making our nation more fair, more just, was really amplified by my experiences on this campus. Columbia College, I think, is the foundation of my professional life."
The Alexander Hamilton Medal is the highest honor paid to a member of the Columbia College community. It is awarded annually by the Columbia College Alumni Association to a member of the Columbia community for distinguished service to Columbia College and accomplishment in any field of endeavor. This year, the Alexander Hamilton Award Dinner raised approximately $800,000; the proceeds directly benefit College students by supporting the priorities of Columbia College, including the Core Curriculum and financial aid.
Along with Bollinger and Valentini, speakers at the dinner in honor of Holder included Douglas R. Wolf CC'88, president of the Columbia College Alumni Association; Jonathan D. Schiller CC'69, chair of the Columbia University Board of Trustees; A'Leila Budles JRN'76, vice chair of the Columbia University Board of Trustees; Lanny A. Breur CC'80, a partner at Covington & Burling LLP; and Lisa L. Carnoy CC'89, vice chair of the Columbia University Board of Trustees.
For more information about the 2015 Alexander Hamilton Award Dinner, please visit college.columbia.edu/alumni/events/alexander-hamilton-award-dinner.