Four accomplished alumni were presented with 2013 John Jay Awards for distinguished professional achievement at the annual John Jay Awards Dinner at Cipriani 42nd Street on March 6.
The dinner raised $1.4 million for the John Jay National Scholars Program, which provides financial aid and special programming to enhance the academic and extracurricular experiences of outstanding students.
The honorees were Thomas W. Cornacchia CC '85; Katori Hall CC '03; Michael J. Schmidtberger CC '82, LW '85; and George D. Yancopoulos M.D., Ph.D. CC '80, GSAS '86, P&S '87.
Cornacchia is a managing director and head of sales for Fixed Income, Currencies and Commodities in the Americas at Goldman Sachs and a member of the Columbia College Board of Visitors. He was a four-year letter winner for Columbia's heavyweight rowing program.
Hall is an award-winning playwright and performer. She has received acclaim for her works in London and New York, and her play, The Mountaintop, an account of the night before Martin Luther King Jr.'s assassination, won "Best New Play" at the Oliver Awards, Britain's equivalent to Broadway's Tony Award. Hall is an artist in residence at The Pershing Square Signature Theatre in New York.
Schmidtberger is a partner at Sidley Austin and the global co-head of the Investment Funds, Advisers and Derivatives Group at the firm. While in law school, he was editor-in-chief of the Columbia Human Rights Law Review. He is a former member of the Columbia College Alumni Association Board of Directors.
Yancopoulos is president of Research Laboratories and chief scientific officer at Regeneron Pharmaceuticals. He has a distinguished record of scientific achievement and is an author of a substantial number of publications. He is a member of the National Academy of Sciences.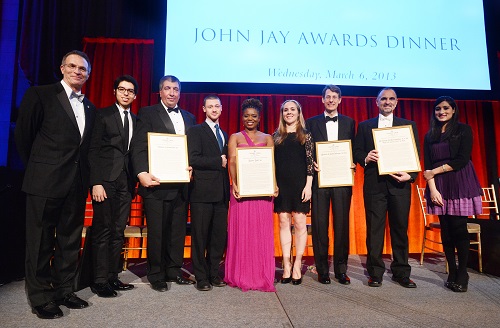 Dean James J. Valentini (far left), along with the John Jay Scholars who presented the honorees with their awards, and the honorees, at the dinner. Left to right, Bryan Terrazas CC '13; Thomas W. Cornacchia CC '85; Ethan Kogan CC '13; Katori Hall '03; Ariana Lott CC '13; Michael J. Schmidtberger CC '82, LW '85; George D. Yancopoulos M.D. Ph.D., CC '80, GSAS '86, P&S '87; and Tehreem Rehman CC '13. PHOTO: EILEEN BARROSO
In their acceptance speeches, the honorees thanked Columbia and their families for helping them achieve such great success, expressed gratitude for the generosity of the donors in the audience and gave advice to the John Jay Scholars in the room.
"Columbia makes the world a better place," Cornacchia said. "The Core shaped my life and my decision making. Columbia College changed my life… At Columbia, lots of things came my way."
Hall told the audience that "Columbia teaches you how to be open and be in the world" and encouraged the John Jay Scholars to "take these moments and allow them to be your dreams.
"What am I going to do? What is going to be my pyramid? What am I going to lay down in this lifetime that will withstand the test of time?'" she said. "This is the challenge I give to you."
"If you can survive four years at Columbia, you can survive anything!" Yancopoulos added. "Thank you, Columbia, and everyone here tonight, for a wonderful life and a wonderful night."
Schmidtberger also thanked all of the donors in the audience for their support. "We've heard tonight that the students you're supporting are the best of the best, and you certainly are," he said. "Thank you to each and every one of you for supporting scholarship at Columbia."
The event began with a welcome from Columbia College Alumni Association President Kyra Tirana Barry '87 and Wilfred Chan '13, a John Jay Scholar who spoke on behalf of all John Jay Scholars. President Lee C. Bollinger, who was unable to attend, addressed the nearly 575 guests via a brief video, and Columbia College Dean James J. Valentini welcomed alumni, guests, faculty and students to what he called "one of the happiest nights in the College calendar, where we honor our most accomplished graduates."
Valentini said that we cannot predict which of the students in the audience will someday be presented John Jay Awards for professional achievement, but we can predict that "all of the students here will lead lives of accomplishment and contributions to their professions, to their communities and to their families.
"That is the goal we have for them, when we have them for the four years they are in Columbia College," he said. "Your support of Columbia College and especially tonight of the John Jay National Scholars Program by your attendance at this event ensures that we can continue to provide the world's greatest education to our current students and generations of students to come."
The event, which concluded with a medley of Roar, Lion, Roar and Sans Souci performed by the Clefhangers, is named for founding father and first secretary of the treasury John Jay (Class of 1764). The John Jay Awards have been presented annually since 1979.