Blue skies greeted the Class of 2022 as 1,272 students joined the ranks of alumni at the first in-person Class Day since 2019. The May 17 ceremony featured remarks from Dean James J. Valentini and keynote speaker Tom Kitt CC'96, the acclaimed composer behind the Pulitzer Prize- and Tony Award-winning musical Next to Normal.
Graduating seniors who spoke at the ceremony were Zusi Inegbeniki CC'22, the Class of 2022 student speaker; Eva Bogomilova CC'22, senior class president; and Radhika Mehta CC'22, president of the Columbia College Student Council. Jaala Alston CC'22 was called to the stage as the inaugural recipient of the James J. Valentini Prize, a new award presented to a graduating senior who demonstrates the qualities of Beginner's Mind through their curiosity for and desire to learn from different perspectives.
In his final Class Day remarks as Dean of Columbia College, Valentini emphasized that "graduation is just a transition, not an end," and urged students to remember the advice of the Tao Te Ching: "A good traveler has no fixed plans, and is not intent on arriving." He went on to encouraged the graduates to stay engaged with the College as alumni just as he promised to remain committed to the success of the College after his time as dean ends.
Kitt, who is also known for If/Then, Jagged Little Pill and SpongeBob SquarePants: The Broadway Musical, among other works, delivered a speech that reflected on both the challenges of the pandemic and his own experience of transforming anger, frustration and disillusionment into "action, collaboration, inspiration and hope."
Turning to the present moment, he urged the graduates to find their stillness: "Stillness is not staring at a screen," Kitt said. "Stillness is sitting and getting lost in your thoughts. Stillness is listening to a piece of music that you never knew existed and letting it wash over you. Stillness is reading, looking up for a second, and then reading again. … Stillness is where your greatest realizations will come from."
Quoting a Stephen Sondheim lyric, Kitt continued, "It's life's ordinary moments that make the extraordinary ones so worth chasing. We want to bottle them, but we know we can't. So we keep searching for them. But how will we ensure our lives are filled with them? By going after what's in your heart. And looking out at all of you this morning, I can see that your hearts are full and you're ready for your moments. The world is counting on that."
Kitt closed with a final encouragement: "I believe in all of you and I can't wait to see what beautiful, spectacular, breathtaking, life-changing, glorious moments are in store for all of you. Go after them, and never look back."
---
University Commencement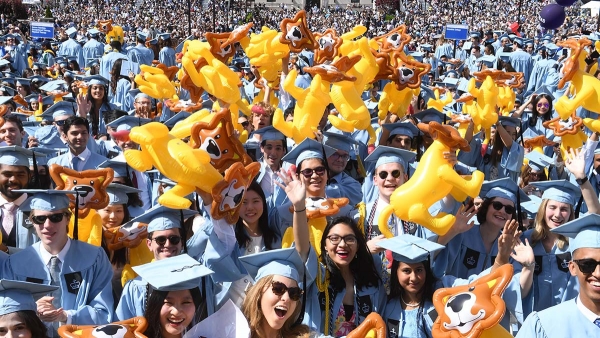 On May 18, College graduates joined the Classes of 2022 from schools across Columbia for University Commencement, a ceremony that dates back to 1758 in which degrees are officially conferred by the University president.
Hillary Rodham Clinton, Patti Smith, and Yo-Yo Ma were among the recipients of honorary degrees. The crowd called for a speech after Clinton's honorary Doctorate of Laws was conferred; she obliged, congratulating the graduates and asking them to "take this extraordinary, world-class education and not only put it to work in service of your own dreams – as important as those are – but also as a citizen." In closing, Clinton reminded them that "there is work to be done to ensure justice, equality, freedom, and yes, to preserve and protect democracy."
The Hon. Rolando T. Acosta CC'79, LAW'82; Rebecca Castillo CC'94, JRN'06; and Thomas Cornacchia CC'85 were among the 10 recipients of Alumni Medals, given for distinguished service to the University of 10 years or more; Jodi Kantor CC'96 received the University Medal for Excellence.
In his address, President Bollinger acknowledged the extraordinary circumstances under which the graduates worked toward their degrees and reflected on a "new age of disinformation" while discussing free speech, knowledge and expertise as well as the role of universities as a force for good in society. He stressed the importance of humility in one's approach to learning and information consumption, saying that "to come to a university such as Columbia is to learn to be humble, to realize how little you know."
---
Celebrating the Classes of 2020 and 2021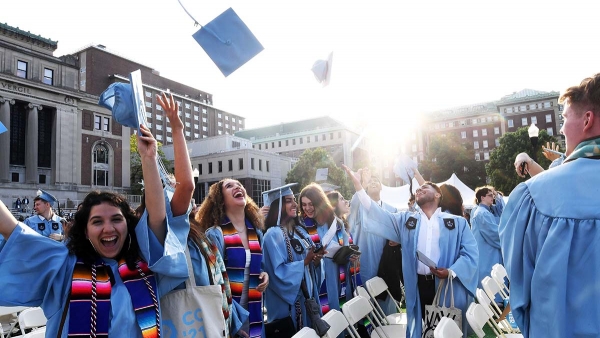 On May 19, The Classes of 2020 and 2021 returned to campus for special celebrations. Because their Class Days and Commencement ceremonies took place virtually due to the pandemic, the CC alumni were thrilled to return to campus to commemorate their accomplishments in person alongside their guests. After a morning of light rain, they were finally able to walk across the stage at long last under clear skies, with their loved ones, faculty and administrators cheering them on.