Katie Meili CC'13, a former member of the Columbia Women's Swimming and Diving Team, registered the second-fastest time in the world in the 100-meter breast stroke during the prelims at the Pan American Games, held July 10–26 in Toronto. Her time of 1:05.64 was a Pan American Games record. Meili went on to win the gold medal in the finals with a time of 1:06.26.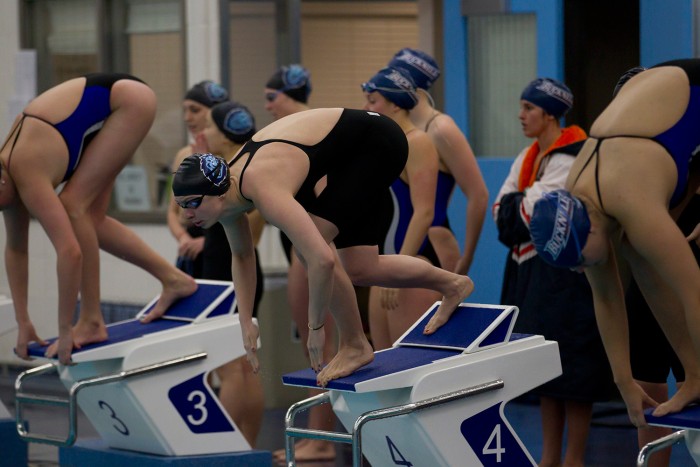 Photo: Columbia Athletics/Gene Boyars "I feel really good about those performances," Meili said. "I've definitely had my sights on this meet since making this team last year. I really wanted to win a medal; I really wanted to win gold but I knew it was going to take a fast time but I was a less concerned about the time and more about the race. This morning I was really blown away and happy with that time."
While at Columbia College, Meili was a distinguished member of the Lions Swimming and Diving team. During her senior year alone, Meili won four Ivy League titles at the 2013 Ivy League Swimming and Diving Championships, placing first in the 100-yard breast stroke, the 200-yard breast stroke, the 200-yard individual medley and the 400-yard medley relay. She also placed third in the 2013 National Collegiate Athletic Association Swimming Championships in the 100-yard breast stroke, earning her first team All-America status, and competed in the 2013 Olympic Trials and the 2013 U.S. Open.
"I always say that if I hadn't come to Columbia, I wouldn't have gotten this good at swimming," Meili said in a 2013 interview for a College Class of 2013 senior profile. "It was definitely hard when all your friends are going out, and they can stay up as late as they want, and they can eat whatever they want… when I had to go to bed because I was exhausted or I had practice the next morning… It's a hard sacrifice when you are going through it, but it's so worth it in the end."